Adirondack Chairs | How Are They The Best Summer Chair?
Is your outdoor summer chair weather resistant, but not comfortable, or vice versa?
The Adirondack Chair is quintessential at both!
Why Adirondack chairs are the perfect chair during summer?
If you put on your nostalgia goggles and look back at past summer memories.
The Adirondack chair was probably part of it and may have even helped bring you and loved one closer together.
A few notable features that make this an unsought chair of chill & relaxation are the following: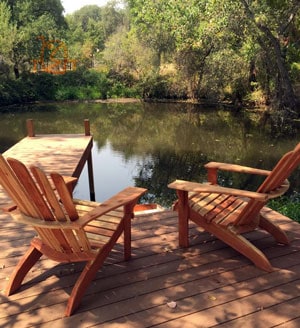 Cup Holders
Slide-out Ottomans
Adjustable Headrest
Weather Resistant
Slanted Seats For Relaxing Sitting
Some Even Fold-Out (Mobility)
Optional Cushions (Easy To Clean)
Where did the Adirondack chair originate from?
The initial designs and first dozen prototypes were created in Upstate New York, USA…. you know the Adirondack Region.
Adirondacks Chairs, Are They comfortable to sit in?
They provide around an hour or two of comfortable sitting.
We wouldn't recommend completing a novel in one of these chairs, but they are great for outdoor activities.
Sitting around the campfire, or maybe bird watching.
These chairs are comfortable and can withstand most out-door conditions.
Adirondack chair warranties vary from brand to brand, but a company known as POLYCHAIR backs their chairs with 20-Year warranty.
Folding Poly-Wood Adirondack Chair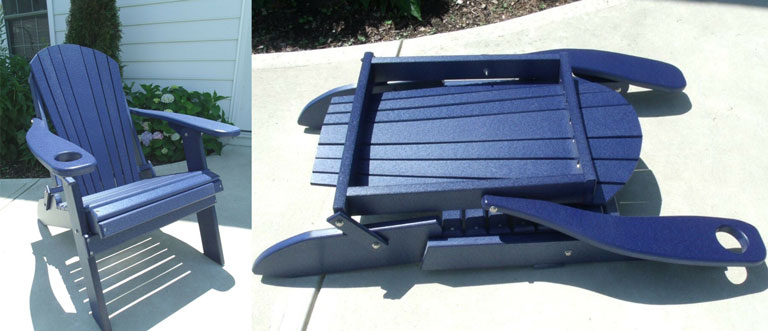 Made from Western red cedar, it naturally wards off decay, wood rot, and insect infestations.
The longevity combined with being light makes it a grand chair to have on the front porch of that get-away summer cottage.
These chairs are foldable and being around the size of a first class airline seat.
They won't take up too much space if they're being stored away over the winter.
Coastal Living Shoreline Adirondack Chair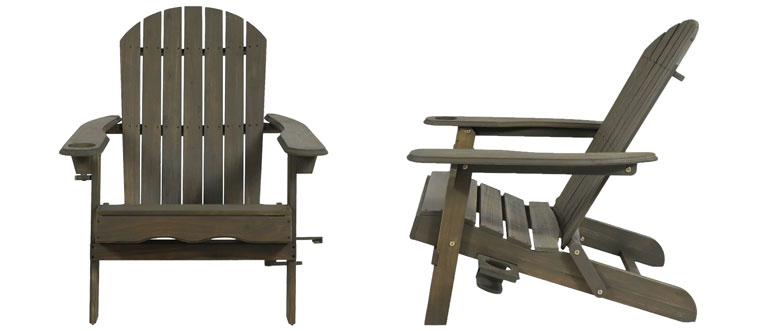 Specializing in wet environments, this chair is both Eco-friendly and weather resistant.
With wide armrests and a high back seat, this chair aims for maximum comfort.
International Caravan 'Modern' Adirondack Chair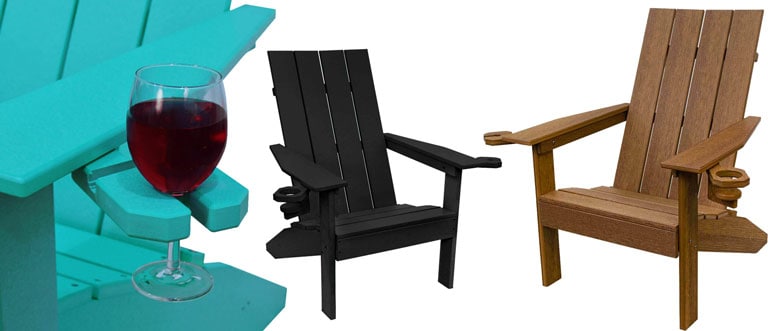 The UV-protection coating on this chair makes it an excellent patio chair can withstand many types of weather and environments.
Amish Made Glider Adirondack Chair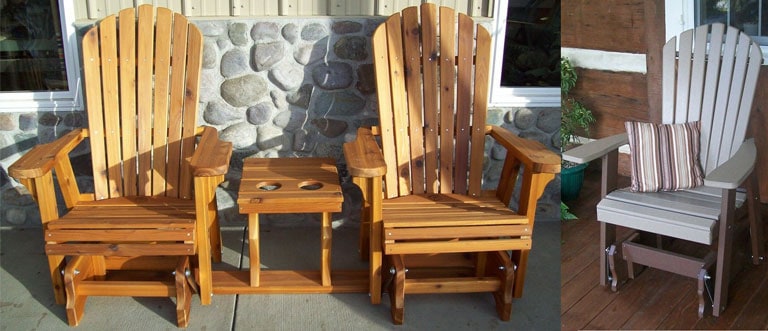 These chairs swing from front to back like a rocking chair, but the legs stay in place.
They have a very staple design despite its name. Gliders are available in love-benches and individual seating styles.
What Are Adirondack Chairs Made Of?

Each material has their niche use case and is all sold at distinct price points.
Here are the pro-&-cons to the unique kinds of raw material used in making Adirondack Chairs.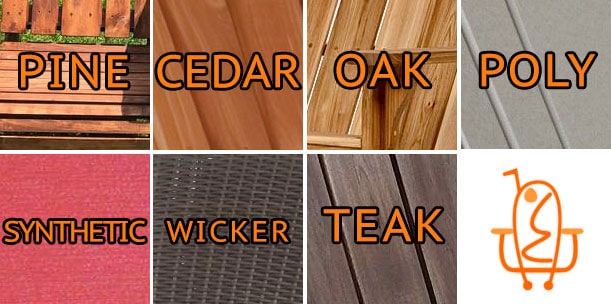 | Materials | Price | Durability | Maintenance |
| --- | --- | --- | --- |
| Pine | 💲💲 | 💪 | High |
| Ceadar | 💲💲 | 💪💪 | Medium |
| Oak | 💲💲 | 💪💪💪 | High |
| Teak | 💲💲💲 | 💪💪💪 | Medium |
| Polywood | 💲💲 | 💪💪 | Low |
| Synthetic | 💲 | 💪 | Low |
| Whicker | 💲 | 💪 | High |
Pine
You can easily identify this wood by its light, unfinished look that fades with time to a grayish tone.
Pine is softer on the spectrum of wood and will be prone to dents and scratches.
The softness of this wood makes it prone to sponge up water.
This prolonged dampness can lead to wood rot and makes it at the top of the menu for wood-eating insects.
Pine is widely available and is a classic choice for making Adirondack Chairs.
Cedar
Great for first times because it easily takes in screws and cuts well with hand or power tools.
This wood is less durable than Teak wood, but stronger than Pine wood.
It contains heartwood that ranges from dark chocolate brown to earth pink at first cut, and as it ages turns to light gray.
Cedar is naturally resistant to insect and fungal attacks, but is better protected from decay with the coating of Cedar-wood oil.
Oak
Oaks' natural strength and beauty has made it the most popular material used in Adirondack chairs.
It's basically the best bang for your buck in comparisons with the other materials on this list.
To persevere this wood it needs yearly maintenance as a protective coating. 
With no protective finish, you will need to be careful to avoid permanent stains from accidental spills.
Oak wood is nearly as strong as Tweak wood, but can be found at Cedar wood prices. The downsides to Oak is its less than stellar ability to ward off water.
Polywood (Synthetic Wood)
This is pseudo-wood because it's a mix of recycled plastics that gets mashed up together.
Polywood is low maintenance, Eco-friendly and almost indistinguishable from real wood. 
It requires less maintenance because the composite plastic is corrosion resistant.
Teak
Known for being arguable, the strongest used wood and can last up to 70 years with proper care.
Using Teakwood oil every few seasons can help deter insects and makes it more water resistant. 
With so many exceptional qualities, Tweak wood has become the most expensive.
Synthetics
Sometimes designed as a monobloc chair, these types focus more on economics than ergonomics.
They are suitable for typically one season and will become brittle if left outside over the winter.
Easy to clean, will not decay, and is economically viable.
Wicker
Aesthetically unique to the rest of these designs, Wicker is a technique that goes back to ancient Egyptian times.
It's woven together like a chain-mill to make much furniture.
Known for its toughness, they make it from aluminum, natural, or synthetic fibers.
There are different varieties of wicker, so look for materials graded for outdoors. This material is excellent for patios and porches.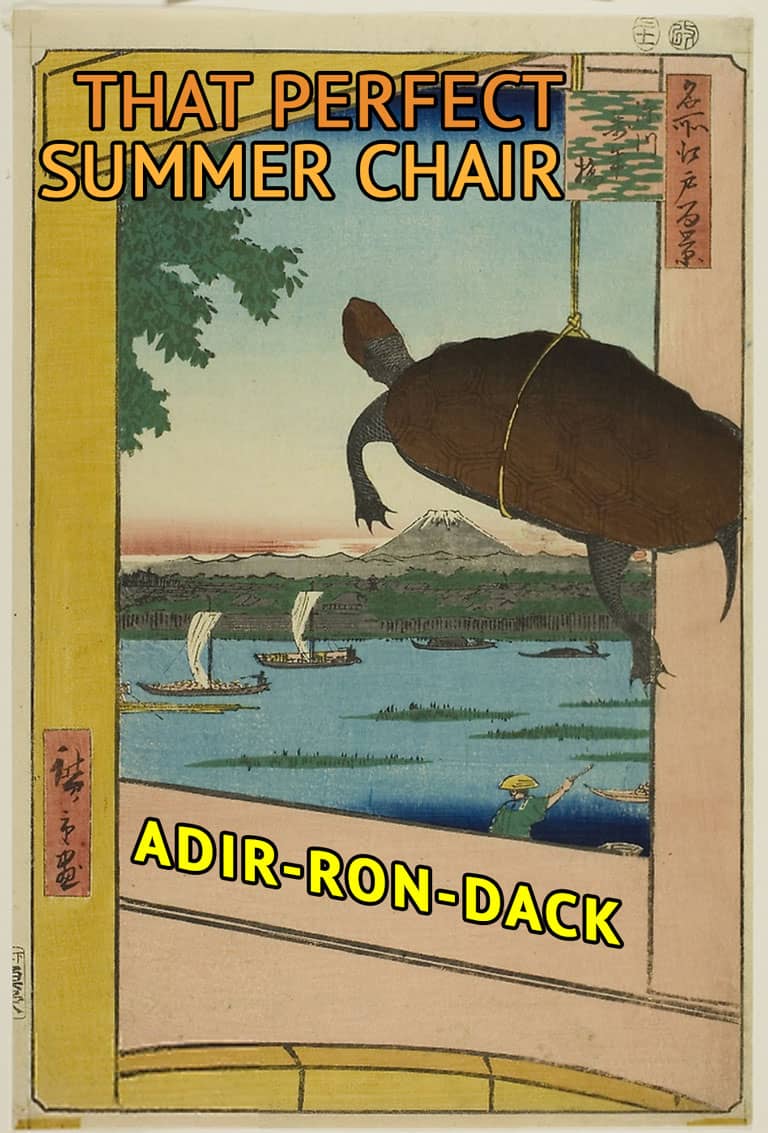 What To Consider Before Picking Up A Set Of Adirondack Chairs
Which Style Compliments?
Modern or traditional? | Depending on the ambiance, it makes sense to start your decision by choosing one or the other.
Choosing The Rite Materials
Wood or plastic? | Most of the time, the obvious choice is wood materials. On some occasions, plastic makes more sense.
Like if you enjoy buying Eco-friendly products or concerned about the chairs decay.
Faux wood or Poly-wood? | They sometimes refer to faux wood to as engineered wood and is the combination of veneer and adhesive.
While Poly-wood is a mixture of repurposed plastics. Both are durable, but Faux wood imitates the genuine thing better.
Fold-Out or Stationery Design? | If you plan on not moving the chair from its sitting place, they build stationary chairs with more durability.
Fold-Out chairs are convenient and better for traveling because of their compact design.
Consider The Height And Size Of The chairs
A simple way for petite body types to sit comfortably in a larger-sized Adirondack chair is by adding back and seat cushions.
| Chair Height | Seat Height | Sitters Height |
| --- | --- | --- |
| Around 35 inches | 13 - 14 Inches | 5'5" Ft or Less |
| Around 38 inches | 15 - 16 Inches | 6'0" Ft or More |
Why are Adirondack chairs expensive?
The high price tags of these chairs are for three reasons
Labor (May Require A Master Woodworker)
Cost of Materials (Rot Resistant Wood Can Get Expensive)
Hard To Ship (Large & Unorthodox Size)
These chairs require a skilled carpenter and the raw materials can be expensive depending on the quality of wood.
If you're not shopping locally, then consider the price of shipping. Adirondack chairs can get heavy and will be expensive to transport.
What Do Adirondack chairs Cost?

These chairs sell for as low as $75, but are typically between $150 – $300.
When comparing prices, you should focus on the following key traits. Durability, warranty coverage.
The amount of features the chair provides. The wood is also a considerable factor in price.
Where Can I Get An Adirondack chair?
Retail Store (EASY)
If you're the try before buying type, most enormous box stores will have these chairs found in the outdoor furniture section. Craigslist has them in droves usually on the cheap. Local handmade Adirondack chairs can be on the expensive side.
These chairs are not very hard to put together. Think of it as another IKEA activity. This project should in total take about 30 minutes to complete.
These kits are complete with protective finished wood, and they do not need extra screws.
Do It Yourself (HARD)
Not for the faint of heart. Still a fun project for those who got the time and supplies.
What Is The Best Way To Protect Adirondack Chairs In The Winter?
These chairs have a weather resistant coat that acts as a protection from summer rain storms and brisk fall weather.
It will protect them from winter snow storms. The best way to protect your new chair is by putting it in dry storage like a shed.
An alternative option is to have them professionally shrink-wrapped, but that can be costly. Winter covers for Adirondack Chairs is the most economical option.
All 3 have pros and cons. The best way to choose is by the age of your chair.
A large patio set might be better off using a professional shrink wrap service.

If you got a few seasons' use, maybe a cover is the best alternative.

If your chair is brand new and there is space in the shed; clean the before storing.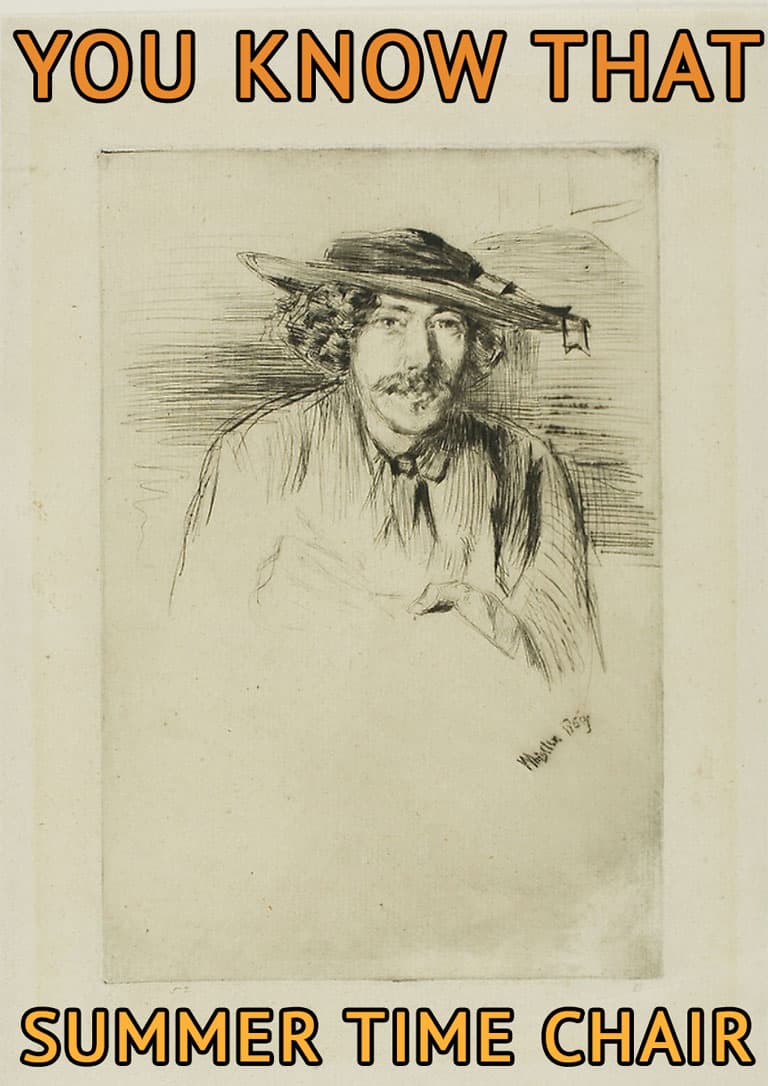 OUR TOP PICK ADIRONDACK CHAIR
POLYWOOD | Vinyard Chair
If your a fan of the classical look but want modern day quality, the POLLYWOOD Adirondack Chair is a candidate for your next Summer chair.
These chairs won't attract wood eating bugs since it's synthetic wood. This also means no splinters!
They are low maintenance and require no annual varnishing. You might think they'll crack or peel, but the POLLYWOOD lumber is waterproof and has anti-fungal properties.
Weather Resistant

Low Maintenance

Available in 7 different colors
Backrest does NOT recline

Can only be folded when the chair is disassembled
Related Questions
Helpful Info About Adirondack Chair & Some F.A.Q. Answered
SOURCES
"5 Tips for Buying Wicker Furniture." Www.Wickerwarehouse.Com, www.wickerwarehouse.com/5-tips-for-buying-wicker-furniture.
"What Is the Difference Between Muskoka Chairs and Adirondack Chairs?" The Patio Chair, 18 Apr. 2019, thepatiochair.com/what-is-the-difference-between-muskoka-chairs-and-adirondack-chairs/.
"POLYWOOD® Outdoor Furniture | Rethink Outdoor® | POLYWOOD® Official Store." POLYWOOD, www.polywood.com/

Claude
ChairPickr | "Writer"
Hello, My name is Claude and I enjoy sitting comfortable. Research into what separates the good from the bad in the matter of chairs started when I made a new year's resolution to have better posture.
You clicked here to find that first-rate chair. Why not stay and learn some self care?
Affiliate Disclaimer
ChairPickr is a participant in the Amazon Services LLC Associates Program, an affiliate advertising program designed to provide a means for sites to earn advertising fees by advertising and linking to Amazon.com. Some links on chairpickr are affiliate links, meaning at no additional cost to you. We will earn a commission if you click through and make a purchase.