Are Lift Recliner Chairs Good For Your Back?
Has standing up from the Recliner Chair been making your back sore? That may be a sign that it's time to replace it, before buying a new chair to inform yourself!
Gaming Reclining Chairs Are The Best Way To Site & Play, Pain Free
Looking for the perfect chair to sit back and relax in, it might be a recliner?
After a long day's work, you come home, kick off the shoes and the reclining chair is calling your name. It sits like heaven, but after getting up, you notice how your lower back aches.
So Is Your Reclining Chair Causing This Pain?

Does your chair look anything like Martin Crane's recliner?
Maybe the seat pad, back rest or lumbar support pillow has flattened out. If the chair was a bargain, it might not even have this lower back, saving cushion to begin with.
When padding of the chair breaks down, the sitter is resting in a lower position than when the chair was new.
This improper posture can lead sedentary sitters pains to or emphasize preexisting conditions.
So How Are Recliners Superior In Watching Television?
When the chair is new and the cushions are still fluffy. The recliner mechanism can swivel and accurately adjust to whatever elevation levels you decide.
This amount of customization promotes ergonomic posture.
These chairs offer fantastic viewing angles
Usually more comfortable than a couch (On Average).
In tight spaces, they can save space with their retractable leg rest.
What Are The Benefits Of Using Recliner Chairs For Gaming?
These things pack the most cushions, are spacious for sitters of all sizes. Nothing gives relief to your feet like the leg rest of the reclining chairs.
Elevating your feet eases the pressure on your lower back and gives some time to recharge. Well, not exactly recharge, but blood flow is easier sitting in position and it reduces inflammation.
Our bodies work hard standing and walking, sitting in a reclining chair allows muscles to heal and even grow if you're the type of person who regularly workout.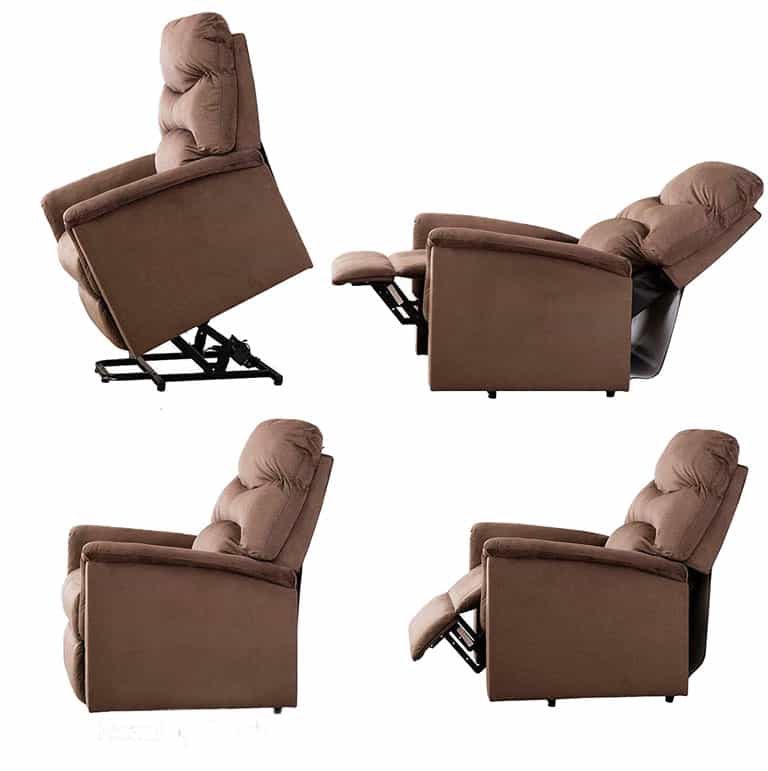 What Kind Person Actually Enjoys A Reclining Chair?

Everyone can gain health and enjoy using a reclining chair as long as it compliments their body type.
People with lower back issues or are recovering from medical operations will especially take a fancy to these thick cushioned chairs.
What Are Some Unique Features In Reclining Chairs?
These chairs come in all shapes and sizes but are mostly used for lounging around. This, in effect, gives way to more bells and whistles such as.
USB Charging Ports: If your chair has power reclining, then it's likely this feature will save your phone from a dead battery if equipped.
Rocking Mechanism That Slides In Place: Some sitters, such as babies, enjoy rocking back and forth. This add-on feature makes it the perfect chair for mother and child.
Heated Seat Pad: If your sitting environment is cold, this must have a feature will warm you up.
Massage Seat Pad: This feature turns a comfortable chair into THE comfortable chair. One caveat about this feature is that it's expensive.
Buying a recliner with a separate massage seat pad is sometimes the better and more economic option.
popular Types of Reclining Chairs
Push Button, Parachute Pull, Lever Handles, Lifter, or Electric Recliners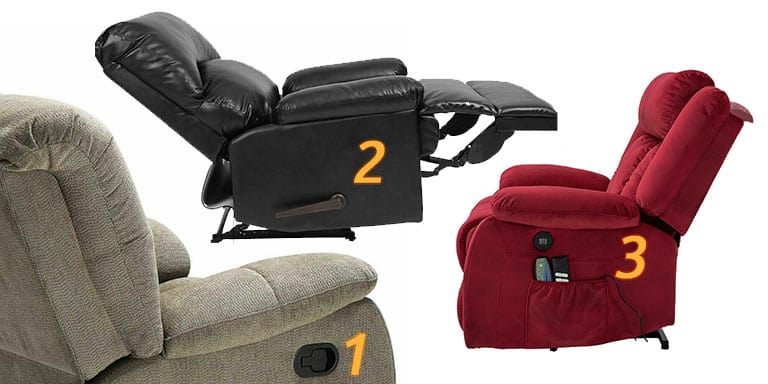 1) Push buttons and parachute pulls
Require the least amount of effort and work at a push of a button. Their drawback is their leg rest needs to push down manually, using leg strength.
2) Solid handles
Can extend and retract using the push and pull with your arm. These levers are usually on the right side of the chair, being that most sitters are right-handed.
3) Power recliners
Require the least amount of effort and are easiest to use. They are great for older folks that don't have the strength. We can adjust chairs wielding a power lever at many elevations compared to manual reclining.
Designers often equip these chairs with extra features such as massage.
Lifting recliners are a subset of power reclining chairs and have a unique feature which is rising. This is often used to help elderly people with weak knees.
Wall Huggers are another subset of remote powered recliners and are the best choice for tight spaces. These chairs get their name because they extend their leg rest forward without moving the chair backwards; e.g. wall hugging!
How To Find The Right Size Recliner Chair | Height Chart
Identifying the right reclining chair for your body type takes a little research.
It's worth it though, because using the wrong-sized chair can lead to an array of health problems. Some recliners have high backs for larger sitters and others have shorter, footrest petite people.
| Recliner Chair | Optimum Height |
| --- | --- |
| Petite Recliners | 5'4" - Under |
| Small Recliners | 5'5" - 5'9" |
| Tall Recliners | 5'10" - 6'2" |
| Large & Tall Recliners | 6'3" - Over |
Sizing A Reclining Chair Without A Tape Measure
Sit with your hips against the back of the seat. Your back should be firm against the back-rest seat pad of the reclining chair.
If your feet don't touch the floor and dangle about, this shows that the chair's seat is too deep A.K.A. the chair is too big.
When your feet barely reach the floor while sitting; as the chair cushions break in, it is even more difficult to sit comfortably or be mobile.
If there is a space behind your lower leg and chair while your feet are flat on the floor, then the chair is too small for your body.
Questions To Ask Yourself Before Buying A Reclining Chair
The only thing worse than buying the wrong chair is getting rid of it! Whether it be the first time buying or your current one is at the end of its life cycle, these are something's steps to take before purchasing.
It should be easy to use
Nothing is more frustrating than sitting in a reclining chair that won't adjust to you comfortably.
All the bells and whistles in the world can't compete with maneuverability.
The reclining lever should be easy to use while sitting, if it's hard to reach look for a more narrow seat.
The Manufacturer Supplies Parts Directly To Customers
This is important, especially if you're choosing a chair with electronic reclining capabilities. The place where you purchase the chair may not be around to fix whatever issues arise down the life of the chair.
Know the dimensions of your room
Measure twice, buy once.
Understanding the dimensions of where the chair will be can help narrow down the choices. If this is your second chair, you probably know exactly where you're placing it.
First-time buyers should measure the furniture in the room and sketch to get a rough estimate of how everything will look.
You should be comfortable while sitting
This is common sense! However, not everyone listens to how their body feels and instead chooses a chair with an unnecessary feature like self warming coasters.
Here are some questions to ask yourself while trying out chairs on the showroom floor.
Questions To Ask Yourself While Trying Out A Reclining Chair
How do the footrests align with your ankles?
No feet dangling off the footrest because that may cause pain in your Achilles tendon. The footrest should be able to support the heels of your feet, if not it is too short.
Make sure lumbar support in the backrest feels comfortable?
There are many preferences with back supporting cushions. Some like it rigid while others enjoy it squishy. Either way, be sure there is no gap between your back and the chair while reclining.
Is your head jerking forward while sitting?
While seated, your neck should have zero tension and never push your head into a forward position. If this is the case, move on to another chair!
When the recliner is too short for you, the backrest pushes forward on your head. This resting position is not ideal for long term sitting and can lead to neck pain.
Test A Recliner Chair for its Durability!​
How to find out if the reclining chair of your dreams is built to last?
If you're using this chair everyday so make sure they make the chair of durable materials that will stand the test of time.
Here are a couple features to look out for.
Uni-body frame: More durable than module chair designs.
The rocker should lock in position: It's easier to find your perfect sitting position.
Foot rest that lock in place (Dual Locking Footrest)
Foam over stuffing chair cushions: Keeps its shape for longer than
Foam over stuffing chair cushions Keeps its shape for longer than other stuffings.
Lumbar Support System: Not too firm, but not too soft!
If you want extra protection for your reclining chair, then consider looking into a water-proof cover. They are usually below $30 and can save your chair from getting dirty.
OUR TOP PICK RECLINER CHAIR
Ashley Ludden Rocker Recliner
Ain't she pretty? You won't find any autographs by her, but it's this Coco colored Recliner is a signature design by Ashley Ludden.
Call me a traditionalist, but I like my TV chairs with over-sized armrests, backed with nail-head trim backrests.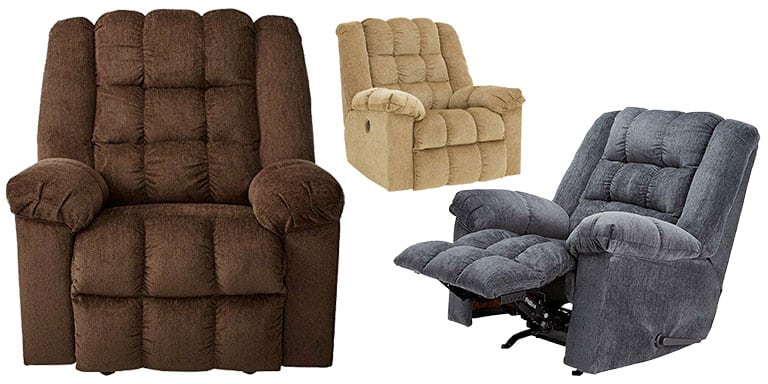 Will Sit The Test of Time
Sitting for longer than five minutes on the rocker recliner will leave a lasting impression. You will literally feel its foam cushions engulf your ache body!
This recliner screams quality over quantity and provides proper ergonomics with no motorized reclining.
The solid handle can pull back the seat to a near vertical angle, making it a great sleeping chair for the occasional nap.
The rocker mechanism on this recliner is smooth as its rich upholstery finishes. Not an ideal nursery chair because it will not only put the baby to sleep, but there's a chance you might also catch some snoozes.
Unlike motorized reclining chairs, there are no ugly cables running underneath it. The simplicity of this chair makes it easy to assemble and less likely to malfunction.
Quality Warranty & Established Market Of Spare Parts
If this chair has any problems as it ages, they backed these recliners by a 5 year limited warranty. Ashley Furniture, being a market leader, also has spare parts available longer than less known brands.
OUR TOP PICK ROCKER CHAIR WITH SPEAKERS
Ashley Ludden | Rocker Recliner
Thick padded armrest

Easy to reach recline lever

The color of the chair's upholstery and synthetic material make it easier to clean.
Tall sitters report the footrest is too short.

As comfortable as it looks to sit in, customer reviews have reported it to not be very comfortable for large and tall people over 250lbs (113kg).
This classic design has some modern twist.
The signature Ashley Ludden Rocker Recliner requires no assembly, comfortable to sit in, and easy to use.
Is This Recliner Worth The Price?
If you can put a price on quality and aesthetic, this chair would pass with flying colors. Yes, this chair is worth its value if you're not a leather lover and prefer reliable mechanics over extra features.
How Did We Conclude These Recliners Are The Top Pick?
We try not to complicate things and made the selection process based on a variety of features, materials used, and personal preferences.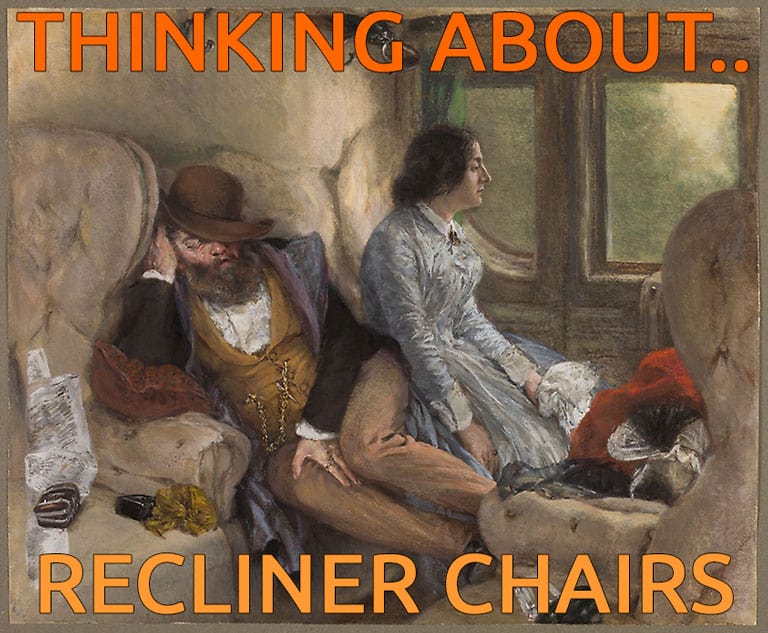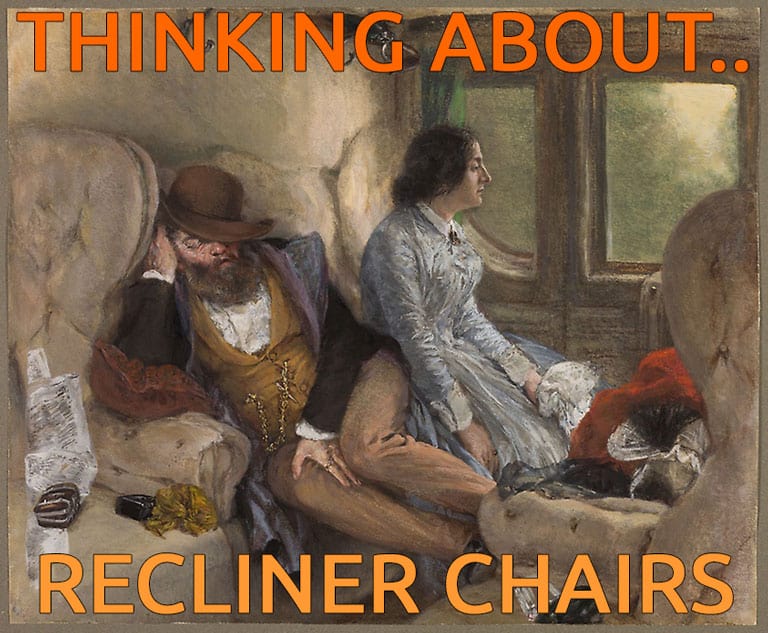 Related Questions
Helpful Info About Lift Recliner Chair & Some F.A.Q. Answered
What Are Some Upgrades I Can Find In A Reclining Chair?
These extras are not necessities, but will make you never want to leave your chair. A few features worth looking into are:
Massage & or Heated Seat

Extended Handles

AirForm Cushions

Glide instead of rocking

Swivel Base
How Much Does a Decent Recliner Chair Cost?
The price depends on the amount of features you choose.
The price range for Reclining Chairs is just as wide as office chairs.
You can find a cheap single season one for about $30 and upwards of $5000, like the premium Zero Gravity Massage Recliner Chairs.
The best bang for your buck, however, is priced between $100 - $400 dollars.
How Long Does An Average Recliner Last?
The price depends on the amount of features you choose.
These chairs' life-cycles vary depending on the daily usages, but they can last around 10 years and even longer with proper care.
SOURCES
"How to Buy the Right Recliner." YouTube,  www.youtube.com/watch?v=FgegZ9qiuC4.

Claude
ChairPickr | "Writer"
Hello, My name is Claude and I enjoy sitting comfortable. Research into what separates the good from the bad in the matter of chairs started when I made a new year's resolution to have better posture.
You clicked here to find that first-rate chair. Why not stay and learn some self care?
Affiliate Disclaimer
ChairPickr is a participant in the Amazon Services LLC Associates Program, an affiliate advertising program designed to provide a means for sites to earn advertising fees by advertising and linking to Amazon.com. Some links on chairpickr are affiliate links, meaning at no additional cost to you. We will earn a commission if you click through and make a purchase.