Taking A Trip Soon? The Best Camping Chair Is Essential For Traveling Comfy
Will 21st century ergonomics make you a happy camper?
Sitting on the ground is not a great long-term option!
Why You Need A Chair For Camping On Your Next Outdoor Adventure

Whether it be a night under the stars or a day along the shores.
A quality fold-out camping chair can be the difference between an enjoyable trip and back aching struggle for survival.
Compared to sitting on the ground or lugging around a common folding chair.
Choose a sitter specifically designed for outdoor weather.
A chair that is compact, lightweight and durable enough to withstand the forces of mother nature.

How Much Do Camping Chairs Cost?

You can find these niche chairs for as low as $20, but are typically between $40 – $100.
When comparing prices, focus on the following key traits. Durability, warranty coverage, and the amount of features the chair provides.
The wood is also a considerable factor in price.
A camping chair worth taking with you on your trip must offer ergonomics, but easy to travel with.
They should be weather resistant and balance conveniences with comfort.
What should I consider before buying a camping chair?
Depending on how you like to camp, there are some things to look for when buying a chair for outdoor activities.
Comfort
Look for a high back seat rest and if possible padded armrest.
Lumbar support is rare in a fold-out camping chair, but is worth the higher price if given the choice.
Quality
Consider choosing lighter color material that won't roast under the sun.
Since we will use it in outdoors, the fabric should be UV resistant and waterproof.
Storage (Easy Travel)
They make camping chair in all sizes depending on the distance of traveling.
Backpack camping chairs are ultra light, while Adirondacks are more stationary camp fire chairs.
Style (Aesthetic)
Personal preferences play a big role in the style of camping chair you take on your trip.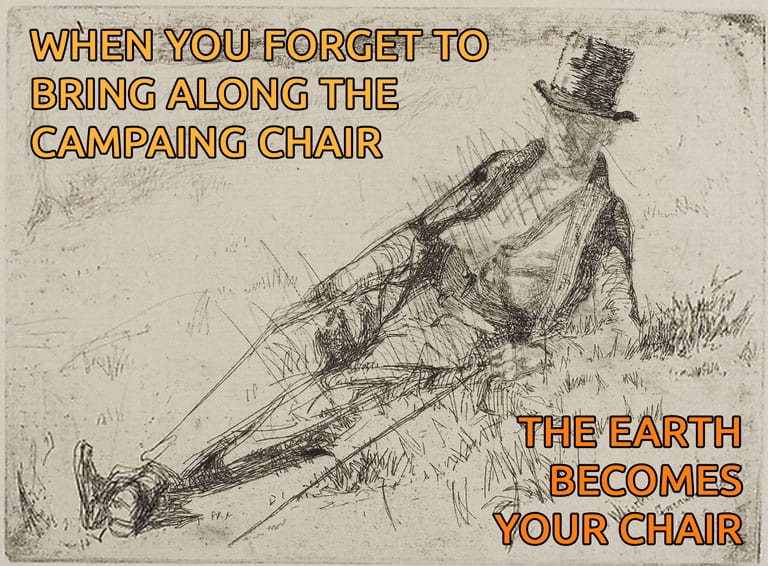 | Chair Name | Brand | Types |
| --- | --- | --- |
| Pinic Original | ONIVA | Fold-Out |
| Freestyle Rocker | CGI Outdoor | Rocker |
| Helinox | Savanna | High Back |
| Vinyard Chair | POLYWOOD | Adirondack |
| King Kong Chair | ALPS | Outdoor |
OUR TOP PICK CAMPING CHAIR FOR PACK RATS
ONIVA | Picnic Original
If you 're serious about outdoor mobile seating, the Freestyle Rocker is the best all around sitter.
From tail-gates to picnics, ONIVA has thoughtfully designed this chair to be mobile, comfortable, and convenient.
The insulated cooler hangs off the left padded armrests of the chair while they equipped the right with a side stand.
There are also multiple zip-up pockets for electronic gadgets and other belongings.
Plenty of Storage Space

Weight Capacity (350 lbs.)

Great All-In-One Outdoor Chair
Some sitters report the chair seat, and backrest needs to be broken in first.
OUR TOP PICK ROCKING CHAIR FOR CAMPING
CGI Outdoor | Freestyle Rocker
Holding two unique patents, this chair has features unlike any other camping chair.
The combination of EAZY-FOLD and Spring Action Rocker technologies makes this a compact fold-out chair and a rocking chair.
It's easy to set up and can be conveniently transported via the integrated handle that appears upon folding up.
If you think being in a rocking chair means it ain't durable, then you played yourself.
The CGI Freestyle rocker has a powder-coated steel frame that can support a sitter up to 250 pounds.
Patented EAZY-FOLD

Spring Action Rocker

High Quality Build
Backrest does NOT recline

Can only be folded when the chair is disassembled
OUR TOP PICK BACKPACK CAMPING CHAIR
Helinox | Savanna High-Back
If you're looking for a camping chair that is feature rich without sacrificing mobility?
The Savanna High-Back is a collapsible camping that can accommodate sitters up to 320 pounds.
Helinox uniquely designed this chair with an elongated back rest.
It's topped off with a headrest that also serves as a convenient carrying sack.
You don't be worry about sitting in filth. It's all machine washable.
They make some outdoor chairs like the Adirondack chairs to be stationary, but not the collapsible Savanna.
This is a camping chair that can for travel, designed to handle the elements while sitting comfortably.
Compact For Easy Travel

Mesh Ventilation Panels For Breezy – Sweat Free Sitting
Some larger sitters have found this chair to be a bit narrow to rest in comfortably.
OUR TOP PICK ADIRONDACK CAMPING CHAIR
POLYWOOD | Vinyard Chair
If you're a fan of the classical look but want modern day quality, the POLLYWOOD Adirondack Chair is a candidate for your next Summer chair.
These chairs won't attract wood eating bugs since it's synthetic wood. This also means no splinters!
They are low maintenance and require no annual varnishing.
You might think they'll crack or peel, but the POLLYWOOD lumber is waterproof and has anti-fungal properties.
Weather Resistant

Low Maintenance

Available in 7 different colors
Backrest does NOT recline

Can only be folded when the chair is disassembled
OUR TOP PICK FOR FOR ALL OUTDOOR ACTIVITES
ALPS | King Kong Chair
A utility chair that is not just for the mountaineers. Great for watching the youth sports game from the sidelines.
The heavy duty weather resistant 600D polyester fabric is durable enough to handle a 800lbs sitter.
It's supported by powder-coated steel frame, so anyone can use the King Kong Chair without fear of it falling apart.
The material of durable 600D polyester is water proof and breathable.
A Lot Of Pockets For Storage.
Petite people might find this chair is uncomfortable because of the seats depth.
Small Cup holders (>20oz)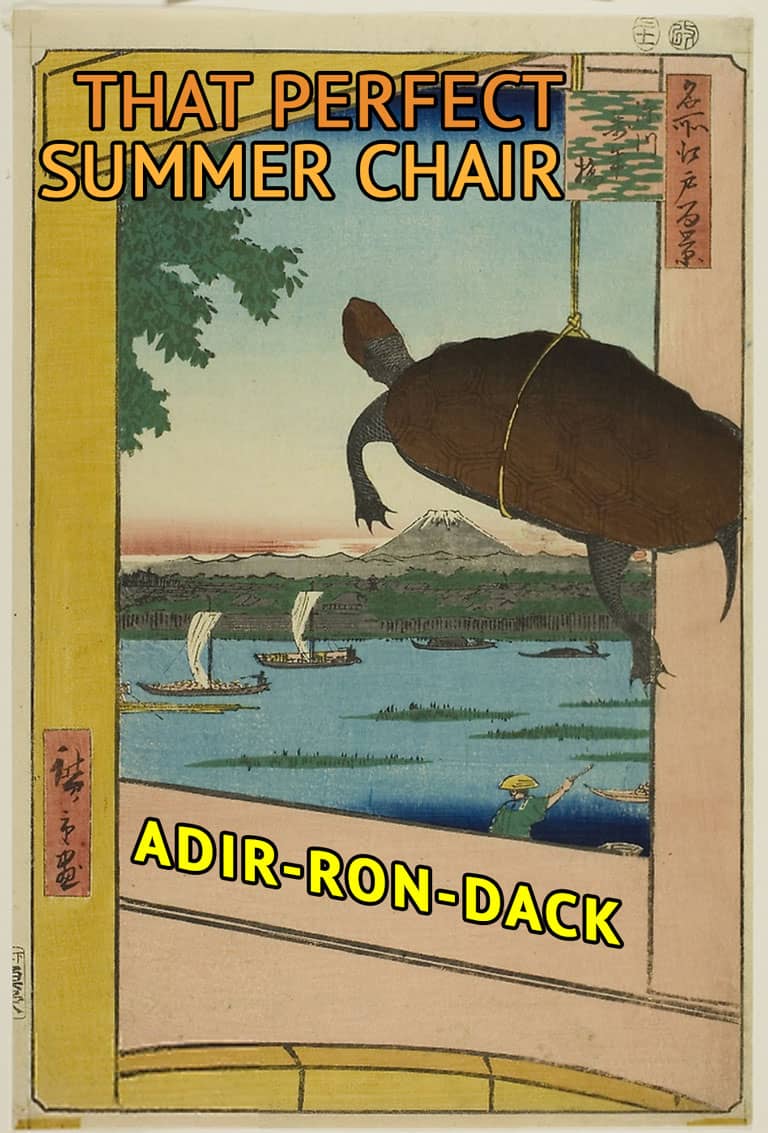 What Are the 3 Most Useful Camping Chairs Features For Outdoor Activities?

There are niche chairs that can compliment almost any place you're going no matter the activity.
Multi-purpose chairs are becoming very popular among campers because they're space saving.
Camping chairs with an umbrella for sunny situations

This feature complements those who like to sit back and relax. Especially while waiting for fishing and more stationary activities.
Inflatable Camping chairs for compact travel

When there is no room for a fold-out chair, bringing along an inflatable is the next best thing.
The quality of the chair's material will make the difference at the end of a long sitting session on whether it's deflated.
Camping chairs with dry storage compartments for wet terrain.

In damp camping conditions, having a chair with a built-in dry storage space makes it an essential piece of gear to bring along.
Related Questions
Helpful Info About Camping Chairs & Some F.A.Q. Answered
Do I Really Need Two Cup Holders In My Camping Chair?
YES! Or no - Larger water bottles will not even fit in most camping chair cup holders. It all depends on the trip you plan on creating for yourself!
What Is The Best Backpack Chair For A Tall Person?
Larger sitters require a chair with a high backrest and a durable frame that won't buckle under their weight.
A quality backpack camping chair also has to be weather resistant and easy to travel with.
What Other Accessories Do I Need For Camping
Tent
Sleeping Bags
Sleeping Pads
Camping Pillow
Camping Fold-out Table
Headlamps or Flashlights or Lantern
Cooler
Tool-kit
Med-kit
Matches/Light/Fire-Starter
Cooking Gear
Spork/Knife/Plate
Cutting Board
Water Bottle/Cup
SOURCES
"Savanna Chair." Helinox, helinox.com/products/savanna-chair.
"POLYWOOD® Outdoor Furniture | Rethink Outdoor® | POLYWOOD® Official Store." POLYWOOD, www.polywood.com/
"King Kong Chair Khaki | ALPS Mountaineering." Www.Alpsbrands.Com, www.alpsbrands.com/alpsmountaineering/products/furniture/king-kong.
"GCI Outdoor Freestyle Rocker | Camping Rocking Chair | GCI Outdoor." GCI Outdoor, www.gcioutdoor.com/hard-arm-rockers/freestyle-rocker-rocking-chair/.

Claude
ChairPickr | "Writer"
Hello, My name is Claude and I enjoy sitting comfortable. Research into what separates the good from the bad in the matter of chairs started when I made a new year's resolution to have better posture.
You clicked here to find that first-rate chair. Why not stay and learn some self care?
Affiliate Disclaimer
ChairPickr is a participant in the Amazon Services LLC Associates Program, an affiliate advertising program designed to provide a means for sites to earn advertising fees by advertising and linking to Amazon.com. Some links on chairpickr are affiliate links, meaning at no additional cost to you. We will earn a commission if you click through and make a purchase.