Drafting Chairs.. Why Do They Even Exist?
What Makes A Drafting Chair Different? These chairs go to great heights for you to sit ergonomically.
They are like office chairs with a few modifications that change its use case.
Features To Look For In An Ergonomic Drafting Chair
| Features | Use Case | Check |
| --- | --- | --- |
| Reinforced Pnumatic Cylinder | Stops Seat From Sinking After Long Periods of Sitting | ✔ |
| Reinforced Casters | Look For Wheels That Have a Locking Lever, For Safty | ✔ |
| Back Rest | Without a Backrest It's Just a Stool! | ✔ |
| Foot Rest | Having Your Feet Grounded Is Important For Posture | ✔ |
| Arm Rest | Optional, Depending If Mobility Is Valued Over Comfort | ✔/✘ |
There are more to a drafting chair than 5 features.
There is a seat-tilt mechanism for added control and waterfall edge seating to contour with your lower body. The most important thing is if the chair eases discomfort after long periods of sitting.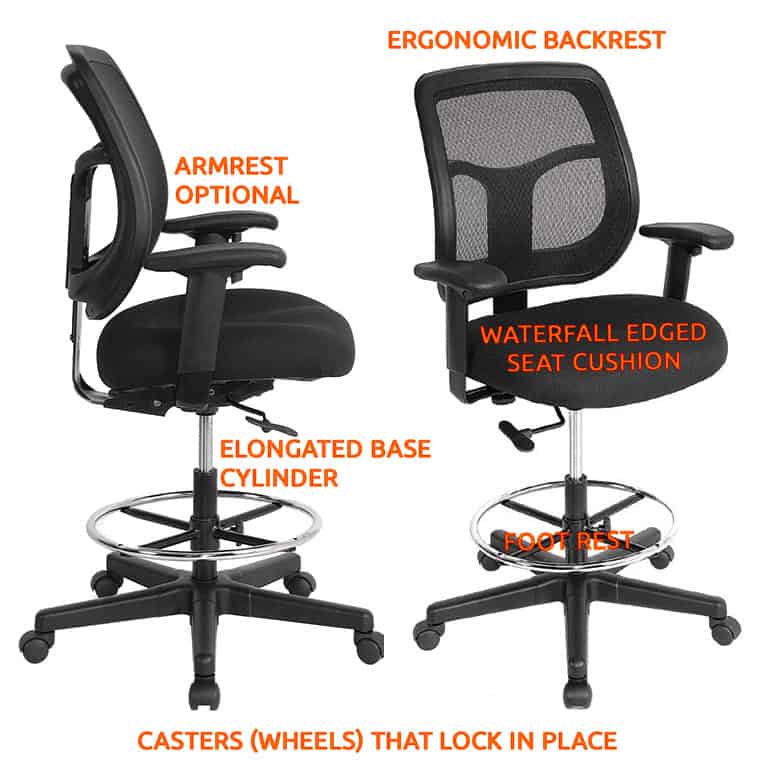 What Is A Drafting Chair?

A drafting chair is an ergonomic chair with a few modifications, such as an extended pneumatic cylinder & a foot-ring (foot rest). Sometimes, these types of chairs are stationary and have no armrests.
Extended Height
The base and cylinder stretch so that the seat is higher than normal; typically topping out above 30" inches.
The standard ergonomic office chairs max's out at a height of about 20 inches in most office chairs.
Foot Rest

Since the height of the chair extends to the point, most people can't have both feet flat on the ground. Most drafting chairs include a foot ring to keep the sitter's feet from sawing.
What May Missing In a Drafters Chair?
Depending on the height of the chair, casters may not be available with these types of chairs for safety concerns. Armrest probably will either be stationary or 2D. In certain situations, mobility is more valued over comfort.
Who Uses A Drafting Chair?
These are not for your typical workstation, drafting chairs have specific use cases.
Such as continuously getting up or matching the height of a taller work space.
Architects
Architecture is an industry that will always be at the forefront of technology.
Over past decades, they have adapted from drawing on drafting tables to drawing on digital tablets.
One piece of the technology that has not changed for them is the drafting chair.
We commonly preferred them over traditional office chairs for their adjustability and mobility to get up & sitting down frequently.
Chemist
It takes half a dozen steps to finish the scientific method. Whether it's microscopic or macroscopic, a chemist is constantly moving around their workstation.
The usual day of a chemist comprises measuring, analyzing, synthesizing, and creating new substances.
These daily activities also comprise standing and sitting frequently.
Drafting chairs accommodate the high-standing desk and are more ergonomic than sittings stools.
Booth Operators
Ticket booth attendants commonly use drafting chairs because the table their conducting business on is usually higher to accommodate standing customers.
Video Production Directors
This is only half true, it's generous to say that a director's chair is a drafting chair. Most of these chairs have a foot-rest but lack the ergonomics considered a drafter's chair.
Security

Guards
This is has been covered in Seinfeld, "The Maestro" episode when George goes shopping and gets bothered that the security guard must stand all day.
We commonly find drafting chairs behind standing desk, laboratories, drafting tables, but what about on movie sets?
Are Directors Chairs Drafting Chairs?
They design Drafting chairs to be used with a table, while director's chairs are like beach chairs and designed to for the sitter to only watch what is in front of them.
What Are The Best Drafting Chairs For Standing Desk?
The debate of office chairs vs drafting chairs ends when it's being used for a standing desk workstation. So here are the best drafting chairs for your setup.
OUR PICK FOR TOP ERGONOMIC DRAFTING CHAIR
Eurotech | Apollo Drafting Chair
The Eurotech  Apollo DFT9800 drafting chair was used with taller desk. They changed features from a regular ergonomic office chair, such as the pneumatic adjuster (Height Adjustment).
This chair is the best bang for your buck in terms of quality and price.
The waterfall seat design and foot-rest complement each other and make for a great seating experience.
The leg rest is sturdy and at a ergonomic height.
Lint can easily get stuck in the mesh of the back rest seat pad.
Frequently Asked Questions
Answers From Chair Owners, Manufacturer Official Specs, & Online Communities
OUR PICK FOR LARGE & TALL DRAFTING CHAIR
Harwick Evolve | Drafting Chair
The Harwick Evolve drafting chair is for large and tall folks using larger than normal desk. The chair's features are simple in design, but thoughtfully engineered with high-quality materials.
The pull-down armrest is covered with thick cushions even though may be the most basic adjustable armrests.
Compared to a regular ergonomic office chair, the Harwick Drafting Chair uses a taller pneumatic adjuster (Height Adjustment).
The base of the chair also has a 20-inch adjustable chrome ringed foot-rest to compensate for the seat's height.
This chair is the feature packed in terms of quality and price.
Harwick creates a great sitting experience by equipping a breathable mesh backrests with lumbar support, an ergonomic seat that sports waterfall design, and 2-to-1 synchro tilt that can properly adjust with most workstations.
They made this heavy duty chair for a heavy set sitter and will not sink, even after long periods of sitting. 
Some sitters have reported that the mesh seat is uncomfortable to use after a full day's work.
Frequently Asked Questions
Answers From Chair Owners, Manufacturer Official Specs, & Online Communities
Alternatives to Drafting Chairs
Still on the fence about picking drafting chair for your workstation, here are some alternatives that do a similar job.
Drafting Stool
Similarly designed to a drafting chair except with no back support or armrest. The seat is usually ergonomically shaped and has a minimalist aesthetic.
Recommenced for the "active" sitter, the early bird catches the worm type.
Leaning/Perching "Wobble" Stools
This is more or less the "millennial stool". If you were to sit on it with a baggy top, it might look like a pole is sticking up your backside.
That being said, this stool is gaining popularity for a reason. It is very ergonomic, because you lean into the seat.
This makes it easier to keep your spine perched in a neutral position.
Over time, the spring compress causing the pneumatic cylinder to sink and, in effect, throwing the ergonomics of your workstation off.
Recommenced for the "active" sitter, the early bird catches the worm type.
Kneeling Stools / Chairs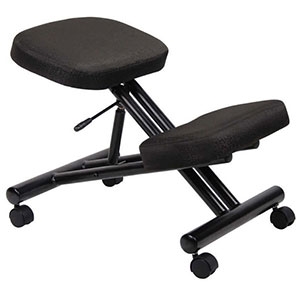 These seats are self-explanatory, they enable the body to sit in a more ergonomic posture, which eases pain points common in traditional office chairs.
There are 7 unique styles of kneeling chairs that benefit posture in different ways.
Ergonomic Office Chair
The standard chair for standard workstations, usually the best bang for your buck, and has the most customization. Should be avoided for standing desk!
Related Questions
Helpful Info About Drafting Chairs & Some F.A.Q. Answered
Drafting Chairs Vs Wobble Stools
A drafting chair has a back, arm-rest, footrest, and casters. While wobble stools have none of those features and have a design best for leaning on.
What Is The Best Height Drafting Stool For Someone Over 5"8' Feet?
If you're over 5"8' ft. & are shopping for a drafting chair, be sure that the height range has a maximum lift over 30" inches.
Any chair under this recommended height will ergonomic issues such as;
Shoulder Pain from armrest will not align with desk.
Neck Strain from always looking upward at a computer monitor.
Lower back pain, from bad posture via no adjustable foot-rest
I Just Spent Most Of My Budget On A Drafting Chair? Are There Any Cheap DIY Standing Desk Alternatives?
First, that is very foolish of you..."Choose Your Chair Wisely" is our motto for a reason.
If you're feeling thrifty and want to do it yourself, all nifty. We created a step-by-step DIY Steel Pipe "Industrial Aesthetic" Standing Desk that cost half the price of name brand ones.
SOURCE
Hubbard, Brandon. "The Architect's Guide." The Architect's Guide, 12 Aug. 2018, www.thearchitectsguide.com/blog/drafting-chair. 
Brand, Wiley. "What Chemists Do and Where They Work – Dummies." Dummies, 2019, www.dummies.com/education/science/chemistry/what-chemists-do-and-where-they-work/.
Justice, Matt. "Wobble Stool VS High Drafting Chair For Standing Desk." YouTube, 15 June 2016, www.youtube.com /watch?v=Hh_ysIXQ3os.
David, Larry, et al. "The Maestro." IMDb, 5 Oct. 1995, www.imdb.com/title/tt0697726/.

Claude
ChairPickr | "Writer"
Hello, My name is Claude and I enjoy sitting comfortable. Research into what separates the good from the bad in the matter of chairs started when I made a new year's resolution to have better posture.
You clicked here to find that first-rate chair. Why not stay and learn some self care?
Affiliate Disclaimer
ChairPickr is a participant in the Amazon Services LLC Associates Program, an affiliate advertising program designed to provide a means for sites to earn advertising fees by advertising and linking to Amazon.com. Some links on chairpickr are affiliate links, meaning at no additional cost to you. We will earn a commission if you click through and make a purchase.