Going To The Ocean? 5 Best Beach Chairs Under The Sun
Nobody likes to get sand where the sun doesn't shine. While a blanket or towel is an easy alternative, they lack the support of beach chairs.
Going to the Ocean, why you should use a beach chair?
Compared to sitting on hot, tiny little rocks or lugging around a common folding chair. Beach chairs are light and will give you a place to relax the back.
Nobody likes to get sand where the sun doesn't shine. While a blanket or towel is an easy alternative, they lack the lumbar support.
It's important to choose a sitter specifically designed for a wet environment.
They manufacture beach chairs from materials that can withstand the sun and will dry quick after getting wet. 
| Chair | Key Feature | Best For |
| --- | --- | --- |
| Plastic | Price | That Extra Sitter |
| Wood | Durable | Sitting Around Campfire |
| Mesh | Breathable | Keeping Cool While Sunbathing |
| Metal | Durable | Keeping In The Back Of Car |
| Resin | Water-Proof | That Extra Sitter |
Niche Chairs For 3 Sandy Situations:

Depending on the beach day you enjoy, there are unique designs and equipped accessories to consider.
Whether it be building sand castles, fishing, or lounging around. There's a chair for it.
Umbrella Equipped Beach Chairs 
If you love the ocean, but have to avoid a tan.
Now don't replace these chairs with sunblock, but they design umbrella beach chairs to protect its occupant from the sun.
Usually the umbrella folds out, but more premium choices have detachable ones.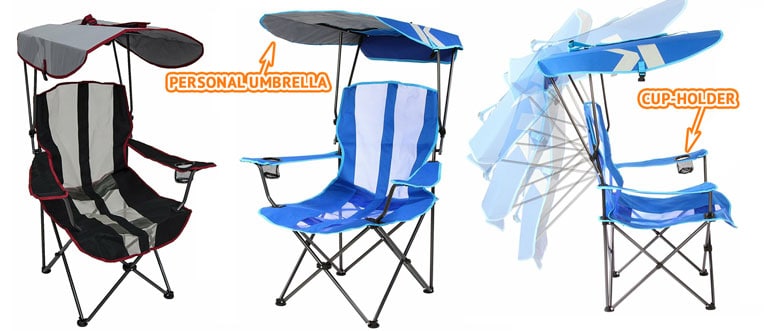 2-In-1 Cooler Beach Chairs,
If you have to covertly hide your "refreshments",

Some beaches and parks have a strict beverage policy.
These chairs specialize in covert sitting sessions. Sitting under a cooler full of beverage is also appealing to the sedentary beach goers who rather catch rays than waves.

2-In-1 Wagon Beach Lounge Chairs,

If you have an architecture of sand in your family, this is the sand castle creator's toolbox
Tired of making multiple returns trips to the car after each beach adventure?
Now you can roll all your things to that secret summer spot with this hybrid wagon folding lounge chair.
At a hauling capacity of 100lbs and large rubber wheels, getting all your gear to prime sand castle making material is easier than ever.
It's also a great place to relax and watch the ocean wash away an afternoon of hard work, if you're under 225 pounds.
| Chair | Brand | Type |
| --- | --- | --- |
| Beach Day Lounger | MacSports | Chair-Wagon Hybrid |
| MAX Shade Chair | Quick Shade | Umbrella Equipped |
| Low Gravity Chair | STRONGBACK | Low-Sitting |
| Portable Lounger | Patio Post | Sunbathing |
| Adirondack | POLYWOOD | Beach Campfires |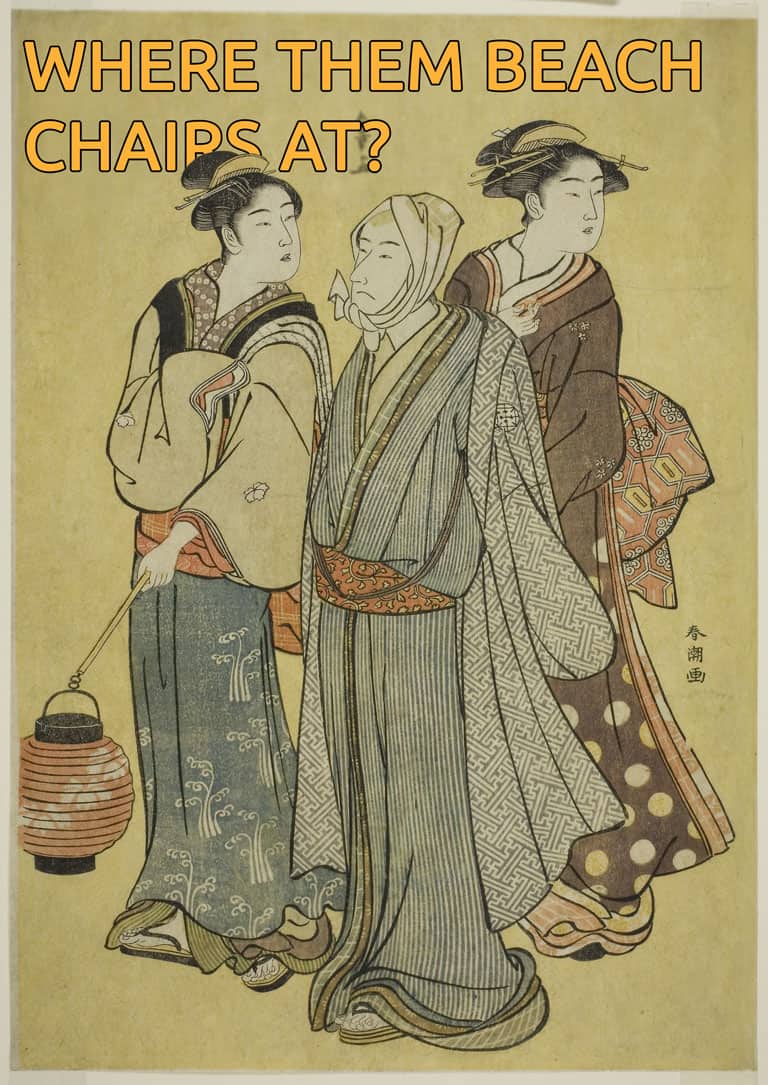 OUR TOP PICK FOR FOLDING CHAIR WAGON BEACH CHAIR
MacSports | Beach Day Lounger
The transformation from cart to fold-out-lounger takes all of about 5 seconds.
This chair is the quintessential beach goers chair.
Great for a family that's tired of making multiple car trips. With the large load capacity of a wagon and a pair of sand treading wheels.
This lounger is just as equipped with a comfort as padded headrest and armrest that reclines at three distinct angles.
One recommendation for extra comfort is to flop a towel over the chair because the material can get it after lengthy sitting sessions.
Cargo Holds Up To 100lbs.

Comfortable For Larger Sitters

Wheels Designed For Beaches
Handle Does NOT Extend when it's fulled reclined

Chair Does NOT Lay Fully Flat
OUR TOP PICK FOR BEACH CHAIR WITH UMBRELLA
Quick Shade | MAX Shade Chair
Quick Shade designed a chair that looks generic but it's actually one-of-a-kind.
This is because of their patented umbrella tech and use of high quality materials.
The steel frame can support up to 500 lbs and is covered by durable 600 Polyester Denier. To keep your chair protected while it's not in use, there is a carry bag included.
Umbrella Provides UV Protection

Umbrella Withstands High Winds

Light Weight For Travel
The chair does not fold-up easily and may require a bungee cord to keep it secure.
OUR TOP PICK FOR LOW SITTING BEACH CHAIR
STRONGBACK | Gravity Chair
One of the most popular fold-out beach chairs on the market.
For those who prefer to keep their behind out of the scorching sand.
STRONGBACK's Low Gravity Chair will get sitting as close to the sand without touching it.
This is a great sitter for solo-beach travelers and people who want to travel light.
Besides it being light-weight and travel friendly, it also provides ergonomic support for beach-goers suffering from back pain.
Lumbar Support System

Compact Light-Weight Design

Padded Armrest
Easy To Travel With

The mesh material version of this chair is not as strong as the canvas fabric variant design.
Avoid Canvas Materiel Option

OUR TOP PICK FOR MODERN 'MILLENNIAL' BEACH CHAIR
PatioPost | Portable Chair
It may seem hefty to lug around at 11 pounds, but few other chairs look as elegant.
This stylish chair sports a head-rest and can recline in 5 different angles to get you at your optimal sitting position.
These chairs save a lot of space thanks to their sleek fold-out design and will easily fit in most car trunks.
(Dimensions| 54.72 x 25.2 x 3.94 inches)
5 Seating Positions

Minimal, Sturdy Design

Breathable Quality Material
No Assembly Required

Some sitters report that the large frame is a heavy to travel with on long sandy beaches.
Heavy To Carry

OUR TOP PICK FOR STATIONARY BEACH CHAIR
POLYWOOD | Vinyard Chair
If you're a fan of the classical look but want modern day quality, the POLLYWOOD Adirondack Chair is a candidate for your next Summer chair.
These chairs won't attract wood eating bugs since it's synthetic wood. This also means no splinters!
They are low maintenance and require no annual varnishing.
You might think they'll crack or peel, but the POLLYWOOD lumber is waterproof and has anti-fungal properties.
Weather Resistant

Low Maintenance

Available in 7 different colors
Backrest does NOT recline

Can only be folded when the chair is disassembled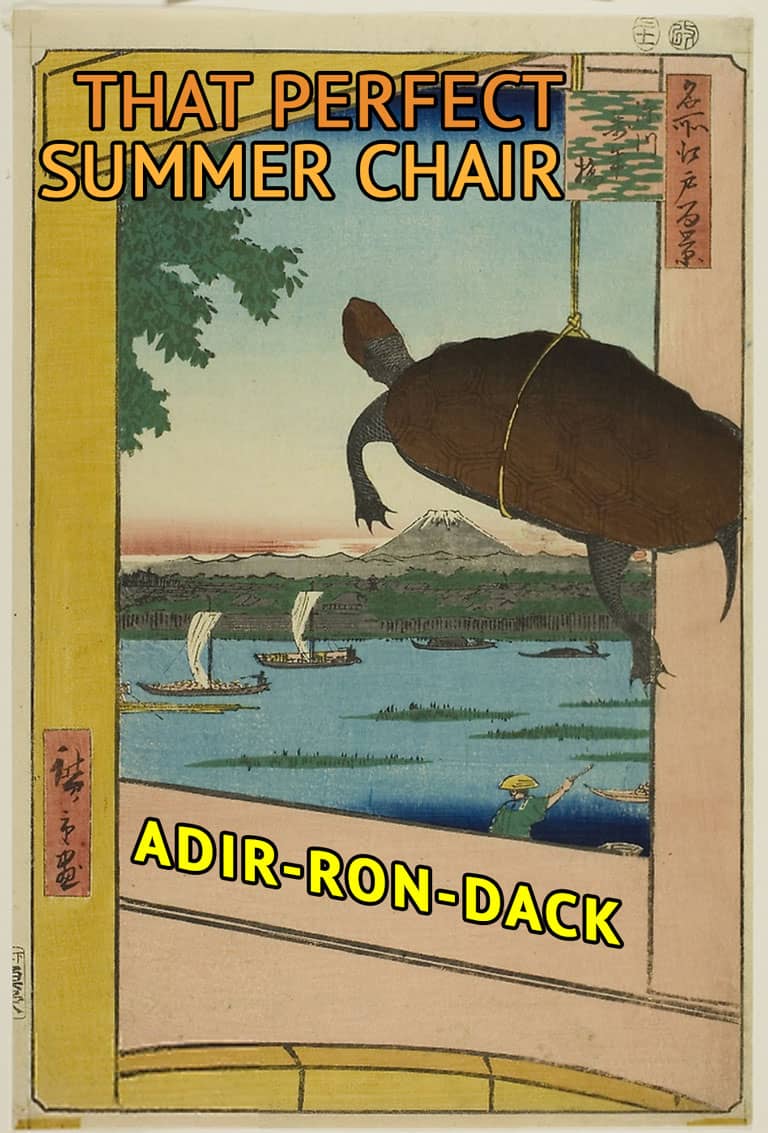 Related Questions
Helpful Info About Beach Chairs & Some F.A.Q. Answered
I've Always Wondered About How The Beach Chair Was Invented?
Don't We All?
This type of chair dates back to a German Basket Maker in 1882. Wilhelm Bartelmann originated this basket like chair to protect beach goers from the windy shores of the North German Coast.
What Are Popular Material Chocies For Fold-Out Chairs?
What Is The Best Type Of Chair For The Beach?
The ideal ocean sitter entirely depends on the activities the occupant is doing.
A chair that is being used for fishing should be easy to clean and water resistant. While one for sun-bathing needs a mesh fabric to keep cool under the hot sun.

Claude
ChairPickr | "Writer"
Hello, My name is Claude and I enjoy sitting comfortable. Research into what separates the good from the bad in the matter of chairs started when I made a new year's resolution to have better posture.
You clicked here to find that first-rate chair. Why not stay and learn some self care?
Affiliate Disclaimer
ChairPickr is a participant in the Amazon Services LLC Associates Program, an affiliate advertising program designed to provide a means for sites to earn advertising fees by advertising and linking to Amazon.com. Some links on chairpickr are affiliate links, meaning at no additional cost to you. We will earn a commission if you click through and make a purchase.