Monobloc Chairs - Controversial Symbol of Capitalism or Outdoor Decor?
Who First Created The Monobloc Chair?
We know little about the backstory of the first plastic composite molded Monobloc Chair.
What we know is that it was in 1946 and most of its development based in Canada by D.C. Simpson.
What does Monobloc Even Mean?
This process uses a single piece of raw material that melts into a design. The term "Monobloc" is essentially a single cased mold.
These chairs are one piece opposed to assembled together.
Is The Monobloc The World's Most Popular Piece of Furniture?
Odds are you've sat in these plastic examples of mass consumerism at least once. Even being one of the most successful chairs ever, Monobloc Chairs are arguably the most controversial.
The designing community has a love-hate relationship with them.
Why is art culture obsessed with Monobloc Chairs?
There are a few reasons we find this chair on every corner of the earth.
These pieces of furniture are the embodiment of how mass production solves human problems while creating ecological ones.
Monobloc "Lawn" Chairs will get the job done at a cheap price and readily available.
This may be why compared to other furniture, Monobloc Chairs have are featured in a considerable amount of art projects.
Just in the past two decades, contemporary designers like Fernando and Humberto Campana's Respect Cheap Furniture (2009) or Irene Guzman's Monobloc Monamour (2017) have put refreshing remixes on a classic design.
These chairs make for excellent non-intrusive art props because we well know they are well to the public and are the few "Context-Free" objects of the time.
The pure saturation of these things makes you likely to have taken the comfort of one at some point or another. In most situations, it was a social gathering. Perhaps those memories are getting interwoven with nostalgia?
I know mine has, but that could be that I write about chairs to pass the time…

Why Is A Monobloc Chair The Best Example of A "Context-Free" Object?
A context-free object means it offers no obvious signals or linguistic cues to its local environment. 
When you see a Monobloc Chair in a picture, it's hard to tell the time and place using this object alone. 
If you're not happy with that answer, Here are two other answers to help get a better understanding on why the Monobloc Chair is a "Context-Free" symbol.
Virtually every object suggests a time and place. The Monobloc is one of the few objects I can think of that is free of any specific context. Seeing a white plastic chair in a photograph offers you no clues about where or when you are. | Ethan Zuckerman, Those White Plastic Chairs – The Monobloc and the Context-Free Object.

On a higher part of the beach, a single patio chair of molded white plastic commanded a wide view. Someone might have put it there to enjoy a beer in, or for winter sunbathing. Then again, it might have been flotsam. I have seen this identical type of plastic chair in photos of the Lagos, Nigeria, city dumps in the Times. A photo of a memorial gathering for a slain Al Qaeda leader in Jordan showed a row of these same chairs in a tent. I own six of these chairs myself. I believe this type of white molded-plastic chair belongs to the growing category of the world's ubiquitous objects.  | Ian Frazier, Writing about the return of seals to the waters that surround New York City.
How Monobloc chairs got popularized?
Over the past half a century these "Context-Free" sitters have are found almost everywhere.
Its mass adoption occurred throughout the 1970s because of their simple design, economical viability, water proof, stackable, light, and requiring low maintenance. 
Henry Massonnet sparked the chair's spike in popularity in 1972 after he invented the Fauteuil 300, an economically viable chair that gets created in only two minutes!
The first company to manufacture these Monobloc chairs was the Grosfillex Group. The Gorsfillex Resin Garden Chair initially released in 1983 at a whopping $50.
It was quickly copied because of lack of original patents.
Now you find these chairs for around $10 and through perfecting manufacturing they cost just $3 to create.
Top 12 Historic Monobloc Chairs
| Chair Name | Designer | Date Invented |
| --- | --- | --- |
| The Monobloc | D.C. Simspon | 1946 |
| Bofinger | Vico Magistretti | 1964 |
| The Planton | Verner Panton | 1968 |
| The Poly-COR | Luigi Colani | 1968 |
| The Capitello | Franco Audrito | 1971 |
| Fauteuil 300 | Henry Massonnet | 1972 |
| Graden Chair | Gorsfillex Group | 1983 |
| The Wait Chair | Mathew Hilton | 1998 |
| The La Marie | Philipe Starck | 1998 |
| Air Chair | Jasper Morrison | 1999 |
| Poly Chair | Karim Rashin | 2003 |
| Mr. Impossible | Philipe Starck | 2009 |
A Canadian Lawn Chair?

The story behind the first synthetic plastic composite-mold Monobloc Chair is a bit of a mystery.
What we know is that in 1946, D.C. Simpson created a beautiful chair the world was not yet ready for.
Monumental Monoblocs Designs Arrive

Over 20 years pass from the Monobloc chair's first design sees little to no revisions.
That all changed in 1964 when Vico Magistretti constructed a prototype called Selene Forerunner.
What made the Bofinger Chair so special is the single mold pressing process that created curves no organic material could reproduce.
The material known as fiberglass-reinforced polyester is easy to work with and economically viable.
Not only was the Bofinger chair affordable, it was also lightweight and stackable! These three factors contributed to its widespread adoption.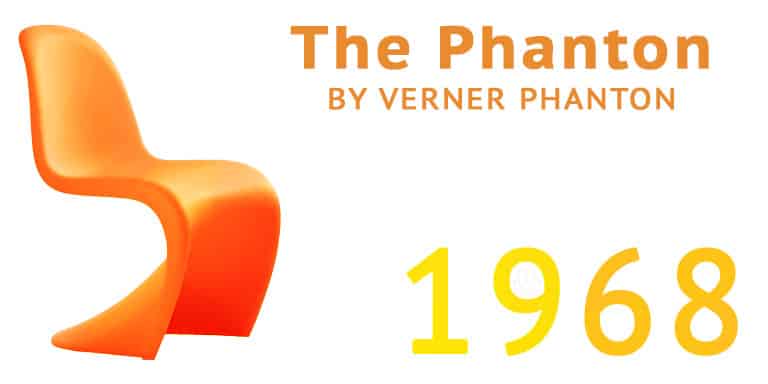 Synthetic, But Naturally Designed
A lesser known but more beautiful Monobloc design is The Panton Chair from Verner Panton in 1968.
The concept behind this chair's presence was a "grow out the floor" piece of furniture. It curves in all the right spots, but honestly it reminds me more of Startrek.
A Science Fiction Chair With A Science Fiction Name
An even lesser known, but they also designed more Startrek looking chair in 1968.
The Poly-COR by Luigi Colani is not a one size fits all. The width of the seat is just over 20 inches and it's held up by a single leg. As cool as they look, Colani's design might have been too ambitious.
The Poly-COR had a complicated manufacturing process and is one of the most challenging chairs to produce.
Monobloc Chairs Go Mainstream

It may look marble but it sits like marshmallow.
One of the Monobloc Chairs' exotic renditions first came to the scene in 1971, within the historic NYC nightclub called Studio 65.
Created by Franco Audrito and Piero Gatti; The Capitello looks like an ancient Greek column, but is more comfortable.
Unlike its predecessors, it had an armrest injected with foam molding. 
Its mass adoption occurred throughout the 1970s because of their simple design, economical viability, water proof, stackable, light-weight, and requiring low maintenance.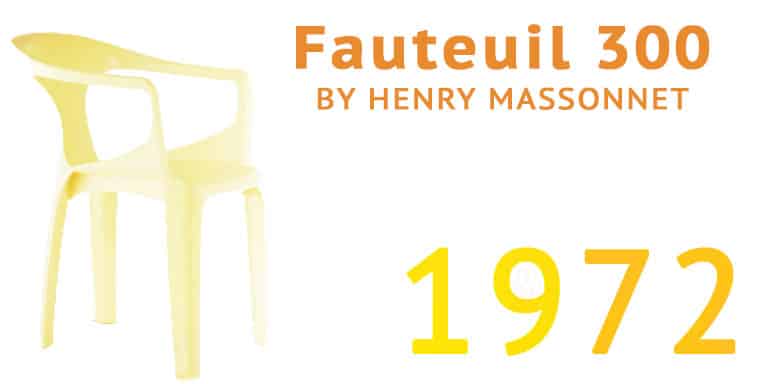 Elegant, Nimble, & Will Probably Last Just One Season.
Henry Massonnet sparked plastic lawn chairs spike in popularity in 1972 after he invented the Fauteuil 300, an economically viable chair that can be created in just 2 minutes!
Am I Sitting On Perfect Plastic?

The first glimpse of Monobloc Chairs as we nostalgically know them.
In 1983 the Grosfillex Group manufactured out-door Resin Garden Chair. It originally released them at a whopping $50!
The popularity and lack of original patents had Grosfilex's garden chair quickly copied.
Now you find these chairs for around $10 and through perfecting manufacturing they cost just $3 to create!
How Long Until It Becomes A Classic?

In 1998, The Wait Chair was released by Atuthetnics as a remix to the original Monobloc Chair of D.C. Simpson.
Matthew Hilton started the design in 1996 and spent ten weeks testing the integrity of the chair using computer models.
This Monobloc Chair, beset with the difficult goal of being a light-weight stackable chair that conveniently stows away; while also being the most comfortable single-piece molded injection chair. 
It's almost like designers try to one-up each other because only a few months after Philipe Starck designed a Monobloc chair of his own.

They May Be Called Monobloc Chairs, But The Industry Always Release Them In Pairs
Phillipe Starck and the biggest name in plastic furniture–Kartell teamed up and created arguably the first polycarbonate chair.
The rigidness of the La Marie chair is not only an aesthetic decision, but because of the way polycarbonate material molds into straight lines. This manufacturing process increases the structural durability and also has popularized the transparent "glass chair" look.

Do you remember those plastic chairs with the cylindrical hole at the back of the seat below the back rest?
They're called Air Chairs and were designed by Jasper Morrison in collaboration with Magis in 1999.
The legs of these chairs are on the skinny side, but the gas-injected polypropylene molding gives them more than enough strength.
The Chairs Of Yesterday–For Tomorrow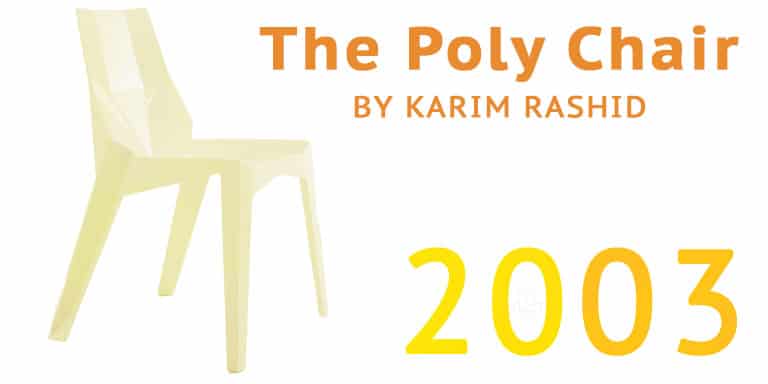 If you were to wake up in a virtual reality game, the Poly Chair would be the chair you're sitting in.
Created in 2003 by Karim Rashin the sharp contour shapes in this chair are not just a modern twist on aesthetics, they add to the chairs structural integrity. 
Along with being a fan favorite among Millennial's, the Poly Chair also won three awards in design competitions.
Best Design 2007 Award

Red Dot Award 2008

Good Design Award 2008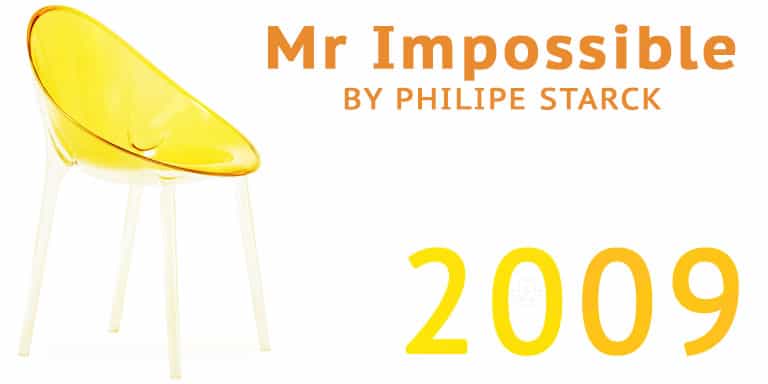 Perhaps the best named chair I've come across. Mr. Impossible is a Philippe Starck design created in 2009.
The chair is available in two different varies of polycarbonate; batch-dye or transparent.
The circular seat sits on top of four sonic-laser welded legs, which makes it one of the most durable Monobloc chairs.
More Attention On Eco-Friendly Chairs

As the market becomes more environmentally conscious, more focus is placed on sustainability.
Karim Rashid steps up to designing an Eco-plastic injected Monobloc chair.
They unveiled the Siamese Chair in 2014 and looks as exotic as the materials it's built on.
Which is a mixture of two Amazonian fruit trees, ipe roxo and acai? The barks of these two only take a couple years to regenerate.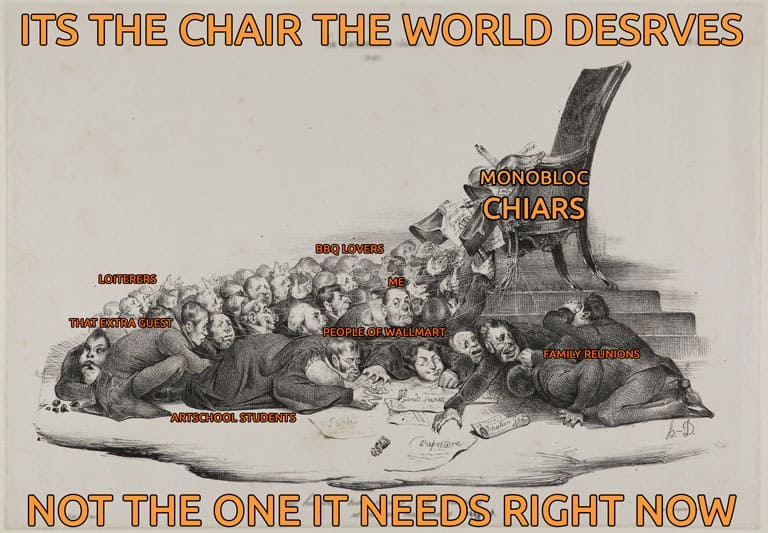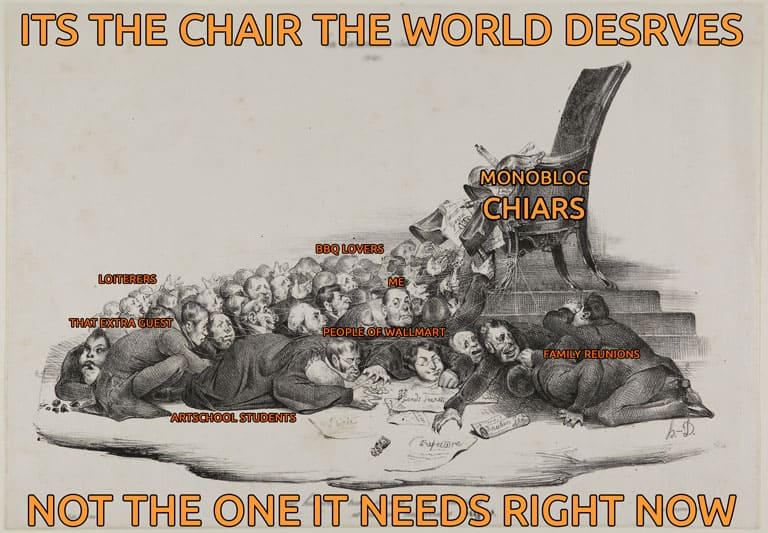 OUR TOP PICK MONOBLOC CHAIR
Umbra | The Oh Chair
Created to replace those uncomfortable plastic chairs with something of higher quality. Designed by the same guy who created the Poly Chair & Siamese Chair, Karim Rashid.
Affordable (Around $60)

Breathable Seat Holes

Durable For Outdoor Use
Buy It For Life Kind of Plastic Chair
Premium Price Tag

Seat legs are nonadjustable

The color choices could be a little more diverse. (Black, Blue, White)
Related Questions
Helpful Info About Monobloc & Some F.A.Q. Answered
When Were The First Monobloc Chairs Created?
If you're not a stickler about technicalities. Single molded design A.K.A The precursors for Monobloc Chairs dates back to the 1920s. Instead of carved plastic, these chairs from sheets of metal and plywood. 
Technically, there were no genuine synthetic plastic Monobloc designed chairs until The Monobloc by D.C. Simpson's in 1946.
Which is your favorite out of the eight classic Monobloc Designs?
Its honestly like picking your favorite child.

The straightforward answer would be the classic 1983 Garden Chair by the Gorsfilex Group, but I'm going with The Poly Chair by Karim Rashid. It's got all the right angles and has even won three design awards.
Any Out-door Chair Alternatives to Monoblocs?
Of course! There are plenty to choose from depending on the scenario.
If you're looking for an upgrade, then Zero Gravity Chairs are the best option. These specialized out-door armchairs are the easiest way to get that gravity defining experience.
Are There other types of Monobloc furniture?
Single cast molded we can find monobloc designs in the following.
Loveseats
Side/Snack Tables
Lounge Chairs
Benches
TV Stands
Is It Spelled "Monoblock" or "Monobloc"?
If you read down this far, you would know that answer..
From my research and according to the original designer websites, it's called "Monobloc"!
That being said, Google will auto-correct their search to "Monoblock".
SOURCES
Matthew Hilton Studio. https://matthewhilton.com/projects/wait.
"Magis Air-Chair." Www.Hermanmiller.Com, www.hermanmiller.com/products/seating/stacking-chairs/magis-air-chair/.
Gil, Guillermo. "Poly-COR." Domaine de Boisbuchet, www.boisbuchet.org/collection/poly-cor/.
https://www.authentics.de/en/_/wait-chair/
"Poly Chair Designed by Karim Rashid – DIOTTI.COM." Www.Diotti.Com, www.diotti.com/en/poly-chair-karim-rashid.html.
"History." Www.Grosfillexfurniture.Com, www.grosfillexfurniture.com/us/history.
"The History of Monobloc Plastic Chairs on View at Vitra Shaudepot." Inexhibit, https://www.inexhibit.com/marker/the-history-of-monobloc-plastic-chairs-on-view-at-vitra-shaudepot/. Accessed 13 June 2020.
Rashid, Karim. "A Brief History of the Humble Plastic Chair (and Its Oil-Free Future)." CNN, www.cnn.com/style/article/history-of-plastic-chairs-karim-rashid/index.html.
Metmuseum.Org, 2020, www.metmuseum.org/art/collection/search/492747.
Gorman, Carma. "220°C Virus Monobloc: The Infamous Chair, Ed. Arnd Friedrichs and Kerstin Finger ." Design and Culture 4,  No. 2 (July 2012): 252-3, www.academia.edu/3540142/ 220 _C_Virus_Monobloc_The_Infamous _Chair_ed._Arnd_Friedrichs_and_ Kerstin_Finger.
Zuckerman, Ethan. Those White Plastic Chairs – The Monobloc and the Context-Free Object | … My Heart's in Accra. 6 Apr. 2011, www.ethanzuckerman.com/blog /2011 /04/06/ those-white-plastic-chairs-the-monobloc-and-the-context-free-object/.

Claude
ChairPickr | "Writer"
Hello, My name is Claude and I enjoy sitting comfortable. Research into what separates the good from the bad in the matter of chairs started when I made a new year's resolution to have better posture.
You clicked here to find that first-rate chair. Why not stay and learn some self care?
Affiliate Disclaimer
ChairPickr is a participant in the Amazon Services LLC Associates Program, an affiliate advertising program designed to provide a means for sites to earn advertising fees by advertising and linking to Amazon.com. Some links on chairpickr are affiliate links, meaning at no additional cost to you. We will earn a commission if you click through and make a purchase.