Bungee Cord Chairs, How They are the best for chilling?
We never asked for the invention of the bungee cord chair, but our butts are better off because of it! What makes these trampoline chairs the best for chilling?
Why Bungee Cord Chairs Are The Most Underrated?
Few seats compete with the capacity of chill bungee cord chair's provides
If you really care about that future guest you'd store away a fold-out trampoline styled chair compared to those outdoor stadium seats.
People who find it hard to sit still will enjoy the bounciness of Trampoline Chairs.
They are definitely the most breathable fold-out chair, and some even think Bungee Chairs are a fun way to rest.
They are a great alternative for the restless child jumping up and down on the couch. 
It's perfect for watching TV, relaxing on the front porch, camping, tailgating the sporting event or even an extra chair for the not so spacious dorm room.
What Makes These Trampoline Style Chairs So Popular Among All Ages?

There are more reasons than there are holes in this exotic-looking chair. There are a variety of form factors these Bungee Cord Chairs take shape in. 
Easy To Store Away
Many bungee cord chairs can fold into two and are the ideal guest chair. They are more comfortable than the average store-away-seat but tend to sit lower near ground. This combination makes them an excellent pick for the rec room. 
Diversity Of Designs
They come in all different shapes and sizes for both adults and children. The variety of styles bungee cord chairs are available makes at least one design fit the aesthetic of your living space.
There is even an office chair form factor replaced with bungee cords for the backrest and seat if you're looking for the most breathable office chair.
Great Value
The unique sitting experience bungee cord chairs provide at a bargain price considering they usually sell for around $60.
The ubiquity of appearances in dormitories and children's play areas speaks for itself.
Are Bungee Cord Chairs Comfortable To Sit In?
The Bunjo Chair is not a primary chair because of their lack of lumbar support, but can be sat in for video games sessions worth of time (30-90 Minutes).
Who Are Bungee Cord Chairs Best For?
Bungee cord chairs are the latest trend in sitting among tweens and youngsters because of their quirky design, features and for their unique way of offering relaxation.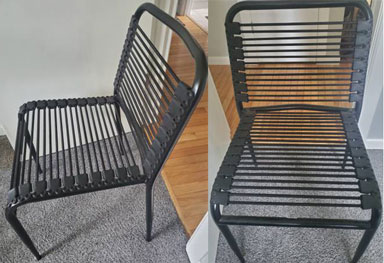 Older folks enjoy this trampoline for a chair experience as they can rest with considerable comfort. Large & tall individuals take these bungee chairs as a gift because these seats can handle the heaviest of loads.
7 Best Bungee Cord "Bunjo" Chairs



What are the top pick trampoline chairs for resting in-front of the television?

Don't worry about looking anywhere else because we found 7 of picks that sit comfortably with many sitters. No matter the seat! Whether it being about bungee chairs or ergonomic kneeling chairs, we have you covered.
| Chair Name | Brand Name | Chair Style | Max Weight |
| --- | --- | --- | --- |
| IC544S Bunjo | Zenithen | Butterfly | 225 lbs / 103 kg |
| Zero Gravity Chair | Timber Ridge | Recliner | 350 lbs / 159 kg |
| Bungee Chair | Impact Canopy | Saucer | 600 lbs / 272 kg |
| Office Bungee Chair | Euro Style | Traditional | 450 lbs / 204 kg |
| Air Mesh Chair | Zenithen | Fold-Out | 225 lbs / 103 kg |
| Bungee Chair | Bunjo | Trampoline | 200 lbs / 91 kg |
| Micromink | Urban Shop | Saucer | 225 lbs / 103 kg |
OUR TOP PICK FOR TRAMPOLINE CHAIR
Zenithen | IC544S Bunjo
The premium quality seating of Zenithen's Bunjo Chair uses high quality real nylon bungee cords, and the open space design provides the breathability sitting experience. They easily fold and are great for travel because of being light in weight.
Weighing in at about 8.2 pounds in weight, the Zenithen Bunjo Chair has the dimension of 33 x 33 x 2 inches. It's vibrant teal color makes this a top choice beach chair prefer.
High Weight Capacity

Space Saving (Foldabale)

Durable Bungee (600D Polyester)
The bungee cords are not hidden under the exterior cover and this makes the chair look cheap.
OUR BUNGEE GRAVITY CHAIR PICK
Timber Ridge | Zero Gravity Chair
The Timber Ridge XL is a chair for bigger sitters. Unlike other Zero Gravity Chairs, this one has a metal frame and can support up to 350 lbs.
For those who like their neck straight while they sit, the headrest cushion is removable.
It's great for outdoor activities because of the water resistant materials.
Under the wooden armrests that adjust with the sitters, there are a couple small clamps that lock the sitter into their optimal position.
The locking mechanism lets the sitter hold to their preferred recline position.
Some sitters report that the locking mechanism is hard to lock in place.
Impact Canopy | Bungee Chair
Stealth designed their engineers' chair using only high-quality materials (wheels aside). The drafting style chair is excellent for top desk studio workstations.
The combination of Active Tilt™ Seating and sturdy footrest makes leaning forward while sitting a more natural position. The Zenwave Motion feature ensures your back won't feel sore even that after extended periods of sitting.
Stealth Pro Chair is for professionals and shows it in its price tag. If your serious about your craft, get a chair from a company serious about theirs.
Non-Reflective Coated Color

Breathable Fabric

The Active Tilt™ Seating Tech.
The plastic casters (wheels) are inferior quality and is loud for a recording workstation setting.
OUR TOP PICK SWIVEL BUNGEE CHAIR
Euro Style | Office Bungee Chair
Euro Style uses only high-quality nylon materials for their bungee cord seat. It's supported by powder coated steel frame which can support up to 450lbs.
It takes all but around 10 minutes to assemble.
Unlike other Bunjo Chairs, they design this one with 2 locking positions and even a tilt mechanism. The swivel chair features make this mobile too.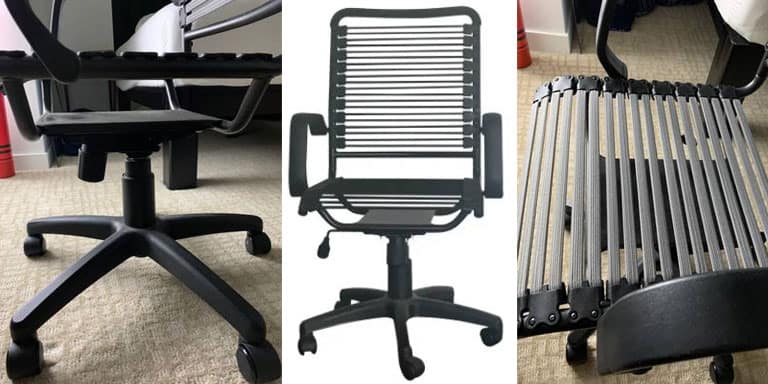 Unique swivel style bungee cord chair that is made of high quality materials.
Some sitters find that the seat pad sinks after extended periods of sitting.
Not For Heavy Sitting Sessions
OUR TOP PICK BUNGEE CHAIR WITH CUPHOLDER
Zenithen |Air Mesh Chiar
Using an elastic bungee support system, the Air Mesh holds together by a durable steel frame which folds easily flat for convenient storage.
Contoured with a thick pad on the seat and back to provide added support for extended periods of sitting.
Unlike most bungee cord chairs, Zenithen designers equip the Air Mesh with both a pillow and cup holder.
There is also a safety lock setting so you can lean back and relax on this foldable utility chair.
The headrest in combinations makes this an ideal fold-out chair for outdoor sporting events.
It can fold in just a few seconds thanks to the high quality steel frame. There is also no assembly required!
Multiple use cases, great for outdoor activities as well as indoor. (Gaming or Fishing)
Some sitters have reported the chairs are less comfortable for long term siting.
OUR TOP PICK FOR OBLONG BUNGEE
Bunjo | Bungee Chair
The hexagon shape of the classic Bunjo Bungee Cord Chair is comfortable and breathable. The high backrests help reduces sitters fatigue created by unbalanced posture.
The essential features you'd expect from a trampoline chair at an excellent price.
These TV Watching chairs essentials include a solid fold-out metal frame, butterfly bungee seating style, and durable nylon also known as bungee cord.
Light Weight Fold-Out Frame

Roomy Oblong Shaped Seat

Strong Quality Bungee Cord
The bungee cord needs to be adjusted after extended periods of sitting.
OUR TOP PICK SAUCER BUNGEE CORD CHAIR
Urban Shop | Micromink
The saucer style trampoline chair designed by Urban Shop offers a unique sitting experience. The circular seat practically suspends in mid air via bungee cords and mimics zero gravity sitting.
This turtle shell style seating hugs your spine. As complex as the saucer seat seems, the Microminx Web is actually a fold-out chair.
The elegance of Urban Shop's design has some drawbacks, however, extended periods of sitting might lead to a sweaty backside.
Unique Design

Large Weight Capacity

No Assembly Required
The Faux Fur cushion can get your back sweaty after extended periods of sitting.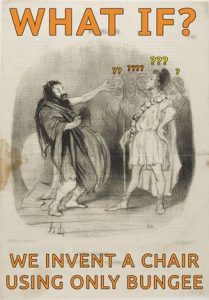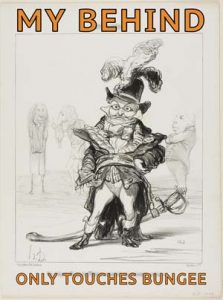 Are Bungee Cord Chairs Worth It?
Compared to other living room furniture, Bungee Cord Chairs are fairly inexpensive for the features they offer.
Choosing bungee cords for the seating area over more traditional materials makes these chairs breathable and lightweight. 
The durable steel or plastic frame in combination with elastic bungee cords support sitters of any weight.
Compact design of these chairs makes it the perfect choice for smaller living situations like college dorms.
Lightweight and foldable for easy travel.
Popular choice for children's playrooms (Easy To Clean)
Tremendous variety of materials, colors, and sizes to choose from.
Are Bungee Cord Chairs Comfortable To Sit In?
The Bunjo Chair is not a primary chair because of their lack of lumbar support, but can be sat in for video games sessions worth of time (30-90 Minutes).
What to know before choosing the best bungee cord chair?
Here are three considerations to make before buying…
Adjustable Features
In the effort to get healthy posture, it's essential for chairs to have adjustable recline angles and height to accommodate different people. 
Longevity (Long Lasting)
The cheaper options have frames of less durable plastic compared to high end metal Bunjo Chairs.
Wear and tear of the bungee cord fibers often seen in children's sizes, but can occur in the less expensive adult sized chairs.
Convenient Storage
Not every Bunjo is a folding chair. A straightforward way to identify if it is foldable is by their legs. They are like beach chairs with the front and back legs connected to each other. 
Bungee Cord Chairs VS Trampoline Chairs?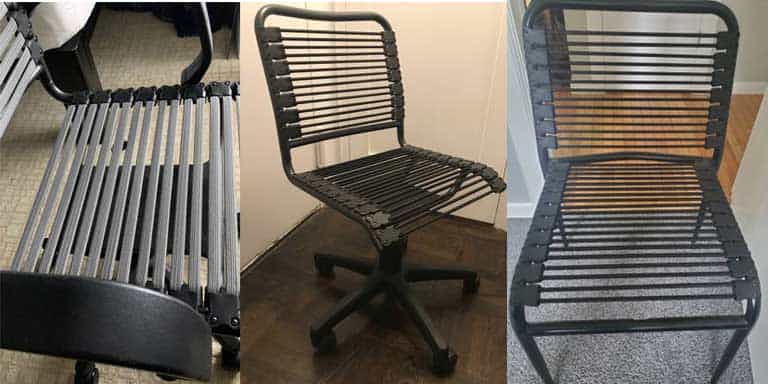 Bungee Chairs come in a variety of styles like recliners, saucers, and swivel office chair designs.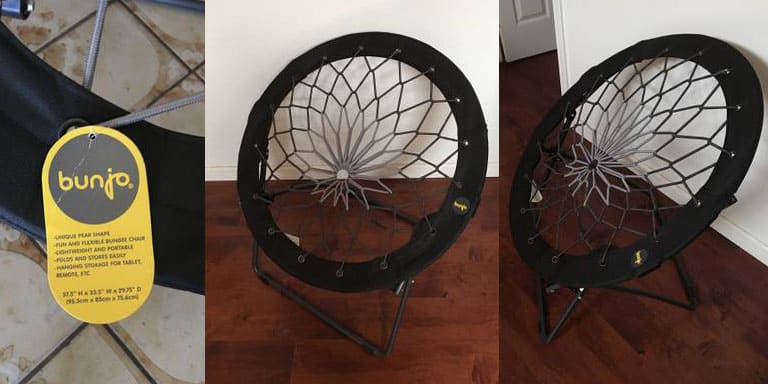 Trampoline chairs are a subset of Bungee Cord Chairs and can be classified by their circular design. These chairs fold-up and have dreamcatcher braided styled knotting.
Related Questions
Helpful Info About Bungee Cord Chairs & Some F.A.Q. Answered
Do Zero Gravity Chairs Use Bungee Cords?
Most outdoor zero-gravity chairs use bungee cords to connect the seat with the support frame. The elasticity of the bungee cord contributes to the zero gravity sitting experience. 
What is a Bungee Cord Chair (Trampoline Chair)?
A simple way to identify a Bunjo Chair is by their seat. Which gets woven together by a bungee cord that connects to a metal or plastic frame.
SOURCES
Raw Technique Studios. "The Problem With Being In The Studio All Day." YouTube, 30 Nov. 2019, www.youtube.com/watch?v=VaFhswmuSEI.
Ohlendorf, Daniela, et al. "Fit to Play: Posture and Seating Position Analysis with Professional Musicians – a Study Protocol." Journal of Occupational Medicine and Toxicology, vol. 12, no. 1, 1 Mar. 2017, 10.1186/s12995-017-0151-z. Accessed 8 Dec. 2019.
"Specifications." ErgoLab, www.stealthchair.com/specifications.html.

Claude
ChairPickr | "Writer"
Hello, My name is Claude and I enjoy sitting comfortable. Research into what separates the good from the bad in the matter of chairs started when I made a new year's resolution to have better posture.
You clicked here to find that first-rate chair. Why not stay and learn some self care?
Affiliate Disclaimer
ChairPickr is a participant in the Amazon Services LLC Associates Program, an affiliate advertising program designed to provide a means for sites to earn advertising fees by advertising and linking to Amazon.com. Some links on chairpickr are affiliate links, meaning at no additional cost to you. We will earn a commission if you click through and make a purchase.