Best Pink Gaming Chairs That Pretty Up Work or Play Setups
All pink colored chairs may be pretty, but that doesn't mean they are uncomfortable.
So we did the heavy picking and curated 11 best gaming chairs that are mostly all pink and very comforatable.
Why A Pink Gaming Chair?
Who is this color for? Not for everyone, but those who do wear it proudly.
Loving pink is kind of like enjoying a bowl of Brussels-sprouts. you either like them or you don't.
Personal preferences aside, pink gaming chairs typically are more about aesthetics than ergonomics. Other than the exotic upholstery, this makes them likely to have a premium price without the premium features.
Is The Pink Effect Actually True?
Believe it or not, pink is a deceiving color. What you're actually seeing is white light without the green hue of the spectrum.
Whether you consider it a color or deception of light, Pink still often evokes emotions and may influence the choices we make.
In fact, researchers discovered that sprucing up prison facilities & mental health wards with pink-painted rooms can calm aggressive prisoners & patients.
Psychologist out of Switzerland researched the psychological and physiological effect of using the color pink to cool down human behavior.
After a 4 year evaluation at high security prisons in Pfäffikon ZH:
Yhey can confirm the aggression depression effect of Cool Down Pink in the penal system.
Looking at pink creates a visual effect that helps our bodies regulate hormones and essential activities.
This adds more evidence that the Pink Effect has merit… So frustrated gamers siting in the same position for hours, a few moments away from rage quitting may get some positive effects!
Pink Is Color That Stands Out!
Never Misplace Your Chair Again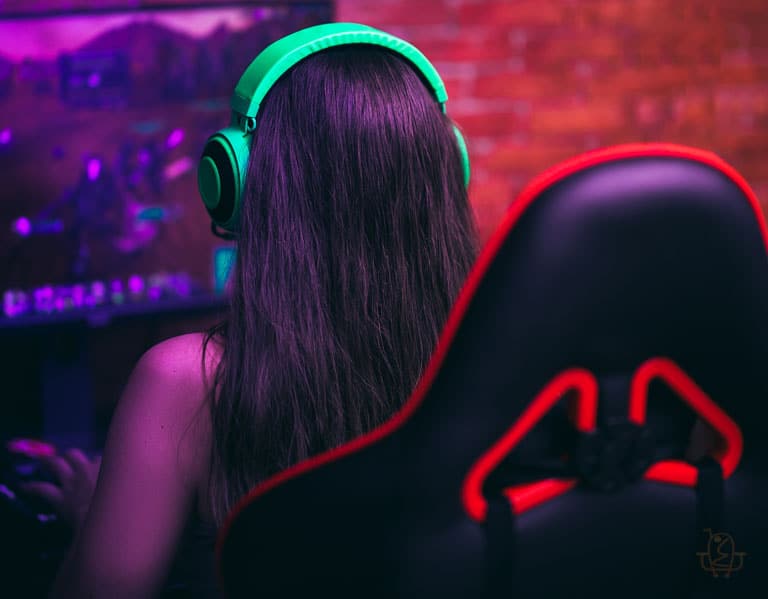 Co-worker stinking up your seat after mistaking it with theirs?
Then the loud and bright pink colored chair will give them no excuses.
Top Picks | Best Pink Gaming Chairs

What are the best pink gaming chairs for people who like it all pink.. errthang?

| Chair Name | Brand Name | Max Weight |
| --- | --- | --- |
| Pink High Back | Giantex | 330 lbs / 150 kg |
| Pink Gaming Chair | AutoFull | 330 lbs / 150 kg |
| TS83 | TECHNI SPORT | 300 lbs / 136 kg |
| Ergonomic Gaming | Zenithen | 300 lbs / 136 kg |
| Office Racing Chair | JIAYUAN | 330 lbs / 150 kg |
| Light Pink Chair | Nokaxus | 350 lbs / 158 kg |
| Pink Gaming Chair | Musso Zero | 300 lbs / 136 kg |
| Home Office Chair | DMF | 250 lbs / 113 kg |
| Velvet Modern Chair | Duhome | 285 lbs / 130 kg |
| Formula Series | DX Racing | 200 lbs / 91 kg |
| Pink Gaming Chair | Homall | 300 lbs / 136 kg |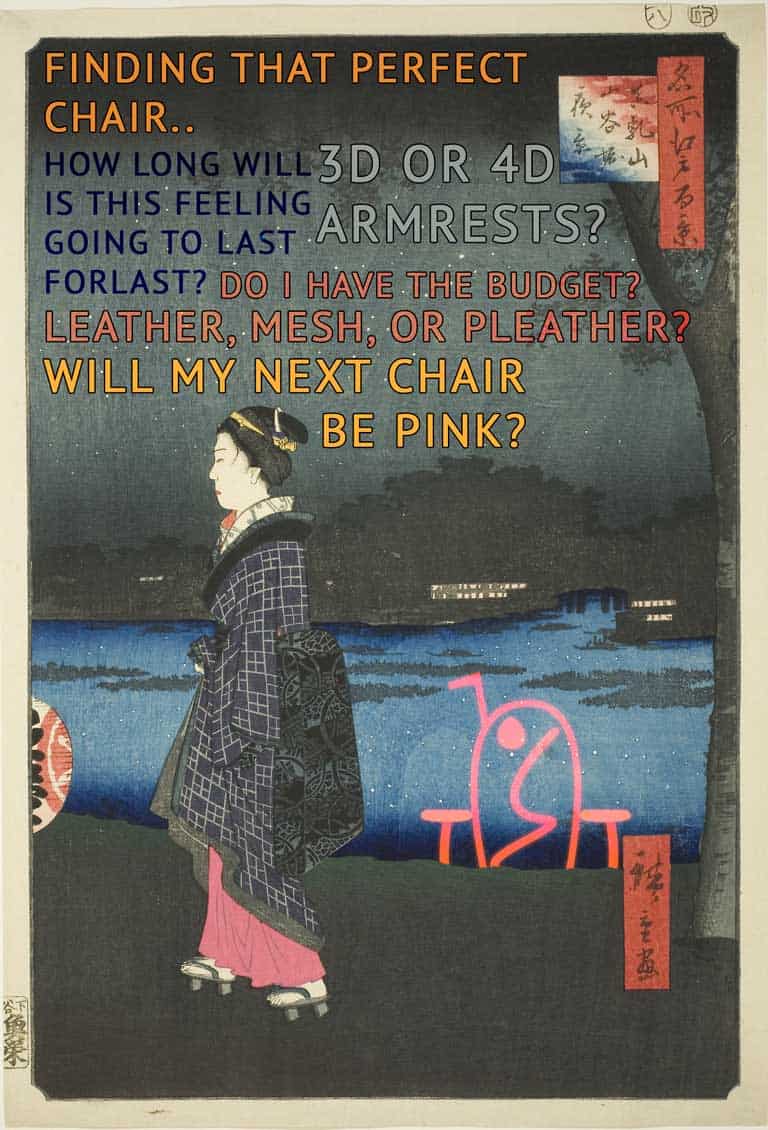 It's challenging to find a gaming or office chair cover in pink not sold out or price-gouged. So we did the heavy picking and curated the best pink gaming chairs!
OUR TOP PICK BEST PINK GAMING CHAIR WITH MOST FEATURES
Giantex | Ergonomic Gaming Chair
As far as pink gaming chairs go, Gigantex provides the most amount of features in their design. They lather this ergonomic gaming chair in PU Leather that is stain resistant and all around strong to wear and tear.
The 3-Dimensional armrest adjusts to workstations of all different heights. For more relaxing gaming, there is also a pull-out footrest, some might even take a nap at this laid back seated position.
Most swivel chairs scratch wood-floor surfaces, but the quality hard-casters on this Gigantex chair have been engineered to leave no scuffs.
Pull Out Leg Rest

High Quality Caster (Wheels)

Adjustable Massage Cushion
Petite sitters might have trouble lowing the chair with just their body weight.
OUR TOP PICK BEST PINK GAMING CHAIR WITH MOST AESTHETIC
AutoFull | Bunny Gaming Chair
The Pink Bunny Gaming Chair by AutoFull's is aesthetically pleasing as it is comfortable.
Aside from its globally cute look, this daring pink and white gaming chair is ideal for up gaming girl's setup.
The seat's height can adjust for smaller sitters' petite body frame and has a range between 16.5″ Inches to 19.68″ Inches.
The 4-D armrests make it easy to adjust to any sized desk. It comes with a unique cosplay charm and a few quality features like pull out footrests, a removable lumbar support pillow, and headrests cushion.
So if you're keen on adding a pinch of fleek to your setup, pick up this one!
90° – 155° Angle Recline

Adjustable Armrests

Seat Height For Shorter Sitters
The plastic casters (wheels) are inferior quality and are loud for a recording workstation setting.
OUR TOP PICK BEST PINK GAMING CHAIR
TECHNI SPORT| tS83 Chair
The TS-83 is a gaming chair known for its gigantic frame, but the built-in adjustability features make it comfortable for most sitters.
Part of the Game Master Series by TECHNI-SPORT, which means the chair has all the bells and whistles, and being made with quality materials.
It takes less than an episode of favorite show to put together (30 – 45 minutes). The lumbar support cushion and headrests pillow are manually adjustable and even removable if you're not a huge fan of them.
The adjustable features in the TS83 make its petite sitters can find a comfortable seated position.
Some larger sitters will find the chair does not recline back enough for their size during marathon gaming.
Not For Long Sitting Sessions
OUR BEST BANG FOR YOUR BUCK PINK GAMING CHAIR
Zeanus | E-Sports Gaming Chair
The distinction Zenus has from other pink gaming chairs is their padded armrests. Underneath the seat is a pull out footway that joins with the metal frame and has a heavy-duty base that has a max capacity of 300 pounds.
It also arched seat pad allows the knees to bend at the proper sitting angle, allowing your leg's bending in the best seated posture.
This white gaming chair with pink tiger stripes has a removable headrest and lumbar pillow so you can personalize your sitting experience.
The Zenus Pink gaming chair's biggest selling point is its low price tag and is actually the best value gaming chair sub $200.
Easy to assemble and has a lot of features for the price. The seat has a wide range recline.
The stationary armrests are a deal breaker for people looking for the most adjustable seating in their gaming chair.
Not For Long Sitting Sessions
OUR BEST PINK GAMING CHAIR WITH LEATHER UPHOLSTERY
JIAYUAN | Racing Gaming Chair
If you're looking to game like a boss while looking fabulous. The Office Racing Gaming Chair may be worth the price.
JIAYUAN is an up-and-coming furniture brand that took a chance by making an executive style pink office chair with a unique set of features.
The simple to use pull-out foot-rest combined with 150-degrees of seat recline offers a novel gaming experience, or a quick nap.
Supported by a heavy duty metal frame, they design its casters to avoid catching cables while rolling and will not scrape hardwood floors.
The unique executive office chair design offers the best of both play and work. Great for the office or gaming station.
Since you won't find many other pink executive office chairs with a pull out foot rest… This chair is pretty pricey.
Expensive (That Pink Tax)

So What Makes A Chair Ideal for Petite Gamers?
Besides being aesthetically pleasing addition to your gaming setup or office desk.
There are important things to consider when buying a chair used for long-term leisure, like gaming or important activities, such as working. It depends on the height of the desk, your body frame, and that gaming setup.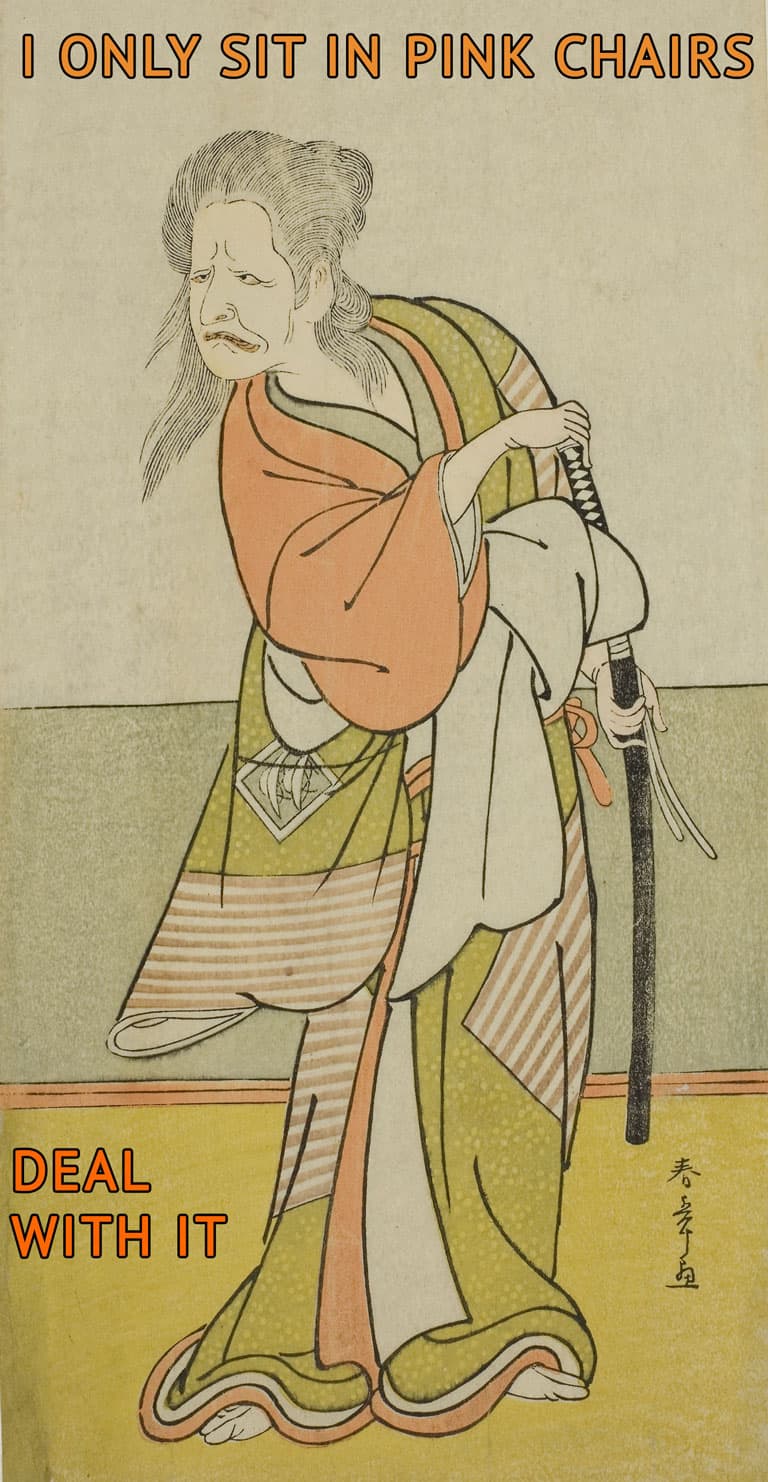 Only Spend What Your Happy With

Unfortunately, pink gaming chairs get marked up twofold via the gamers-premium and the pink-tax (literally). That does not mean you can't find a sub-hundred dollar pink chair, but the top brands markup their pink style flagship chairs.
Adjustable Features For Shorter Sitters
Workstations are personal places, and because of that, they require a chair that offers a custom sitting experience. Gaming chairs with adjustable armrests, forward tilt seating, and wide ranged pneumatic lift are essential for maintaining strong posture.
Related Questions
Best Pink Gaming Chair Picks & Some F.A.Q. Answered
✅ Are Pink Gaming Chairs Worth The Added Cost?
Unquestionably sure (depending on your setup).
Besides its charm, gaming chairs can offer features that can help improve your posture via lumbar support, preventing you from slouching.
Choose your chair wisely! It's how you feel when you're sitting - not how you look!
✅ How Much Do Pink Gaming Chairs Cost?
Unfortunately, even the best pink gaming chairs get marked up two-fold via the gamers-tax and the pink-tax.
These pink gaming chairs used by streamers can go for 5% - 10% more than the standard model. The entire selection can spread commonly between$100 to $400.
SOURCES
Späth, Daniela. Calming Prison Cell. 2009.
Pellegrini, Robert, et al. Room Color and Aggression in A Criminal Detention Holding Cell: A Test of the "Tranquilizing Pink" Hypothesis.

Claude
ChairPickr | "Writer"
Hello, My name is Claude and I enjoy sitting comfortable. Research into what separates the good from the bad in the matter of chairs started when I made a new year's resolution to have better posture.
You clicked here to find that first-rate chair. Why not stay and learn some self care?
Affiliate Disclaimer
ChairPickr is a participant in the Amazon Services LLC Associates Program, an affiliate advertising program designed to provide a means for sites to earn advertising fees by advertising and linking to Amazon.com. Some links on chairpickr are affiliate links, meaning at no additional cost to you. We will earn a commission if you click through and make a purchase.