21 Gaming Chair Brands You Should Kinda Need To Know About
Who makes the best gaming chair? We researched 21 gaming chair brands to find out!
What makes a good gaming chair brand?
In a saturated market chairs, businesses compete for a seat at the table.
The rise in popularity of swivel chairs for PC gaming in the early 2010s gave rise to a new sector in furniture. Still, gaming chair brands are hard to tell apart from one another.
Having a powerful community of independent supporters is key to success.
Quick customer service response is the key to a quick and easy setup.
The warranty process of creating a ticket and returning damaged chairs needs to painless process.
A good chair brand makes them easily find sure everything about the chair on the site, like manuals, assembly videos, and FAQ.
They sell most gaming chairs through eCommerce and have little recognition beyond the hardcore gaming community.
This makes it hard for the try before you buy crowd of buyers to commit to a good chair from a mediocre one.
This hesitation is partly for the barrage of direct to consumer gaming chairs flooding the market.
It's hard to trust a brand with a purchase on something that is used on the daily and affects health.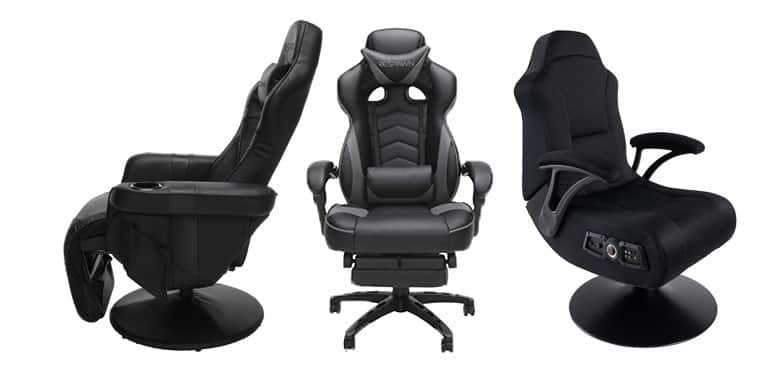 What are the most popular gaming chairs?
They're typically inspired by sports car racing seats and have intense accented colors.
Sometimes there is an adjustable pillow to act as lumbar support, and almost always they sponsor a professional gamer or streamer.
I will not talk about the gaming chair brands who ship out chairs that explode, but the reputable companies.
Brands that stand behind their product with multi-year warranties and give back to the video game community. 
With that being said, my selection is rather narrow… Here are the brands you should know about when buying a new gaming chair.
| Best Gaming Chair Brands List In 2022



What are the top pick brands that make swivel chairs for desktop PC gaming?
| Brands | Flagship Chair | Founded |
| --- | --- | --- |
| OP Seat | Grand Master Series | 2012 |
| Anada Seats | Axe Series | 2006 |
| AK Racing | Master Series Pro | 2001 |
| DXRacer | Formula Series | 2006 |
| Maingear | FORMA Gaming Chair | 2002 |
| Maxnomic | DOMINATOR Series | 2014 |
| Respawn | RESPAWN-900 | 2017 |
| GT Omega | Pro Series | 2009 |
| Secretlab | TITAN Series | 2015 |
| Corsair | T3 RUSH Gaming Chair | 1994 |
| Puma | PlaySeat | 1948 |
| Cougar Armor | Armor S | 2008 |
| Clutchz Chairz | Crank Series | 2016 |
| Techni Sports | TS44 Echo Series | 2002 |
| Boulies | Master Series | 2015 |
| Brazen | Phantom Elite | 2017 |
| Killabee | Gaming Chair 8193 | 2001 |
| E-WIN | Champion Series | 2016 |
| Noblechairs | EPIC HERO Series | 2016 |
| Vertagear | S-Line | 2015 |
| X Rocker | X Series | 2005 |

Arguably the most clever of all gaming chair brand names, Co-founders John & Seth have a great pulse on the e-sports community.
They're not just business partners, these two are childhood friends who were both heavily involved in competitive gaming for over a decade.
After years of playing, their backs became 
Their chairs for professional gamers designed by former competitive gamers. Their flagship Master series chair features a large lumbar support pillow.
You can easily identify this one of these chairs by their two racing stripes along the sides of the seat, or the embroidered OPSEAT logo on the headrests.
FLAGSHIP CHAIR

FUN FACT
The two co-founders were friends since age 12 and bonded over a Halo video game LAN party.

Started between late 2018 and early 2019. With the goal of creating an ergonomic computer chair that stands apart from the competition.
Taking the idea of an ergonomic gaming chair and completely reimagining its very definition of the dub, OMEGA Chairs meticulously worked to build the ultimate computer chair experience & not just another off-brand gaming chair experience. 
FLAGSHIP CHAIR

FUN FACTS
OMEGA Chairs has released video instructions on how to use their products properly.
OMEGA Chair has coined themselves as "the chair of tomorrow, for the people of today". (Which is a pretty sweet tagline if you ask me!)

Started in 2007 manufacturing driving seats for car enthusiasts. The first designers at Anda Seat originally designed their chairs with the race car concept in mind.
They wanted an edgy look that felt comfortable to sit in for long periods of time.
When the video game industry was reaching new heights in 2012, Anda Seats was selling gaming chairs using offshore manufacturing, but was making long-term moves for higher quality products.
These plans came to fruition in 2016, when Anada Seat released their first swivel chair with a fusion of gaming and racing aesthetics.
With nearly a decade of attention to detail behind the making of the Anda Seat, In 2017 it was being sold in North America at trade shows and gaming expos.
FLAGSHIP CHAIR

FUN FACTS
Anada Seat is the only official gaming chair brand sponsor for Canadian International Auto show and one of the biggest gaming convention EGLX.
Sponsors 4 eSports Teams & 4 Professional Streamers.
Lifetime warranty on frame and six-year warranty on the parts.

Originally based out of the automotive sports industry, but transitioned into gaming and office furniture, AKRacing started up in 2001.
Since they began, AKRacing operated their own factory for manufacturing and the AKD product design division for products and parts, never engaging in OEM business.
AKRacing controls the full user experience of their chairs. This is a gaming chair brand that creates all of its own design, merchandise, R&D, testing and quality control in-house.
This is a feat few gaming chair brands can say they do!
FLAGSHIP CHAIR

FUN FACTS
In 2013, AKRacing was the main sponsor of World Cyber Games 2013 by providing custom branded gaming chairs. The completions took place in the home province of AKRacing, Jiangsu.
In 2014, AKRacing partnered with Ninjas in Pyjamas on a limited edition, NIP branded gaming chair.
In 2015, AKRacing partnered with Team Dignitas, an international eSports team based out of the United Kingdom, The NBA Team, The Philadelphia 76ers. The deal involved AKRacing and Team Dignitas designing two custom branded chairs, now called the Team Dignitas Series.
AKRacing has been the official sponsor for LCK (League of Legends Champions Korea) since 2016, for PAX since 2017, and worked with Zotac for Zotac Cup Starcraft: Remastered in 2017. They are also the official sponsor of the 2018 E3 Fornite Pro-Am Tournament & the H1Z1 Pro League.

Founded in 2001, DXRacer originally sold car seats for luxury sports cars.
The demand for racing style swivel chairs grew so much that in 2006 they manufactured the iconic gaming chairs we see at every gamers desk today.
Over the past decade, DKRacer has led the industry in research, development, and investment.
This has resulted in one of the larger product lines among gaming chair brands.
Arguably the most well-known brand of gaming chairs, DXRacer operates out of Michigan, USA, and sells their merchandise worldwide.
FLAGSHIP CHAIR

FUN FACTS
Sponsored the 2014 Major League Gaming
Sponsored the 2015 LCK League Summer Games
Sponsored the 2015 World Cyber Arena
Partnered with Natus Vincre, Ninja in Pyjamas & SK Telecom teams.

The founder of the company, Wallace Santos, initially was at a crossroads in the business. Focusing on either making high-tier custom PC's or working on high performance cars.
Luckily he went with the first option, and since 2002 MAINGEAR's has been gearing up gamers.
High-quality gear has been the focus of MAINGEAR's merchandise, and this helped the brand gain notoriety within the tech industry. Such as Maximum PC Kick-Ass Editors' Choice award or PC Magazines Editors Choice Award.
FLAGSHIP CHAIR

FUN FACTS
Teamed up with the Minnesota Twins to host the first ever Gaming Dugout in Target Field.
Partnered up with many professional NFL players who are seeking to build their following within the E-Sports world.

NEEDfforSEAT Started selling chairs in 2011 and began developing their own products in 2014 under the name of MAXNOMIC.
Their focus is on maximizing gamers' ergonomic sitting experience.. Hence the name being "MAXNOMIC".
The absorption cost of being a selling and manufacturer lets MAXNOMIC produce chairs at a variety of sizes (S,M,L,XL). Designers understand how one size can not fit all, no matter how adjustable.
These chairs are for casual sport, pro-gaming. Office work stations, and a reinforced one built for larger sitters.
FLAGSHIP CHAIR

FUN FACTS
Partnered With Microsoft, On Display In Select Microsoft Locations.
Uses CLASS 4 gas lift cylinders in all their chairs, while the standard is around CLASS 2 or 3.

On the spectrum of cheeky names, RESPAWN is an S-Tier.
Their aims to provide the gaming community with the richest quality of ergonomic gaming furniture products at economical prices whether you're a content creator, professional streamer, e-sports, or casual player.
One of the newer gaming chair brands, RESPAWN, started in 2017 and has become a leader within the gaming industry.
In just three short years, RESPAWN has released 9 chairs thanks to an expert team who has over 25 years of experience creating a variety of furniture.
FLAGSHIP CHAIR

FUN FACTS
Esports Awards 2020 Hardware Provider of the Year Finalist
RESPAWN is a brand under the OFM, Inc. The umbrella of a subsidiary in HNI Corporation.
Founded 2009
GT Omega Racing

One of the original gaming chair brands, GT Omega, has been leading the marketing in racing style swivel chairs for over ten years.
They started in 2009 specializing in racing simulation video games, but grew into more general gaming gear over the decade.
The California based company distributes a four series of PC gaming chairs with special editions for gaming organizations like CLG and GINX Esports TV.
Their most popular chair is the PRO Series and has been heavily influential on the aesthetic of gaming chairs.
FLAGSHIP CHAIR

FUN FACTS
GT Omega specializes in racing simulation games and sells three different cockpits and two wheel stands.

The two founders behind this, Alaric and Ian, were formally professional StarCraft II players. They know what an uncomfortable chair can do in terms of performance in high stakes competitions.
So in 2014, the duo launched Secret Labs to design a PC gaming chair they could both work and play in. The goal was to create a chair that had a sleek ergonomic design using quality materials.
In a market of bargain bin gaming chairs, The THRONE V1 quickly grew in popularity that shifted eventually beyond gaming.
Secret Labs is probably one of the most recognizable brands in e-sports at the moment, and it contributes a lot of that to their key partnerships.
FLAGSHIP CHAIR

FUN FACTS
Since 2015, Secret Lab has launched 16 gaming chairs.
Secretlab is now the top choice chair for games and enthusiasts in over 50 countries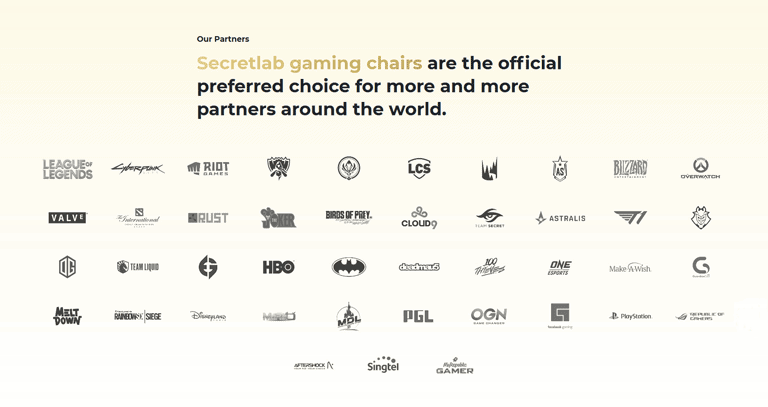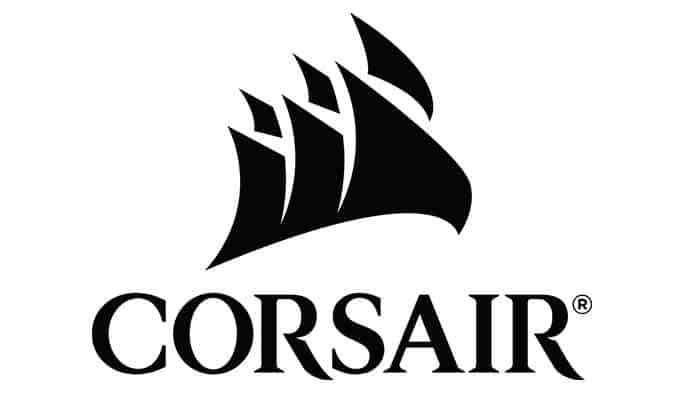 Founded in 1994, CORSAIR is more known for its consumer electronic peripherals and not furniture. In recent years, the household name has dabbled as a gaming chair brand.
You'd be surprised to know the variety of gaming and streaming products they sell, like fully integrated gaming PC, keyboard, mice, PC Components, and wireless headsets.
The two chairs they sell are called the T1 & T2.
These are high-back rest ergonomic gaming chairs equipped with all the needed features for comfortable long sessions of gaming.
FLAGSHIP CHAIR
FUN FACTS
In 2019, CORSAIR launches their premium line up of gaming chairs in three variant colors.
Corsair sponsors 6 E-sports teams. Team Big (Berlin International Gaming), Tea, Envy, FC Schalke, Rox Gaming, Team Secret. and Team Vitality.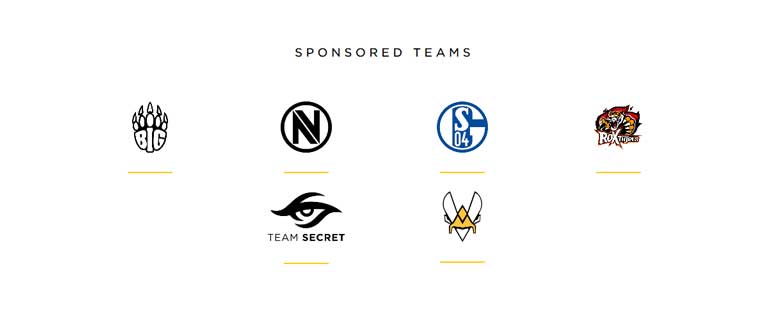 Founded 1948
Puma Play Seat

This state-of-the-art chair innovation uses extensive ergonomic and material research to turn gaming into an active experience…  It is basically a 'game-changing' piece of furniture.
PUMA cashing in as a gaming chair brand almost seems like a running joke.. but it's not.
The PUMA Playseat gaming chair was first unveiled to the public at Europe's leading digital gaming trade fair Gamescom in Cologne.
They used the even to show gamers how this chair can maintain an active, correct sitting position with total autonomy of movement and near limitless control.
FLAGSHIP CHAIR

Founded 2008
Cougar Armor

Real Gear for Real Gamers is the Cougar Gaming slogan. Since 2008, they have been selling gaming accessories and parts.
COUGAR goal in their gaming gear design is to allow you to make better use of your innate and learned abilities without being limited by technological bottlenecks.
Everything they have produced was with an underlying goal to make gaming more reliable and comfortable. The only restrictions should be those of your mind and body, not those of your gear.
The range of gaming products we create includes gaming mice, keyboards, headsets, cases, power supply units, cooling, and related accessories. A complete range of first-quality products for the serious gamer.
FLAGSHIP CHAIR

FUN FACTS
Sponsors 4 eSports teams, Kanga Esports, Exdee Gaming,, Evilvice E-Sports, and MAD Team.
Founded 2016
Clutch Chairz

One of the newer gaming chair brands, Clutch Chairz started selling chairs out of California in 2016 with the goal to provide gamers with seats that withstand the daily wear and tear of extended periods of sitting.
They do this by equipping their chairs with oversized adjustable lumbar support pillows and head-rest cushions to sustain comfortable sitting through those marathon gaming sessions..
Designers get their inspiration from the latest tech and exotic cars to conceive innovative new ideas.
An example of this is using precision welded internal frame heavy-duty gauge steel base. They based this design choice on high-quality aluminum alloy wheels found in luxury sports cars.
FLAGSHIP CHAIR

FUN FACTS
Clutch Chairz includes a lifetime warranty on the internal BIFMA Tested steel frame and 3 year warranty on parts and accessories.
Partnered With Famous Youtuber PewDiePie To Make A Custom Gaming Chair
Founded 2002
Techni Sports

One of the earlier gaming chair brands to cater to geeks in need of seats, Since 2002, their mission has been to provide an ultimate gamers experience via state-of-the-art quality, comfort, and design.
The three pillars of Techni Sport are quality, comfort and control. The company backs their chairs with a 2 year warranty and a lifetime warranty on its steel frame.
Their designers understand that no two people sit the same and created adjustable features like lumbar support and neck pillows to make each unique sitting experience comfortable.
FLAGSHIP CHAIR
FUN FACTS
In 2017, 2018, & 2019 Techni Sports sponsored TwitchCon.
Techni Sports was featured in E3 2019.
Founded 2015
Boulies Chairs

Boulies Chairs mission is to help people optimize their sitting environments.
They believe that design always matters and continue to concentrate on fashionable ergonomics. One way this did this was by constructing their own unique backrest that naturally curves with the spine to support extended periods of sitting.
Uncomplicated, it is the one that best describes the design principles of boulies. Instead of pursuing complex, lamboyant products, we aim to design shapes that won't be annoying even after a long time.. | Boulies Chairs

Other gaming chair brands should note how Bouiles names their merchandise. They sell four series of chairs, the Ninja, Ninja Pro, Elite, & Master Series all within $30 of each other.
These chairs all include R3 ultra abrasion PU leather upholstery, cold-cured high density velour memory foam, reinforced aluminum foot base that sports a class 4 heavy duty KGS gas pistons.
FLAGSHIP CHAIR
FUN FACTS
All Boulies gaming chairs are tested and certified by BIFMA and SGS. The tested parts are the aluminum foot base, reclining mechanism, multi-functional mechanism, and the hydraulic lift.
Founded 2015
BraZen Chairs

Brazen Gaming Chairs are laser focused on providing gamers with the best combination of price and quality products.
They have a profusion of chairs specifically created to cater for the wide range of gamers, whether they are mobile, console or PC users; or whether they are the average joe or professional eSports Athletes.
FLAGSHIP CHAIR
FUN FACTS
Brazen created a process to make sure their chairs get ethically constructed by using extra quality control experts independent from UK's furniture rules and regulations–Which have some of the steepest regulations in the world.
Founded 2001
Killabees Chairs
In 2001, originally working as a manufacturer of office chairs.
KILLABEE is ancient in terms of gaming chair brands. The company has gained 19 years of experience during which growing rich knowledge in quality certifications, technology, and polished research and development facilities.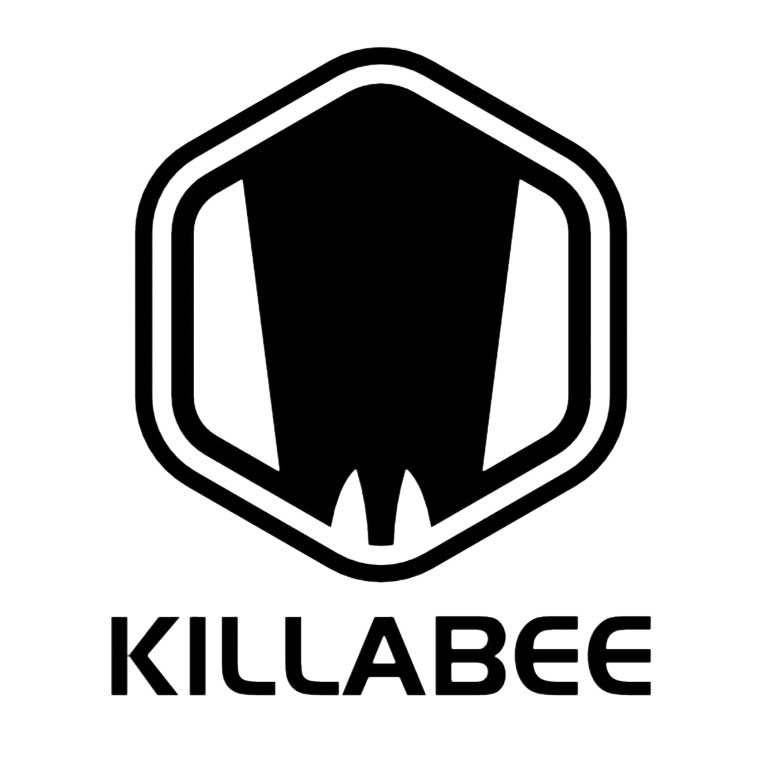 In 2013, KILLABEE like several other gaming chair companies, put their attention on gaming consumers suffering from back pain after sitting for long periods.
Their rise in popularity happened because they offered high-quality gaming chairs at a cheaper price than any other brand on the market.
They keep their prices most competitive by having a hand on approach at every stage of the development process. From conceptions to design to manufacturing and trading. Killabee essential eliminates the middlemen between customers and their chairs.
FLAGSHIP CHAIR
FUN FACTS
Killabee has the widest selection within this list of gaming chair brands. They produce 14 different gaming chairs that are designed for a specific audience via height and size.
Founded 2001
E-Win Chairs
E-Win Racing is a recent gaming chair brand that established in 2016 after being an industry leader in OEM office chair manufacturing. Their insight on furniture design lends them the developmental chops to create a gaming chair that is economic and ergonomic.
FLAGSHIP CHAIR
FUN FACTS
All E-Win gaming chairs get certified by BIFMA and SGS.

The tested parts for approval are the aluminum foot base, reclining mechanism, multi-functional mechanism, and the hydraulic lift.

E-Win racing style gaming chairs feature a steel frame that tested of 4000 times and has a 30-years quality guarantee. 
Founded 2016
Noble Chairs

Based out of the United Kingdom and having only three chairs in their line up (EPIC, HERO, and ICON)
Noblechairs focuses on matching comfort with elegance. They combine racing style seating aesthetics while still implementing ergonomic essentials.
FLAGSHIP CHAIR
Fun Facts
The cushion in Noblechair products are made from soft cold-cured foam.

Founded in 2015 by a combination of furniture specialist, designers, gamers, and computer hardware veterans.
This hodgepodge mix of specialists separates themselves from other chair makers by their obsession with attention to detail. Which made their reputation swiftly rise in a saturated sea of gaming chair brands.
Vertagear breaks the norm by offering design, functionality, and comfort in their gaming chairs at an affordable price.
FLAGSHIP CHAIR
Fun Facts
Fun Facts: Vertagear sponsors 8 gaming events, 13 professional teams, and 5 colleges; calling them the Vertagear Alliance.

Many popular streamers, professional gamers, and gaming groups sponsored by Vertagear. Their first partnership was with BIG; which is a professional gaming organization founded and based in Berlin, Germany?

Selling worldwide, the X Rocker found its niche as the state-of-the-art sound gaming chair and has redefined home media experience since 2005.
Their flagship chair is the X Rocker, which is a floor rocking chair that has a 2.1 speaker system built within it that sits you in the center of its multimedia experience.
X Rocker chairs connect with the universal media devices, including mp3 players, smartphones, home theater systems, PCs, and gaming consoles.
The proprietary Audio Frequency Modulation (AFM) technology includes two standard speakers and a subwoofer that produce an unmatched immersive experience.
For over 15 years, the company was perfecting the design of floor rocking chairs installed with speakers, but in 2019 X Rocker expanded its variety of casual gaming chairs.
One of the few gaming chair brands that caters to both consoles and the PC master race. They released a premium pedestal styled rocking chair and a PC swivel gaming chair.
FLAGSHIP CHAIR
Fun Facts
Teamed up with the Minnesota Twins to host the first ever Gaming Dugout in Target Field.

Partnered up with many professional NFL players who are seeking to build their following within the E-Sports world.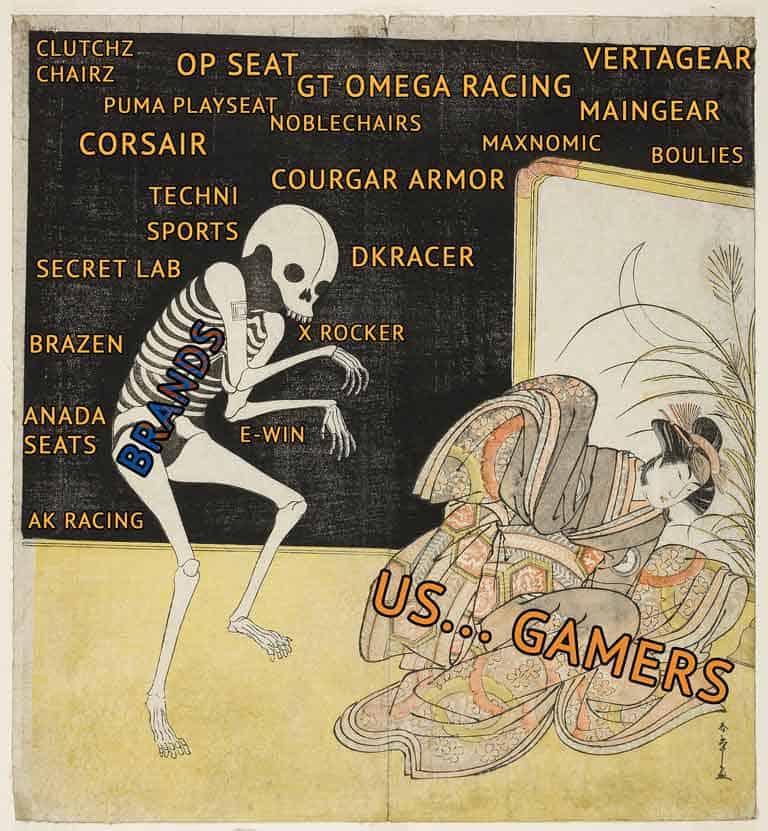 Gaming Chair Brands, What to know before choosing?

Here are three considerations to make before buying…
Adjustable Features
In the effort to get healthy posture, it's essential for chairs to have adjustable recline angles and height to accommodate different people.
Look for Waterfall Seat Padding, These types of seats help better circulate blood flow through your legs. If the chair has no curved edge, then move on.
Multi-directional moving armrests (3D or 4D) to customize your sitting experience, no matter the workstation's height.
Quality Materials (Long Lasting)
Look for high quality breathable upholstery like top-grade leather or Pellicle 8Z.

The five-sided base of the chair should be metal, not plastic. The cheaper gaming chairs have frames constructed of less durable plastic compared to the metal base found in higher end ones.
Warranty
A good rule of thumb to check how confident gaming chair companies think their product will last is by looking at their warranty.
Related Questions
Helpful Info About Gaming Chair Brands & Some F.A.Q. Answered
What Are Good Gaming Chair Brands?
What separates good from bad gaming chair brands is the quality of chair, customer support, and community relationships.
We researched 21 gaming brands and breakdown why they are worth sitting, especially for those long sessions of gaming.
Are There Professional Gaming Chairs?
While there is no such thing as a professional gaming chair. Professional gamers and streamers have sponsorships with gaming chair brands.
So you can use the same seat as your favorite e-sports athlete or streamer. We found which chairs the 6 popular chairs they use.
SOURCES
"About Us." OPSEAT, opseat.com/about-us/
https://www.andaseat.com/pages/about-anda-seat
"About Us." AKRacing, www.akracing.com/pages/about-us
"About MAINGEAR." MAINGEAR, maingear.com/about/
Dxracer.Com, 2020, www.dxracer.com/us/en-us/about/dxracer/
"X Rocker Gaming." Xrockerus.Com, 2020, xrockerus.com/blogs/news/first-ever-stadium-gaming-lounge
"About | X Rocker." Xrockergaming.Com, xrockergaming.com/pages/about
"About Us." RESPAWN, respawnproducts.com/pages/about-us
"GT Omega Racing Ltd." GT Omega US, www.gtomega.com/
"ABOUT CORSAIR." Www.Corsair.Com, www.corsair.com/us/en/about
"About." Usa.Clutchchairz.Com, usa.clutchchairz.com/about/
"About EwinRacing." Www.Ewinracing.Com, www.ewinracing.com/content/6-about-ewinracing/
"About Us." Techni Sport, technisportusa.com/pages/about-us/
"About." Brazen Gaming Chairs, www.brazengamingchairs.com/about/
"Support – Boulies Chair." Boulies Chairs US, boulies.com/pages/support
"Support – Boulies Chair." Boulies Chairs US, boulies.com/pages/support
Chair Overview – MAXNOMIC® by NEEDforSEAT®." Www.Needforseatusa.Com, www.needforseatusa.com/en_us/overview
"FAQ." Www.Noblechairs.Co.Uk, www.noblechairs.co.uk/faq
"PUMA and PLAYSEAT Revolutionize Seating to Make Gaming Active." PUMA SE, about.puma.com/en/newsroom/corporate-news/2019/2019-08-20-puma-x-playseat
PUMA Group. "PUMA X PLAYSEAT GAME SEAT." YouTube, 20 Aug. 2019, www.youtube.com /watch?v=Pa3_PnzCDAE
US, Secretlab. "About Us." Secretlab US, secretlab.co/pages/about-us
bout Us." Vertagear, www.vertagear.com/pages/about-us/

Claude
ChairPickr | "Writer"
Hello, My name is Claude and I enjoy sitting comfortable. Research into what separates the good from the bad in the matter of chairs started when I made a new year's resolution to have better posture.
You clicked here to find that first-rate chair. Why not stay and learn some self care?
Affiliate Disclaimer
ChairPickr is a participant in the Amazon Services LLC Associates Program, an affiliate advertising program designed to provide a means for sites to earn advertising fees by advertising and linking to Amazon.com. Some links on chairpickr are affiliate links, meaning at no additional cost to you. We will earn a commission if you click through and make a purchase.