Can The Rite Chair Really Improve My Musical Abilities?
Does Your Back Hurt After Jamming Out? It Might Be What Your Sitting In! There are chairs specifically for musicians.
Here is why they're essential to learning proper technique.
Why Do I Need A Musicians Chair For Playing My Instrument?
Having trouble concentrating while creating music? It might be the chair!
It's easy to decide on buying the best audio equipment to get the most out of your jam sessions, but have you ever considered the chair you're using?
It's a good rule of thumb to invest into anything separating your backside from the floor!
So basically anything with four legs deserves to be splurge purchase. A prominent example being the work chair.
Why can I just use a regular chair or stool when I practice the guitar?
Using a regular chair is better than sitting on a bench or stool. The problem with these seats is that they lack lumbar support.
When playing a wind instrument, it's important that the musician to expand their rib cage for the deepest breath intake.
Whether it be a chair or stool, if you're playing music in it?
The seat should have ergonomic curves that help align the spine, which forces the hips to rotate forward, which frees up the diaphragm.
Still Reluctant On Buying A Music Chair?
Here Are Three Reason's They Are Worth The Investment
A comfortable chair will enable you to play better, being that you're sitting relaxed

Using an uncomfortable chair will induce sitting pains that can cloud your creativity.

Using an uncomfortable chair will lead to bad posture, which can affect first time musicians learning their instrument for the first time.
How are music chairs specially designed for Playing Instruments?
Since we use most instruments while sitting in specially designed chairs have to make practicing an instrument a pain-free activity.
It's easy to know if the chair you're using is not for practicing instruments by the amount of times you stop jamming to readjust your instrument.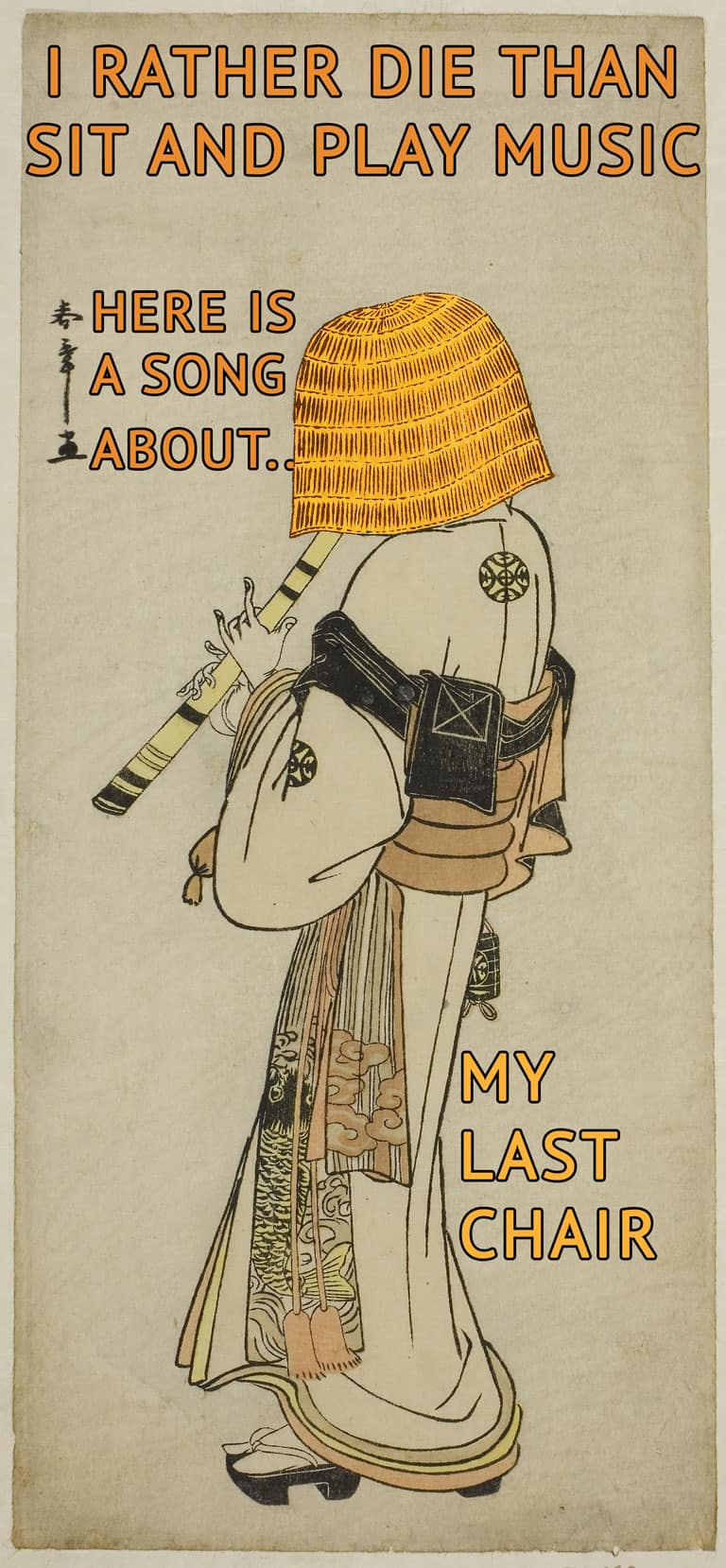 Why the right-sized chair will make practicing guitar more enjoyable?
With guitar chairs, size kinda matters! Practicing in a chair that is too high or too low will negatively affect your posture.
An easy method to finding out if you're sitting in a proper-sized chair is by looking at your knees.
If they point upwards, it means the chair is too short. When the chair is too high, you easily notice this by your lack of balance.
Continuously sitting in the wrong-sized chair may cause issues such as such:
Headaches
Gastrointestinal pains
Tight Hips and Lower Back
Playing ANY Instrument Should Also Include Practicing Safe Posture!
The three reasons above should be enough to get you integrating ergonomics within every jam session.
Not convinced?
In 2017, a study found that picking the posture correcting music chair depended on the instrument.
The various play positions of each instrument make it difficult to identify the perfect chair, but ergonomic features like lumbar support are essential.
What is the best guitar chair for bad back musicians?
| Chair Name | Brand Name | Chair Style | Max Weight |
| --- | --- | --- | --- |
| The Musician Chair | Wenger | Standard | UKNOWN |
| Guitar Seat | Gator Frameworks | Folding | 300 lbs / 136 kg |
| Folding Music Chair | Adjustrite | Folding | 250 lbs / 113 kg |
| Original Saddle Stool | ROC-N-SOC | Stool | UKNOWN |
| NOTA conBRIO | Wenger | Standard | UKNOWN |
| 9708MB | Gibraltar | Hybrid Stool | 200 lbs / 91 kg |
| Apollo Drafting Chair | Eurotech | Drafting | 350 lbs. / 150 kg |
| Stealth Chair | Stealth | Engineers | UKNOWN |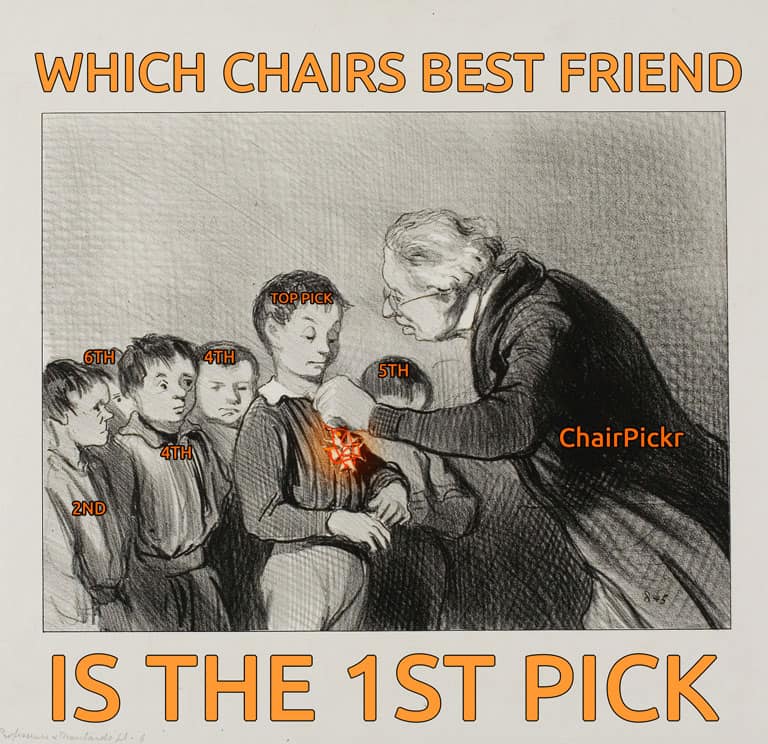 Top Picks | Chairs For Musicians

What are the 9 best chairs for guitar? or (Any Sitting Instrument)
OUR TOP PICK MUSICIAN CHAIR FOR BAD BACKS
Wenger | Musician Chair
Most chairs encourage slouching, and this can negatively affect a musician's ability to perform.
If you're serious about maintaining a standing posture while sitting and playing music, then Wenger's Musicians Chair is worth the consideration.
At first glance, this chair looks generic, but after further inspection, its basic design shows pure ingenuity.
The patented technologies behind this chair help musicians better open up their diaphragm by promoting an upright posture.
No matter the room where you practice or play.
The Musician Chair by Wenger will match the aesthetic.
It's available in 6 upholstery colors and 3 frame finishes.
Posture Mimics Standing Posture
OUR TOP PICK LARGE & TALL CHAIR FOR MUSICIANS
Gator Frameworks | Guitar Seat
Dual Purpose Guitar Stand

Thick Padded Cushions

Quick Assembly (Around 5 Mins.)
Not height adjustable

Some sitters report this seat is not comfortable for shorter people.
The 2-in-1 guitar holder musician's chair is a practical way to get the most bang for your chair buck.
Having the guitar always on display in front of the practice chair makes it easy to get into the habit of daily jam sessions.
This chair is simple to assemble and only takes a few minutes. For musicians on the go, this chair collapses in on itself with just one pull of a pin.
OUR TOP PICK FOR BEST FOLDING MUSICIAN CHAIR
Adjustrite | Folding Musician Chair
Designed for large string instruments like Cellist. Adjustrite construct this sturdy foldable music chair from strong steel. The adjustable legs can support sitters up to 6 feet tall.
The ability to adjust the height of legs gives the chair so much range for musicians to play with. When one position hurts, the legs can be extended or retracted to continue performing with that perfect posture.
Thick Seat Cushion

Folds-Up For Easy To Travel With

Adjustable Legs For More Custom Sitting "15 – 20" Inch
Back Rest Is Not High Enough For Some Taller Sitters

May Be To Large For Some Short Musicians.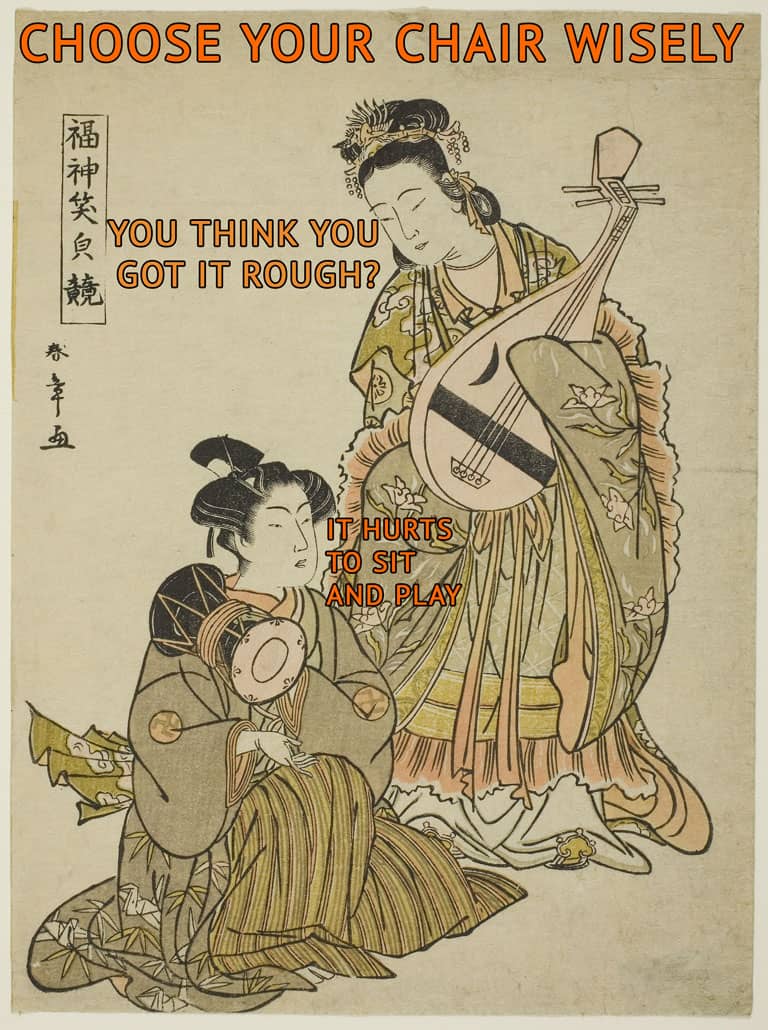 OUR TOP PICK SADDLE FOR BEST STOOL FOR TRAVEL MUSICIANS STOOL
ROC-N-SOC | Saddle Stool
The saddle stool style of chair may be without a backrest (Optional Accessory) but it's still ergonomically designed enough to keep the sitters postures aligned.
Drummers commonly used this type of musician's chair because of its swivel feature, but is great for most other instruments.
Roc-N-Soc kept this in mind and designed the stool to be height adjustable from 15″ to 29″ inches. If you 're the type to perform on the go, the Original Saddle Stool conveniently folds up.
Sturdy Double-braces Legs

Easy to fold for travel

Height Adjustable Seat
Lacks any lumbar support

Some sitters report the seat gets hot after long jam sessions.
OUR TOP PICK FOR BEST MODERN MUSICIANS CHAIR
Wenger | NOTA conBRIO
A rendition on the classic Posture Musicians Chair by Wenger.
This remix stands only on two 12-gauge steel legs, which gives flexes with the sitter and gives them more space to move about.
This unique design enables these chairs to stack on one another, which is great for music classes.
These NOTA conBRIO is ideal for younger musicians that have trouble concentrating during band class.
This is because of the chair's durability and ability to move with its sitter.
Modern Aesthetic

Lumbar Support
Not A Great Travel Seat

Height Non-Adjustable
OUR TOP PICK FOR BEST MUSICIANS CHAIR FOR DRUMMERS
Gibraltar | 9608MB Drum Throne
This Tri-legged stool tops with a plush 3-inch cushion that contours to the sitter's bottom.
There are not too many stools equipped with a backrest (It's basically a chair now) but the optional piece is pivotal in playing music with an upright posture.
The chair's upholstery is a mix of Cordura and Vinyl. Cat-people might be put-off by the amount of dirt and lint it attracts, but the red double threaded stitching makes it all worth it.
Gibraltar designers knew the essentials of ergonomics and by making this chair optional, respecting the aesthetic of musicians' taste.
Heavy Duty Quality

Lumbar Support

Very Adjustable
Stiff Seat Cushion

Some Sitters Complain Of Sore Behinds After Jam Long Sessions
OUR TOP PICK FOR BEST MUSICIANS CHAIR RECORDING BOOTH
Eurotech | Apollo Drafting Chair
The Eurotech  Apollo DFT9800 drafting chair was used with a taller desk.
They changed features from a regular ergonomic office chair, such as the pneumatic adjuster (Height Adjustment).
This home music studio drafting chair is the best bang for your buck in terms of quality and price. The waterfall seat design and foot-rest complement each other and make for a great seating experience.
The leg rest is sturdy and at a ergonomic height.

High Quality "Steel" Footrest
Lint can easily get stuck in the mesh of the backrest mesh seat pad.
OUR TOP PICK FOR BEST CHAIR FOR PROFESSIONALS MUSIC STUDIO
Stealth | Stealth Chair
Stealth designed their engineers' chair using only high-quality materials (wheels aside). The drafting style chair is excellent for top desk studio workstations.
The combination of Active Tilt™ Seating and sturdy footrest makes leaning forward while sitting a more natural position.
The Zenwave Motion feature ensures your back won't feel sore even that after extended periods of sitting.
Stealth Pro Chair is for professionals and shows it in its price tag. If you 're serious about your craft, get a chair from a company serious about theirs.
Non-Reflective Coated Color

Breathable Fabric

The Active Tilt™ Seating Tech.
The plastic casters (wheels) are inferior quality and is loud for a recording workstation setting.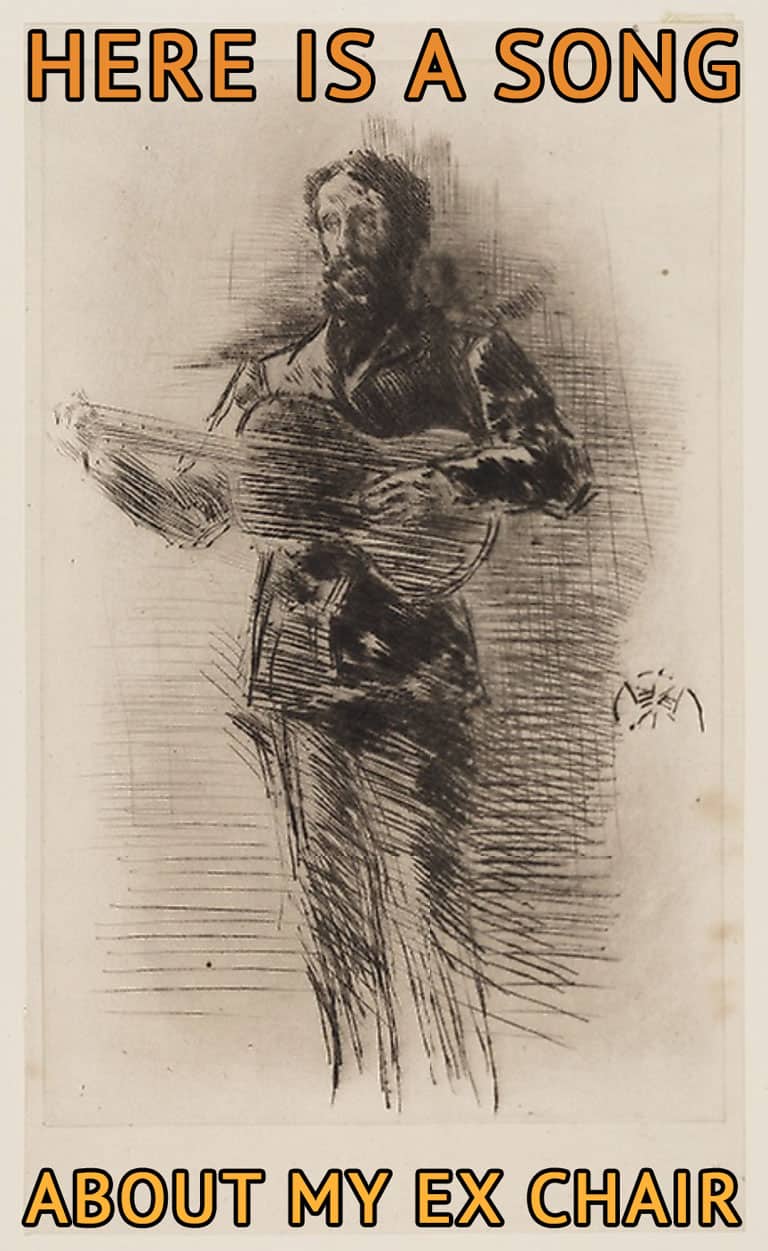 Music Chair VS Gaming Chair
How Does Playing Guitar Sitting In Gaming Chair Compare To Music Chairs?
What to know before choosing a musician's chair or Guitar Stool?
Using the wrong chair for practicing guitar will leave your lower back aching and can even ruin your posture using an invalid chair.
Continuous use of the wrong chair will even compromise your playing skills.
Buying a guitar chair or any other type of instrument? Consider the following:
Lose the armrests. They will just get in the way.

So you need the armrests? Just remember to choose a well-padded chair!

We underrate the ability to swivel while playing an instrument (IMO).
REMEMBER| A sturdy chair for practicing is better than a fancy designed chair
We all want to look cool in an aesthetically pleasing chair. That should not come between a sturdy practical chair that can hold your body weight for extended periods of music creation.
They make the sturdiest of seats from solid steel, but wood is another excellent alternative.
Related Questions
Helpful Info About Wheelchairs & Some F.A.Q. Answered
✅ What's the difference between a Guitar Stool V.S Guitar Chair 
Both do what they do, which is support musicians. 
Guitar chairs offer actual lumbar support in the form of a backrest and traditionally have four separate legs. It made them from a wider variety of materials like wood, plastic, and metal.
Guitar stools have thick seat covers that can swivel and commonly made from vinyl materials.. Their frames are mostly from heavy duty steel and are more expensive stools have footrest equipped.
✅ Does sitting at the edge of the chair when playing guitar negatively affect my posture?
While this sitting position is fine every once in a while.
Over the long term, it will create an unbalance in hips and shoulders. We should avoid this type of sitting at all times!
If you're stuck in the habit, we recommend trying these 9 stretches you can actually do from a chair.
SOURCES
ebas Jimenez. "Can You Play GUITAR on a GAMING CHAIR??????? Secret Lab Titan."  YouTube, 19 June 2018, www.youtube.com/watch?v=lGdmGxmK8Tk.
Wenger Corporation. "Wenger Music Posture Chairs Make a Difference."  YouTube, 10 Apr. 2020, www.youtube.com/watch?v=A0cnHy5bH_Y.
MUSICIAN CHAIR Perfect Posture with Added Comfort.  https://www.blackcatmusic.com/pdf/technical-
information/wengermusicianchairusasellsheet.pdf
Unl.Edu, 2020, rsi.unl.edu/text/gback.txt. Accessed 29 Aug. 2020.
Ohlendorf D, Wanke EM, Filmann N, Groneberg DA, Gerber A. Fit to play: posture and seating position analysis with professional musicians –  a study protocol. J Occup Med Toxicol. 2017;12:5. Published 2017 Mar 1.

Claude
ChairPickr | "Writer"
Hello, My name is Claude and I enjoy sitting comfortable. Research into what separates the good from the bad in the matter of chairs started when I made a new year's resolution to have better posture.
You clicked here to find that first-rate chair. Why not stay and learn some self care?
Affiliate Disclaimer
ChairPickr is a participant in the Amazon Services LLC Associates Program, an affiliate advertising program designed to provide a means for sites to earn advertising fees by advertising and linking to Amazon.com. Some links on chairpickr are affiliate links, meaning at no additional cost to you. We will earn a commission if you click through and make a purchase.