Office Chairs Sized For Short People
We all know about the Big & Tall as an industry standard, but what about the Short & Small? Before buying a new one, consider office chairs sized for short people.
Health Risk Petite People Sit With Using Office Chairs That Are Too Big
Office Chairs not in the sitters "Goldilocks Zone" may produce health risks.
Here are two common issues that petite sitters encounter when dealing with over-sized office chairs.
Too high a seat may cut off circulation to the lower legs
Too deep a seat may create circulatory problems for the lower legs. A proper fitted seat will have a space of about two to four fingers' width between the front edge of the seat and the back of your knee.
Sitting in a chair that does not match your proportions causes your posture to hunch over and may even pinch a nerve in your neck.
What is more likely is shoulder problems and carpal-tunnel; at least those were the issues I had.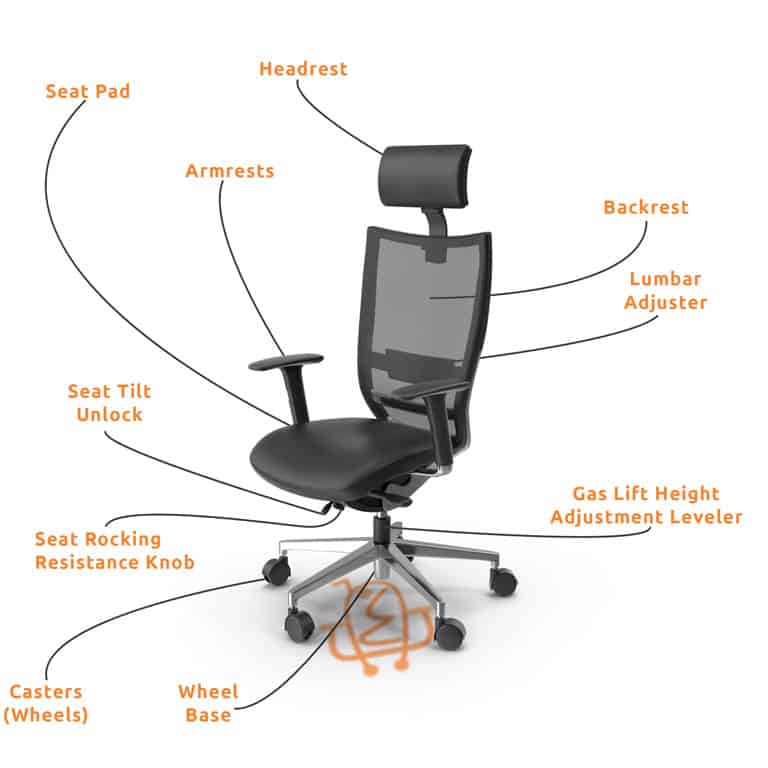 A less serious concern smaller sitters encounter, more often than not, is the lumbar support and headrest are off kilter. There are no practical ways to adjust such features on most chairs.
As a side-note to heavy set folks; you may only need a shorter base pneumatic cylinder to lower the range of height adjustability.
My Desk Is Too High For My Chair! Besides Buying A New Desk What Can I Do?
Get a pillow or support cushion to compensate for the height difference without having to do a DIY project.

Throw down a piece of 3/4 inch plywood for your chair to sit on. Don't cheap out, get a high-quality piece and then stain it to make it look like hardwood.

Cut off the legs of your desk to your ideal height. Side note, I constructed my desk and used copper pipes for legs so I can customize the desk to any chair I purchase.
If you need more direction? We created a guide so you can make your own DIY ergonomic workstation to save both your money and achy back.
Are There Ergonomic office Chairs Specifically Designed for Petite People
Average office chairs have a design for the medium-sized body type. This has left out a not so small segment of the market; petite sitters.
This has made it difficult for women and short men alike to find a chair that fits proportionately. Although not as big as the "Large & Tall Sitters", office chairs for petite people are very much available!
Office Chair Chart By Size
Above, finding a quality office chair in a posture of perfect size can challenge for shorter people. Recommended sitting dimensions can be difficult to find on the official chair's listing page.
Luckily, I did the research for the both of us.
What Is The Optimal Height Chair For Petite Sitters?
| Optimal Seating Height For | Petite Sitters | Average Sitters | Large & Tall Sitters |
| --- | --- | --- | --- |
| Seated Height | 14.0" to 16.0" inches. | 19.0" to 16.0" inches. | 20" to 28" inches. |
| Seated Width | 15" to 18 inches. | 18" to 20" inches. | 20" inches. plus |
| Seated Debth | 15" to 18" inches. | 18" to 20"inches. | 20 inches. plus |
| Backrest Height | 13.9 to 18.0 inches. | 18.0 to 22.0 inches. | 22.0 inches. plus |
This data was gathered from Amazon, Walmart, & eBay Market Places.*
Sizing Up Office Chairs for Petite Sitters
They design most office chairs for a medium-sized people
Until recent years, the industry has neglected a not so small segment of the market; petite sitters. This has made it difficult for women and short men alike to find a chair that fits proportionately.
Whether your frame is petite or vertically challenged, your choice of an office chair is a brief list. Luckily, we live in a world that has engineered the pneumatic chair cylinder.
Pneumatic chair lift capabilities aside, the average office chair is designed for sitters in the 5th–95th percentile. This means a petite 5'2″ woman is technically at the 5th percentile will most likely find that their office chair is not proportionate to them.
Seat Height
Most office chairs have a seated height that begins from 16″ to 19″ inches and extends from 20" to 28" inches for Large & Tall seats. However, the optimal seated height of a shorter person is anywhere between 14" – 16" inches.
So a five foot tall sitter who has a 14" inch optimal seated height has some slim pickings while shopping for an office chair.
Sitting at the ergonomically ideal seated height is not the only common problem. Armrests extend the desk, and if they are not adjusted properly, you can end up with severe shoulder pain. I know this firsthand after purchasing a "Large and Tall" office chair when I was around age 14.
Seat Depth
A properly fitting seat has two to four fingers' (2″ Inches) width of space between the front of the seat edge and the back of the knee.
Too deep of a seat may create circulatory problems for the lower legs.
Too high a seat can make your legs and back side fall asleep by restricting circulation. 
 (If this is the only problem, a footrest is a quick fix.)
Shorter sitters are usually most comfortable with a seat depth of 18″ or less. To avoid sedentary sitters strain (Mostly Shoulder Pain), avoid anything 19″ or above.

Support Features
Armrests are very preferential and some go without them all together. When looking at the quality of armrest check the padding and make sure it's something that won't jack up your elbow.
I prefer the gaming type of armrest that is 4D because they give me more accurate dimensions to my workstation. Here is an explanation if you're wondering what exactly is the difference between a 3D and 4D armrest.
Lumbar Support curves naturally to your spine and will improve overall posture. Many chairs have a design with fixed support cushions that do not align with petite sitters.
This standard feature is available in two types. Some chairs have built-in lumbar supports to the cushion and are height adjustable. The other more common way is detachable foam "pillows" that also heighten adjustable.
Quality varies on a per chair basis, but the most important feature is that the lumbar support is adjustable.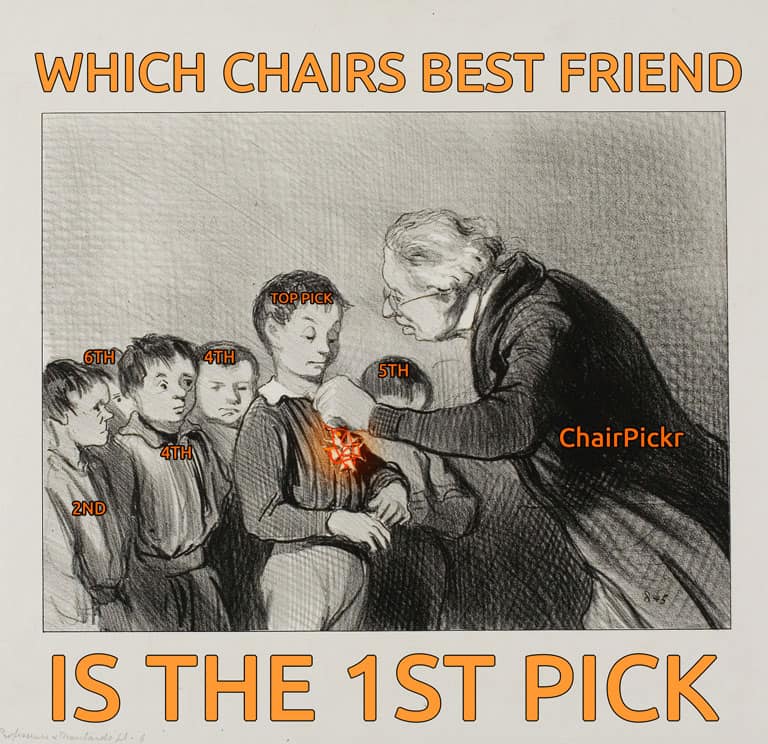 Perfect Posture for Petite Sitters Who Are Stuck with an Office Chair to Large​
If you're when you're stuck in an oversized chair, here are some tips on easing discomfort. I should note us as a temporary fix. Your back will thank you for using the correct-sized chair.
Remember to disperse your weight while sitting, with both feet firmly planted on the ground. If the chair has your feet dangling, I recommend getting a footstool.
Be sure that you correctly configured the armrests to your comfort. 
Adjusting the height is easy, but if you need to adjust your width. There is usually a cap or couple bolts underneath the seat that have to be loosened and adjusted accordingly.
If you're unable to fit your legs under the desktop.There should be at least enough space to cross your legs over your knees comfortably.
Your desk is too small, and it's best to invest in a desk that's the proper height. If you short on cash, putting bricks or hardcover books underneath each leg are two thrifty alternatives.
Need more information on your pursuit for perfect posture?  We wrote tips that promote healthy posture at the workstation.
Tips For Sitting An Office Chair That Is Too Big For My Body?

They do not make most chairs with the petite sitters in mind. This explains why for those of use who have a smaller sized frame require an extra seat cushion, footrest, or both.
Sit as if you're on top of a horse
When we sit in our office chairs for long periods of time, our lower body slowly forms into a slouched over posture. Sit up straight so your body is awake, with your feet firmly on the ground.
Sit more forward than lean'd back
Do NOT force yourself to use the backrest. Sitting near the front of the chair instead of leaning back will ease common causes of pain for petite sitters.
Lose The Armrest
If your chairs armrest is not customizable, they may do more harm than good. Using armrest that are too big or too small will cause strain to your shoulders.
I recently did this with my personal chair and have found that it helps. You can get closer to your desk more naturally IMHO.
Good Posture = Health Benefits

Keeping a healthy posture is hard to do in a less than fitting office chair. Being mindful of your posture plays a role in creating the following health benefits.
Increase In Mood:
Sitting up straight will make you feel better. Try it out now if you're not already doing it. Being called a "slouch" is derogatory for a reason, it portrays a lower self-stem. The only cooler thing than cigarettes is perfect posture.
Increase In Attention:
Sitting up straight is a tried and trued way to becoming more focused at a moment's notice.
Reduced In Headaches:
When you slouch or hunch over, you also dropping your head. Over a long sitting session, this muscle tension will increase the chances of headache.
Opens Diaphragm:
Breathing while slouching for lengthy periods of time compresses your lungs and makes it more difficult to breathe. Maintaining proper posture will open up your diaphragm and allow more air into your lungs.
Less Constipation–Better Poops:
Slouching in your chair, compresses the body and therefore your organs.
Over long periods of sedentary rest, this may impact the bodies overall effectiveness, especially digestion.
Decreases Back Aches:
Practicing proper posture will reduce aches because of increased tension on the neck, shoulders, and spine that is formed from a poor sitting posture.
Decrease Stress on Muscles:
sitting awkwardly–such as resting one leg on the desk or leaning your body against a wall, can cause tension on the hip and joints.
Our Pick For Budget for Petite Sitters
XUER | Ergonomic Chair
They design the Compact ergonomic office chair with the shorter user in mind. They changed features such as the pneumatic adjuster (Height Adjustment) which is now more accommodating for shorter users.
They equip the office chair with an extended footrest and have a breathable thick mesh padded cushion. Another attention to detail is within the headrest and can have its height adjusted up 3.9 inches and tilt up to 30° degrees.
Great for extended periods of use. The seat reclines back between 90° – 120° degrees and can be comfortably used for both work and leisure. All with a 90 day money-back guarantee return policy.
The casters are top quality "Razor Scooter Type Wheels" and the base is metal, making this a durable chair.

The headrest, armrest, and seat are all very adjustable for the petite sitter.
Taller people may find that this chair is uncomfortable because it will dig into the back of their legs. 
NOT for tall and large bodies.
Frequently Asked Questions
Answers From Chair Owners, Manufacturer Official Specs, & Online Communities
Our Top Pick For Petite Sitters
Steelcase Amia Office Chair
Manufactured with 97% recyclable materials, they design this Compact ergonomic office chair with the shorter user in mind.
They made pneumatic adjuster feature (Height Adjustment) specifically for shorter users.They also adjust armrest and back seat pad for the petite sitter.
Few office chairs on the market are as fully featured as the Steelcase Amia. This chair has LiveLumbar™ which is a proprietary technology only made by Steelcase.
The back height is excellent for customizing the dimensions just right. The adjustable seat depth assures that your body won't ache during multiple hours' sitting sessions.
The Amia chair's backrest uses with Steelcase proprietary technology called LiveLumbar™.
Instead of the usual cushion, the Amia has a system of flexors that attune to your back consistently.
Being that this product is shipped fully assembled, there is a higher chance of the chair coming with scrapes, bruises, and pieces poking out where they shouldn't be.
Frequently Asked Questions
Answers From Chair Owners, Manufacturer Official Specs, & Online Communities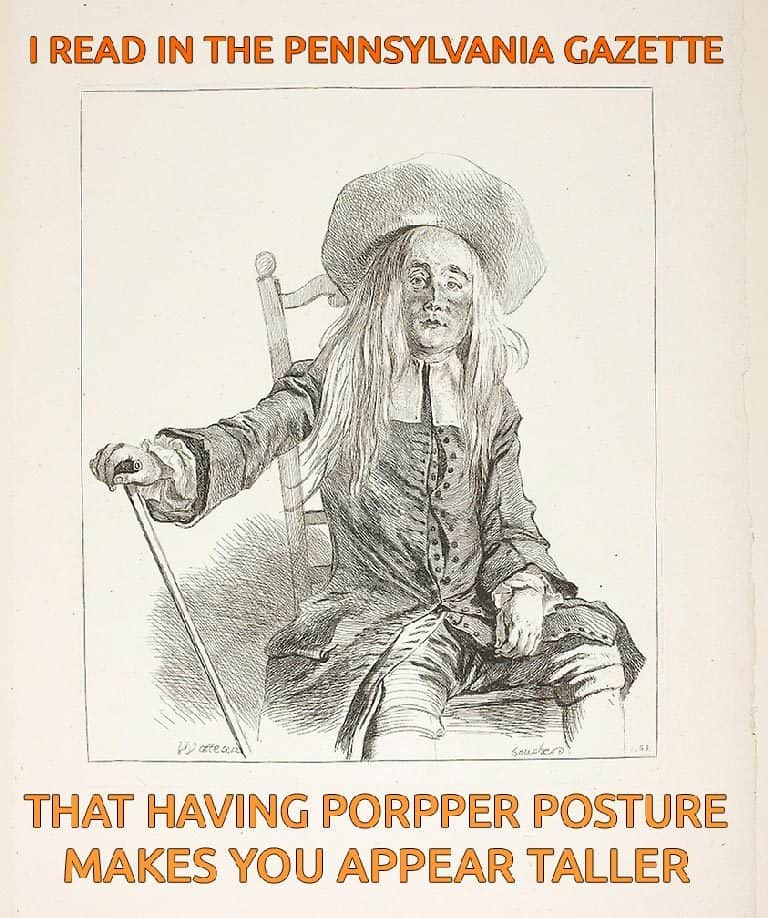 Related Questions
Helpful Info About Office Chairs For Petite Sitters & Some F.A.Q. Answered
What Exactly Does "Ergonomic" Mean?
Basically, ergonomics means "Optimally Designed For The Human Body".
Just because a chair has the word "ergonomic" slapped on it does not mean it's right for you.
Shorter sitters who have worked in an office setting know this by experience. There is no such thing as a "One Size Fits All" and picking an ergonomic chair built for your height/weight is a must!
My Chair Is Too Big! Other Than Buying A New Chair What Can I Do?
Method B) Raise your desk with books that will help properly align your eye level with the top of your computer monitor.
SOURCES
Noe, Rain. "Reference: Common Dimensions, Angles and Heights for Seating Designers." Core77, Nov. 2015, www.core77.com/posts/43422/Reference-Common-Dimensions-Angles-and-Heights-for-Seating-Designers.
HAWORTH, . "The Importance of Good Sitting | Ergonomic Seating GuideThe Importance Of Good Sitting." HAWORTH, 2019, media.haworth.com/asset/13337/ Ergonomic_Seating_Guide_Handbook.pdf.
Paitent.Pop. "10 Benefits of Good Posture." 10 Benefits of Good Posture: DMC Healthcare: Chiropractors, www.dmc-healthcare.com/blog/10-benefits-of-good-posture.
International, Back2. "How to Adjust Your Ergonomic Office Chair Properly." YouTube, YouTube, 9 Jan. 2013, www.youtube.com/watch?v=tHCR27wwN-U.

Claude
ChairPickr | "Writer"
Hello, My name is Claude and I enjoy sitting comfortable. Research into what separates the good from the bad in the matter of chairs started when I made a new year's resolution to have better posture.
You clicked here to find that first-rate chair. Why not stay and learn some self care?
Affiliate Disclaimer
ChairPickr is a participant in the Amazon Services LLC Associates Program, an affiliate advertising program designed to provide a means for sites to earn advertising fees by advertising and linking to Amazon.com. Some links on chairpickr are affiliate links, meaning at no additional cost to you. We will earn a commission if you click through and make a purchase.