Ergonomic Office Chair Replacement Parts Guide (DIY)
(Ergonomic, Gaming or Standard Swivel Office Chairs)
Swivel Office Chair Repair Parts And Maintenance Guide (TABLE)

Searching for office chair replacement parts? No matter the quality of the chair you get… It will eventually break!
Some parts, like the casters (wheels) or armrests, are easy to set up.
Other things like the gas lift spring (pneumatic cylinder) are difficult to change.
There is no need to exchange your chair when we have created this guide to help you find a less costly solution.
Using legitimate replacement parts and a bit of grit; many issues impeding your sitting experience with an office or gaming chair are repairable.
Office Chair Replacement Parts
| Categories | Replace or Repair? | Fix Difficulty |
| --- | --- | --- |
| The Chair Base Tilt Mechanism | Replace | Hard |
| The Office Chair Base | Replace | Medium |
| The Pneumatic Cylinder | Replace | Hard |
| The Chair Casters (Wheels) | Replace | Easy |
| Upholstery Fabric or Leather | Repair | Medium |
| The Chair Armrests Cushions | Replace | Easy |
| The Chair Armrests | Replace | Easy |
| The Chair Cushion (Lumbar Pillow) | Replace | Easy |
| The Chair Massage Back Pad | Replace | Easy |
Defective chair components are straightforward to replace and repair, but hard to identify. There are rare situations when a chair is irreparable, even with the correct spare parts.
If you did not already throw away your old chair's box, it may have extra parts hidden beneath the package of peanuts. At the very least, you can use the information on the box or user manual to contact the manufacturer for spare parts.
Ergonomic Office Chair Parts Names
If you need to purchase replacement parts for your swivel chair, it will save a lot of time if you can identify the parts by their manufacturer's code.
If you ask a customer service person for the specs of the chair model and the much needed replacement part, they can find the correct part quicker.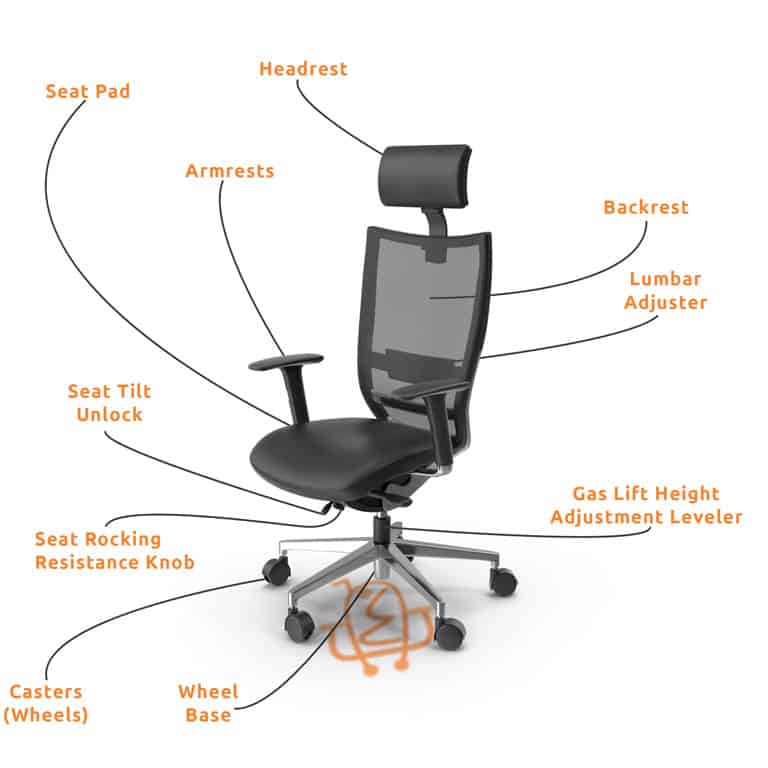 Above is a breakdown of key components and common names for swivel chair parts.
The Chair Base Tilt Mechanism
(This Piece Of The Chair Allows For Angle Control)
There is probably a loud squeaking sound sitting down, if you're looking for a new tilt mechanism.
The continuous wear and tear put a considerable amount of stress that can lead to wear and uncomfortable sitting experience. 
This fundamental feature is an essential feature for ergonomic sitting, and it must replace your defective tilt mechanism ASAP.
Recommend Parts For Repair:
The Office Chair Base
(Standard Office Chairs Have 5 Legs, But Occasionally 4 or 6)
The base of a swivel chair is essentially the primary stabilizer of the chair on which everything else balances up on. Some bases are metal, but most are durable composite plastics.
Both are high quality, so many gaming chair brands use hard plastic bases to offer more competitive prices. 
The base of any swivel chair should last at least the length of its warranty, but if a series of unfortunate events happens, they can easily replace it.
Recommend Parts For Chair Repair:
The Chair Gas Lift Spring
(Pneumatic Cylinder, Which Helps Lift Up The Chair)
Even if your chair has a small leak in the pneumatic cylinder, the gas lift spring has to be completely replaced. 
WARNING: Under NO circumstances should you tamper with the gas lift spring because the whole chair could explode!
The standard diameter for swivel chairs (gaming or ergonomic) is commonly 2 "//1.1" with a stroke of around 5 – 6 inches.
So remember to double check your chair's diameter before ordering.
Recommend Parts For Gas Lift Spring:
The Chair Wheel (Casters)
(Soft, Hard or Rounded Wheels Sold 5 or 6 Caster Kit)

Sometimes it's what is below the wheels needs to be replaced (chair-mat). If you're not trying to redesign your home office, the casters can easily be taken off and equipped with the preferred type.
Before you roll all giddy in those new chair casters, ask yourself the following questions:
How often do you roll about while seated?
Will the casters be for rugs or hard floors?
Do these hot wheels accommodate your chair's maximum weight?
Just so you know; the larger the caster, the easier it is to roll around. Smaller wheels might be difficult to move on thick carpets.
Recommend Parts For Chair Casters:
Chair Repair Kit For Upholstery Seat (Fabric or Faux-Leather)

With all the time we spend sitting in our chairs, they eventually rip in spots or fade from wear and tear.
If this goes unchecked, you will soon sit on an upholstery cracked chair.
Here are a few things I recommend doing before giving up and buying a new chair.
Regularly clean your chair to stop the build-up of crumbs and sludge.
Look over the ingredient list on the wipes used to clean your chair to avoid abrasion.
If you have a leather chair, be sure to apply conditioner when it eventually fades.
Seat Covers For Swivel Office Chairs
Swivel Chair Armrests Cushion
If there is anything that goes quicker than the armrests, it's the cushions on top of them!
Economically priced office chairs and cheap gaming chairs will usually have uncomfortable armrests comprising composite plastics or vinyl.
 We recommend leather or foam padded armrests because they are like pillows for your elbows.
Provides added comfort on the shoulders
Relieves pressure points all over the upper body
High-quality material will make them last longer
Recommend Parts For Armrest Chair Repair:
Chair Armrests, To Do or Do Not?
(Armrest Are Optional, But So Are Added Cushions For Support)
Nothing goes quicker than the armrest of your office chair. These two shoulder supporters take the brunt of your upper body weight while resting.
So basically, armrests can handle many hours of continuous stress. 
Still, eventually their change mechanism will get jammed up or too wobbly. You can simply replace those shabby armrests with stronger replacements.
Recommend Parts For Office Chair Arm Repair:
Comfy Chair Cushion Add-On
(Lumbar Support Pillows To Add On A UnComfortable Chair)
Before looking into trashing or recycling your chair, try out a lumbar support pillow. 
These specialties designed pillows help support your lower back area and promote ergonomically correct resting posture.
 If you stay sedentary for long periods of time, these add-ons are life changing.
Need to stay more alert working behind a desk for long hours
Want the gamers edge at your next LAN-Party, 
If you're currently sitting in a squished down seat cushion, don't go unequipped without a lumbar support!
Recommend Backrest For Office Swivel Chair:
Electronic Massage Cushion& backrests

(For Ergonomic Office Chairs & Gaming Chairs)

Willing to splurge on yourself?
It's important to practice self-care when sitting sedentary for long spouts of time because without proper stretching. You will feel it in your neck, back, and rear end.
Adding on a massage cushion when the sitting aches kick in will soothe your muscles as you work.
This specialized chair cushion is no replacement for an actual masseuse or even massage chair. 
Still, the kneading movements and rotating knobs can make a difference in your time sitting.
Recommend Parts For Armrest Chair Repair:
Both Office & Gaming Chairs that are not in the sitters "Goldilocks Zone" may present many health risks.
The two most common issues sitters will come across when dealing with over or under sized chairs.
Too deep a chair may create circulatory problems for the lower legs. A proper fitted seat will have a space of about two to four fingers' width between the front edge of the seat and the back of your knee.
Too high a char may cut off circulation to the lower legs
Without your "Goldie-locks" proportions, your posture will hunch over and may even pinch a nerve in your neck. Shoulder problems and carpal-tunnel are more likely; at least those were the issues I had.
Benefits of Workplace Ergonomics
Ergonomics Reduce Doctors Visits | Using an ergonomic chair reduces the chances of injury and chronic pain.

Ergonomic Improve Productivity | These chairs are designed to promote healthy posture that will keep you alert and more productive.

Good for Business | Ergonomic chairs in the workplace show the employees that their health and safety matters. This type of attention to detail boost staff morale and decreases the cost of workplace injuries.
We cover the essentials of ergonomic workstations. If you 're interested in more about creating a healthy working environment.
| Type | Sitting Desk | Drafting Desk | Standing Desk |
| --- | --- | --- | --- |
| Average Height | 29" - 32" inches | 30" - 36" inches | 36" - 44" inches |
| Reccomended Break | Every 30 Minutes | Every 20 Minutes | Every 20 Minutes |
| Reccomended Chair | Office Chair | Drafting Chair | Drafting Chair |
Ergonomic Office Chair Issues & How To Repair Them (FAST)
Troubleshooting  | Tools needed for these chair repairs.
Some typical problems ergonomic office chairs usually have over being used. Three common causes and how to fix them.
Adjustable Wrench

Extended Pipe Wrench

Flat Tip Screw Driver (Medium)

Philip tip Screw Driver (Large)

Pry Bar (Small or Medium)
We created a
guide
If you're looking to
15+ troubleshooting issues
with their common causes and ways to resolve them all neatly on a table.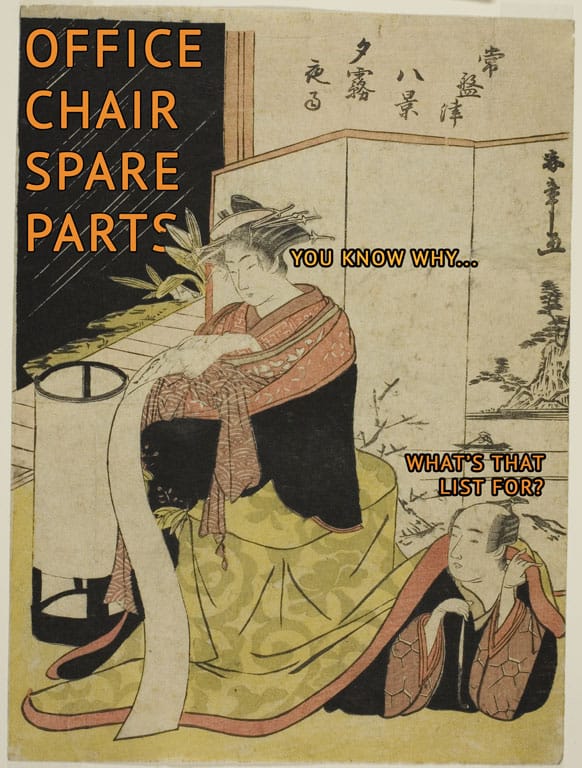 Related Questions
Helpful Info About Healthy Workstations & Some F.A.Q. Answered
What is the hardest part to replace in an office chair?
That question is hard to answer without knowing your chair.
With that being said, The Chair Base Tilt Mechanism or Pneumatic Cylinder tough fixes without the proper tools.
Why Is Replacing My Chair Worth The Trouble?
You care about your posture, enough to look this question up.
So depending on how much you spent, it might be worth the investment.
A $300 ergonomic office chair with ripped armrests can easily feel like new for only a fraction of new chairs cost.

Claude
ChairPickr | "Writer"
Hello, My name is Claude and I enjoy sitting comfortable. Research into what separates the good from the bad in the matter of chairs started when I made a new year's resolution to have better posture.
You clicked here to find that first-rate chair. Why not stay and learn some self care?
Affiliate Disclaimer
ChairPickr is a participant in the Amazon Services LLC Associates Program, an affiliate advertising program designed to provide a means for sites to earn advertising fees by advertising and linking to Amazon.com. Some links on chairpickr are affiliate links, meaning at no additional cost to you. We will earn a commission if you click through and make a purchase.