10 Things Gaming Chair Brands Won't Tell You
Why do all gaming chairs seem to look alike? We answer that industry secret and uncover 9 other things gaming chair brands wish you'd overlook.
Why Gaming Chairs Overrated?
While comfort lays in the back of the beholder, we feel the overwhelming majority of gaming chair brands lack the essentials for long term sitting.
The average gamer spends 6 hours a week sitting and playing, and this becomes an issue for sedentary lifestyle enthusiasts.
Here are a few videos emphasizing some points I'll be making in this post.
Gimmicks Over Ergonomics
Let's call a spade a spade and agree how many gaming chairs try to do it all and get mediocre results in all categories.
The people sitting in these types of chairs will be at their desk and need not distract extras that take away from ergonomic functionality.
Leg-rest Swivel Chair Are Weaksauce

Lackluster Massage Chair (Barely Felt)

RGB Lighted Wheels!

Racing Style Seats Lack Ergonomics
What Are 3 Things That Can Happen If I Ignore Ergonomics When Shopping For Gaming Chairs?
The core muscles that support your spine also weaken from a sedentary lifestyle, meaning your back gets little to no lumbar support.

Sitting in a less than a comfortable chair or one without an adjustable lumbar support feature can force you to sit with a slump (unhealthy posture), which unnecessarily pressures your spine.

Your vertebrae will get compressed during sitting, thus leading to a weakening of your spinal discs.
Compared to traditional office chairs or the average gaming chair, ergonomic swivel chairs encourage better sitting posture, ease back pain, and is overall a healthier option for your rump.
Fake Chairs Being Sold As Legitimate Through Online Marketplaces
This is not altogether the brand's fault. Some chairs like the DXRacer are so popular they get copied and undercut by some drop-shippers.
The actual problem here is the unassuming consumers that don't understand the nuances between fake and authentic.

Here are a few ways to check if your chair is authentic or phony.
Before unpacking the gaming chair, an easy way to recognize if it's from a third-party or middleman is that if boxes are unmarked.
Gaming brands will most likely decorate the box with their logo and eye-catching information.
Look over the product documents. They also ship manuals and stickers packaged with the chairs ordinarily are also with a certificate of authenticity.
Serial numbers on the bottom of the chair's seat engraved. Using this information, you can check with the company's database on their website. 
The first four digits show the date of manufacturing. I should note that the average time between creation and sale can be 1-2 years.
Do your cushions look generic and blank? This may be an indicator you purchased a knock-off gaming chair.
Branded cushions like the lumbar support and or headset plush pillows should always feature brand emblems printed on them. 
Check for tags on the seat cushions with the brand, logo, or chair name.
New Chairs Might Need To Be Broken In
Just like a pair of denim, gaming chairs sometimes require a couple hours of sitting before their cushions mold around their body frame.
This might be why sitting in your buddy's gaming chair can seem uncomfortable if you two are original sizes.
Price Markup Because Its For 'Gamers'
The furniture industry on average already has a markup between 200% to 400%.
To top of that off, Gamers have historically been overpaying on products for quite some time now. Look at RGB computer modules, they will price the same 120m fan at a double digit percentage higher because of their rainbow LED lights.
A recent example of this premium markup is something out of the onion; that is "gaming socks" by Puma. To be fair, these socks are anti fungal and we all see how gamers are with hygiene..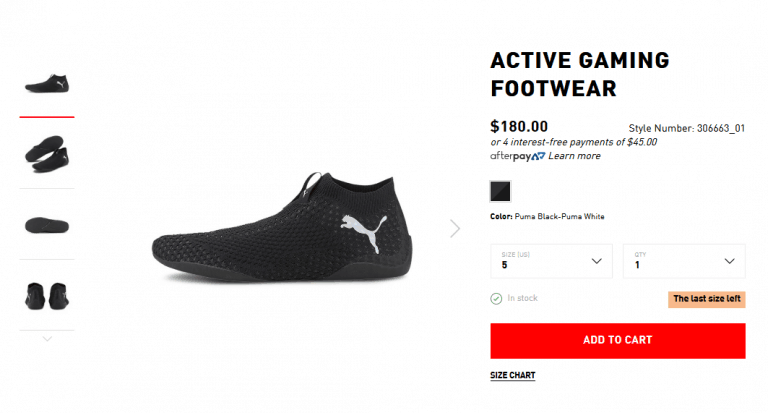 Are gaming socks an actual thing and if so can they increase performance?
The footwear fanatics over at Puma are selling "Active Gaming Footwear" for the price of a chair!
This may seem like a blatant marketing gimmick, but they're said to keep your feet from sweating in the most ePiC of moments.
Gaming Chairs Can Explode (Basically Any Chair With Pneumatic Gas Cylinder)
Believe it or not, if you're not careful, that daily sitter of yours can become a rocket with a one-way ticket to the great beyond. If you buy a cheap knock-off gaming chair.
If you want tips on how to lessen the chances of such a horrific scenario; We got tips on how to avoid your gaming chair from exploding.
More resources go to marketing rather than for R&D
In the saturated market of gaming swivel chairs with too many brands competing for attention, which has created a race to the bottom in recent years. This generates a lack of quality assurance more established chair makers put in place.
Speaking of established chair brands, they have been in business long enough to accumulate leftover capital to undertake the steps in innovating ergonomics with in-house designers. 
Newer brands that have been around for less than a decade commonly resort to working with third-party manufacturers, which creates a gap in overall quality
The Focus of Aesthetics Over Comfort
I intertwine this with the point above with the point made above, flashy products stand out over the tried and true. Although all gaming chairs look basically the same, their paint jobs are as unique as the online personas that live in them.
This may be an observation, but I consider this trend has a lot to do with the age of this product's target demographic.
People under 20 years of age don't need ergonomics like older people suffering from their sedentary lifestyles. The younger gamers rather have color upholstery with racing style seating instead of a chair with higher quality ergonomic features.
Ergonomic Support Pillow Instead of An Ergonomic Backrest Seat Pad
Bad Warranties (Next to Office Chairs)
Most gaming chairs warranties are 'limited' or under five years, and that is even if such a chair can last five years of daily use.
Compared to big box store who offer more generous warranties, for example:
Staples as an example sports their swivel chairs with 5-10 year warranties.
LazyBoy has their chairs under warranty for a staggering 12 years!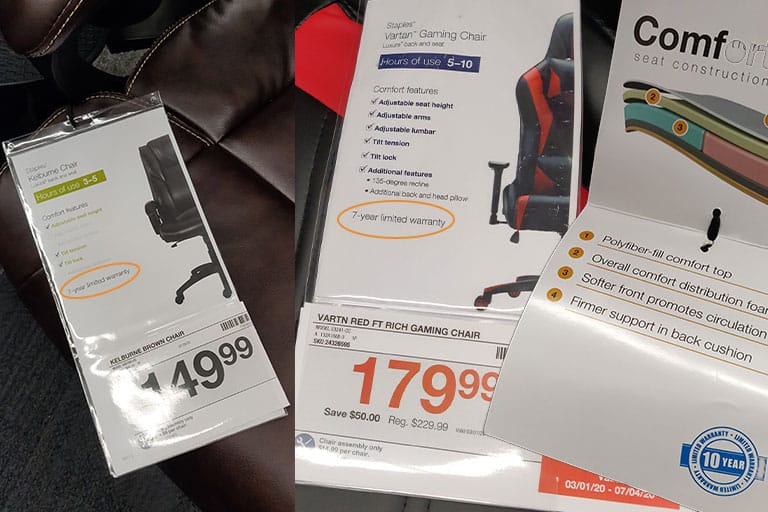 Standard Casters Can Ruin Floors
A Cheaper chair means cheaper casters. These wheels have little to no coating, which makes them more susceptible to scraping a floor after just a few months's worth of daily use.
This problem is easily solved with a chair mat, but there has been a trend among gaming chairs to offer (Razor Scooter Type) upgraded soft casters.
These specialized casters smoothly roll over hardwood floors. Chair Mats are ideal for carpeted rooms when mobility is essential.
They may produce them all from the same 'shadow' manufacturer
Take a glance at your standard gaming chair at any online marketplace, it's basically a sea of sameness. Amazon, Newegg, and even Walmart all show similar results.
Almost as if they're manufactured by the same source and sold under different drop-shippers.
The components of these chairs are remarkably similar and the only difference is the exterior materials like upholstery and branded patches.
Another strange finding is how little to no notable retail stores seem to not have any of these chairs in stock.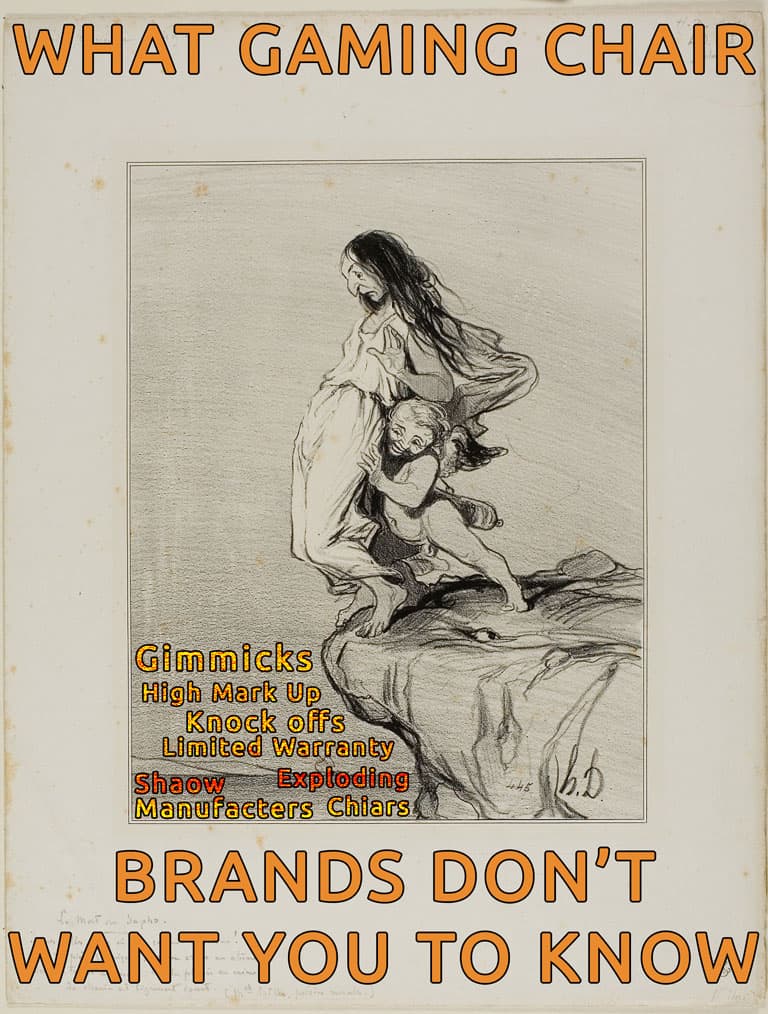 Related Questions
Helpful Info About Gaming Chair Brands & Some F.A.Q. Answered
How Can I Find A Gaming Chair That Doesn't Suck?
The optimal seating situation involves the following features.
Adjustable lumbar support system because we all sit at various heights 

The seat pads should be the same length as your thigh, so that your feet easily touch the floor, and lower back firmly against the backrest.

The seat of the chair should be high enough so that your hips elevate above the knees.
There are obviously other considerations before purchasing a new daily sitter.
How Big Is The Price Difference Between Ergonomic Office Chairs And Gaming Chairs?
The swivel chair industry operates in a sizable market space with various price tiers. It's hard to give a real definitive number.
On average, gaming chairs with similar specs to ergonomic office chairs will sell for more because gamers will spend more (Marketing At It's Finest). The price difference is usually between 10% - 15% higher!
SOURCES
Waits, Kentin. "Cheat Sheet: Retail Markup on Common Items." Wise Bread, 2010, www.wisebread.com/cheat-sheet-retail-markup-on-common-items.
"Woman Badly Injured by Exploding Computer Chair." AsiaOne, 9 Oct. 2013, www.asiaone.com/woman-badly-injured-exploding-computer-chair"Office Chair Explosion.Flv."
Blog, CHAIRS4GAMING. "Tips to Identify a Genuine DXRacer." Chairs4Gaming, 5 Apr. 2019, chairs4gaming.com/blogs/blog/tips-to-recognize-a-genuine-dxracer#.
"Chair Exploding" YouTube, 10 Dec. 2009, www.youtube.com/watch?v=-Ukh4rvtLOo
Frucci, Adam. "Boy Killed Anally When Office Chair Explodes." Gizmodo, 20 Feb. 2009, gizmodo.com/boy-killed-anally-when-office-chair-explodes-5157354.

Claude
ChairPickr | "Writer"
Hello, My name is Claude and I enjoy sitting comfortable. Research into what separates the good from the bad in the matter of chairs started when I made a new year's resolution to have better posture.
You clicked here to find that first-rate chair. Why not stay and learn some self care?
Affiliate Disclaimer
ChairPickr is a participant in the Amazon Services LLC Associates Program, an affiliate advertising program designed to provide a means for sites to earn advertising fees by advertising and linking to Amazon.com. Some links on chairpickr are affiliate links, meaning at no additional cost to you. We will earn a commission if you click through and make a purchase.