Thinking About Buying An Office Chair? 5 Mistakes To Avoid & Why
Shopping for an office chair requires a bit of prepping and some research. 5 mistakes to avoid if you don't want to regret the seat you sit in most! (Probably)
5 Mistakes To Avoid When Buying An Office chair
Plan on purchasing a new office chair? Sidestep these following missteps!
The vast selection of swivel chairs that kinda all look similar creates a paradox of choice.
What Are Some Things I Should Know Before Buying A Chair?
Often taken for granted, chairs have come a long way in the past century.

Purchasing an ergonomic office chair will not erase all the pain because of sedentary sitting or miraculously fix your posture.
There are a few essentials to understand getting the most out of your daily sitter, like what signs show that it's time to change office chairs.
Also, I covered which body measurements to take into consideration in the pursuit of comfortable sitting.
Choosing a new office chair ain't rocket science, but there should be a little of research in the decision process.
As we get more entangled with computers, the need for a comfortable chair is essential.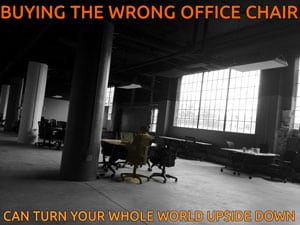 A 2016 survey from 51,869 participants found that people 20 years and older spent on average 6.4 hours sitting.
While ages 12-19 years of age spent an average of 8.2 hours per day sitting.
It reported spending 6 or more hours per day sitting with little physical activity to have a 71% higher rate of mortality.
What 5 Features Should I Look For In A Quality Ergonomic Office Chair?
There is an age old saying 'You Get What You Pay For' and that is correct for office chairs. Whether it be leather, mesh, or anything else, the quality of the material makes the difference.
Adjustable or Removable Lumbar Support

3D, 4D Armrest Opposed To 2D

Thick High Quality Memory Foam Seat Cushions

Tilt-Lock-Control

Multi-Surface Dual Wheel Casters
We covered these features in depth on how they prevent our bodies from slumping forward (unhealthy posture) and eases tension, which builds up from long periods of sitting.
According to a 2010 study, looking into the relationship between time spent sitting and risk of mortality that comprising over 184,000 participants.
Combined, these two pieces or research show how the modern office lifestyle is slowly killing us!
Now that you understand the importance of 'Choosing Your Chair Wisely', avoid rehashing these purchasing mistakes I've made over the years.
Purchasing The Wrong Material and Colors
Bad Aesthetic Choices Won't Leave You Achey, But Maybe Forsaken?
Maybe the feeling of the upholstery is wrong, all wrong, or the color is unflattering to your workstation. These choices won't make a chair uncomfortable, but may make you less enthusiastic about sitting.
Popular Color Scheme For Office Furniture, Specifically Chairs.

Brown With Light Brown

Brown With Gray

Blue With Gray

Silver With Black

Blue With Gray

Blue With White

White With Brown

White With Black

All Black

All Gray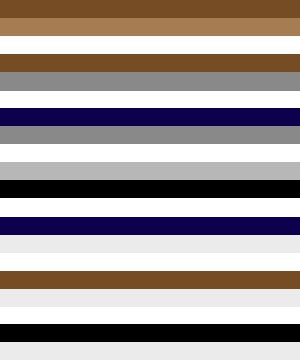 Avoid this dilemma by evaluating your workstation and sitting situation.
Create a checklist before shopping and using it to filter out undesirable chairs from prospective ones.
As posh as white chairs appear they easily stain and age horrible by fading to a yellow tint.
If you asked me to pick which color is overall best, I'd go with all black upholstery because it matches almost any workstation and most chairs use it as their standard.
What are benefits of faux PU leather compared to other types of office chair upholstery?
Faux PU Leather is resistant to fading, cracking, and is overall ages more gracefully next to other types of chair covering materials.
This leather is among the most common for a variety of reason. Its artificial mixture makes it resistant to water, mold or mildew and is easy to clean.
Compared to genuine leather its Eco-friendly and cost less.
Which is the best office chair upholstery for me?

They say the abundance of choice may not lead to the right selection.
Choosing something you will interact with every day is a life-changing decision. A little research saves time, money, and the regret of sitting in pain.
What Types Of Materials Are Best For Office Chair Armrests?
Office and Gaming chairs with padded leather armrest are nice at first to sit, however you should not don't forget about wear & tear.
The natural oils from your arms will break apart the armrest faster compared to synthetic materials.
It all comes down to preference, but consider this!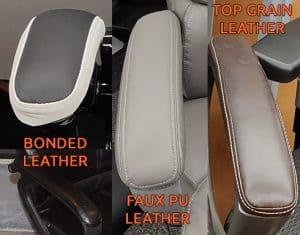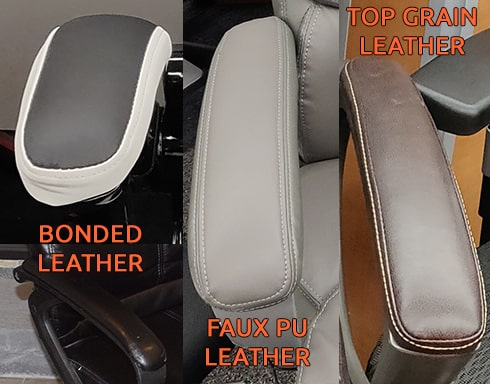 Forgetting To Measure Yourself or Office Chair
Not considering the sitter's height before purchasing a chair.
This is especially true if you're in the market for a budget office chair because they usually come as one size fits all. Avoid picking the wrong size; Measure yourself and then compare those dimensions to the info in the chart below.
| Optimal Seating Height For | Petite Sitters | Average Sitters | Large & Tall Sitters |
| --- | --- | --- | --- |
| Seated Height | 14.0" to 16.0" inches. | 19.0" to 16.0" inches. | 20" to 28" inches. |
| Seated Width | 15" to 18 inches. | 18" to 20" inches. | 20" inches. plus |
| Seated Debth | 15" to 18" inches. | 18" to 20"inches. | 20 inches. plus |
| Backrest Height | 13.9 to 18.0 inches. | 18.0 to 22.0 inches. | 22.0 inches. plus |
These optimal seating stats weren't just pulled from thin air, they got calculated by averaging office chair specs from Amazon marketplace, Staples, Costco, & the manufactures themselves.
Accurately measure yourself!
Have about 2-4 inches between back of your knees and the chair while sitting with back firmly against the backrest.
Average sitters have a lot for the pickin' but that's not the case for the outliers.
We here at chairpickr have cherry picked the very best in multiple niches, for both Large & Tall and Short & Small sitters.
Not Considering Your Workstations Dimensions
Do you got enough room allocated for your dream chair?
As obvious as this sounds, some forget to measure their workstation before purchasing a new chair and find that it's lowering from the desk or too big for the allowed space.
Save Space, Go Armless?
Going without armrest will make for extra space if your workstation is on the smaller side.
For most situations, this is a negative tradeoff, especially if you suffer from shoulder pain.
Retractable armrest are worth considering because they offer the best of both worlds. There are other considerations.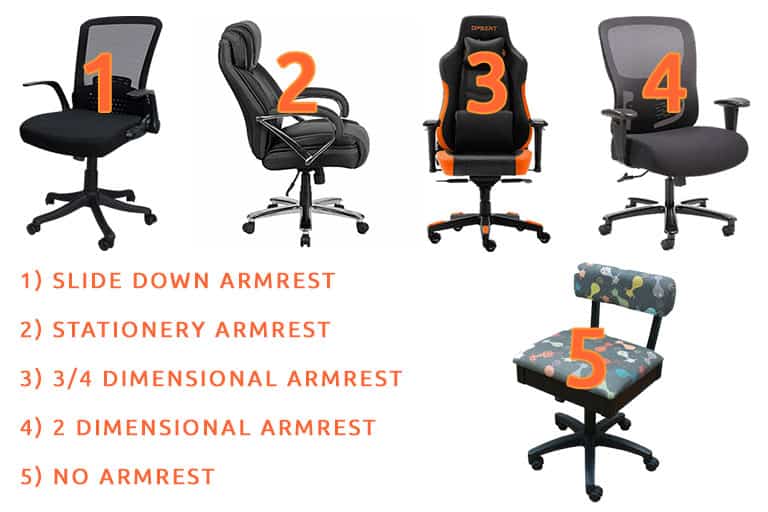 Forgetting About The Manufactures Warranty
Inevitably, your Chair will develop wear and tear, consider the warranty when deciding on a new office chair.
The importance of a warranty can't go unsaid that higher quality office chair usually has quality extended warranties.
I also know brick and mortar stores that sell office furniture are also to have favorable warranties.
My last visit to STAPLES had me surprised after noticing all of their office chairs have a 7-year warranty, even the crappy $59 ones that won't last!
They also are partnering with La-Z-Boy that offer 10-year warranties on their chairs.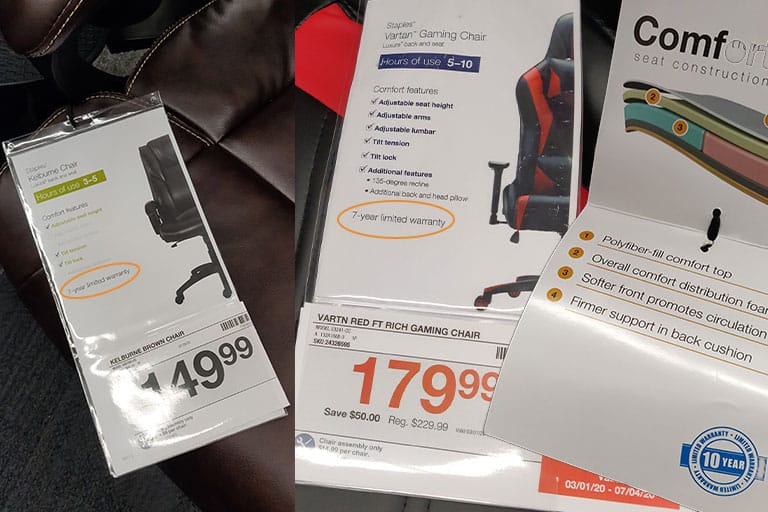 So What Is Creation Process Behind Office Chairs?
Often taken for granted, the advancements of chairs has come along.
The manufacturing of swivel chairs involves a lot of parts compared to traditional four-legged chairs.
Such as a 5 star caster support system, seat base that can swivel and adjustable leavers that are powered by a pneumatic-hydraulic gas lift.
This complicated creation process is too much to cover in a few sentences. Luckily, I covered the topic during my research into how office chairs are created.
Saving A Buck Over Back Saving Features
When it comes to sitting - NEVER sacrifice perfect posture for a price!
Appealing as they are, the bargain-bin type office chair is actually a raw deal in terms of comfort.
The time you will save from the lack of sitting pain is well worth the added cost.
An easy way on to calculate on how much to budget is by adding $100 to each hour you sit on an average day.
The longer you're in the chair, the more adjustable features you'll want to consider. Two features I look for when buying a chair are the following.
Easy to Operate Adjustment Controls
Smooth Movements With Both Swivel and Casters
Spending $300 on a chair you're in for three hours each day is not a poor investment.
Akin to this sentiment, avoid choosing aesthetics over comfort!
You make look cool in your new chair, but we both know you secretly rather switch for something more ergonomic. [For Your Health!]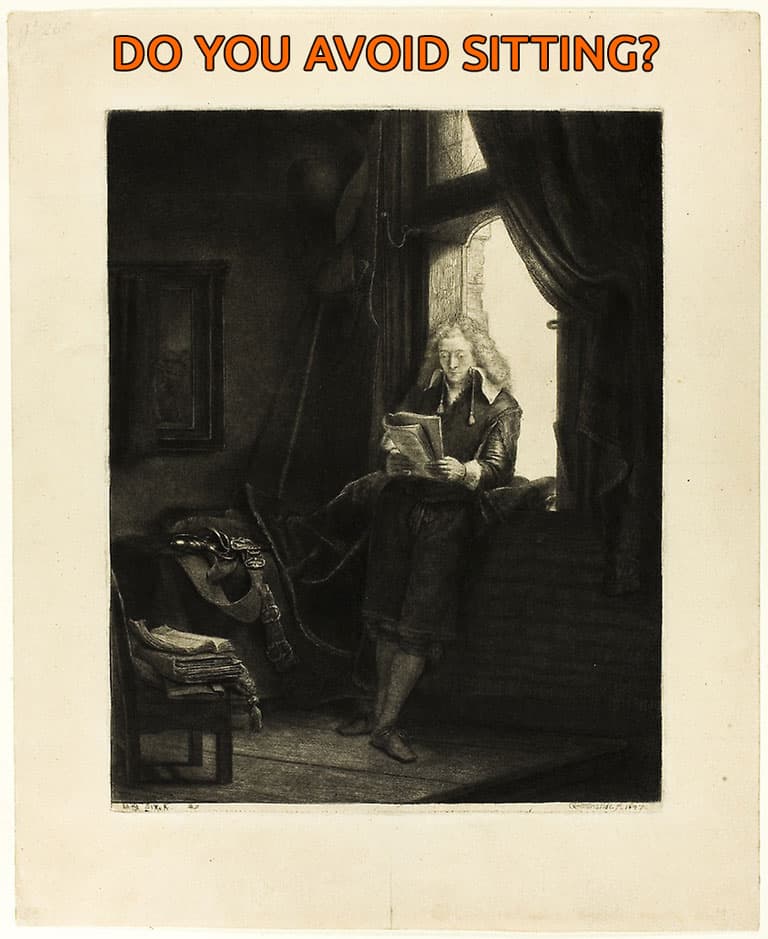 Related Questions
Helpful Info & Some F.A.Q. Answered About Office Chairs
What To Consider When Buying Office Furniture For Business?
Avoid purchasing a surplus of office equipment and only buy enough furniture for your current workforce.
We should equip office chairs with universal casters to have the option of removable armrest.
Some other considerations include the following.
Purchasing Furniture Without NO Warranties.
Choosing a computer desk without a slide-out keyboard tray.
Thinking office chairs are one size fits all.
TIME reported that average space for U.S corporate cubicle has drooped 15 square feet from 90 square feet in 1994 to 75 square feet in 2010.
Ergonomic design is more important because of this shrinkage in the work area.
Why Not To Use An Exercise Ball For A Chair
Thought about using an exercising ball as an alternative?

These tools for exercises are not as healthy as they look. Some experts argue purchasing a $30 ball won't solve any more problems than a budget office chair.
This is a controversial subject within the ergonomic community. Heather Ritz via humantech covered this topic and uses examples to show the flaws in using an exercise ball in replacing your office chair.
SOURCES
Asher CPT, Anne. "Understand Why Your Office Chair Is Causing You Back Pain." Verywell Health, 8 Dec. 2019, www.verywellhealth.com/office-chair-height-and-hip-joint-angle-296775.
"How Much Time Does the Average Person Spend Sitting? Reports Show It's Dramatically Changing." Inverse, www.inverse.com/article/55165-time-spent-sitting-average-person.
American Journal of Epidemiology, Volume 172, Issue 4, 15 August 2010, Pages 419–429, https://doi.org/10.1093/aje/kwq155
Knighton, Greg. How-To Clean Most Types Of Office Chair Upholstery. www.btod.com/blog/clean-office-chair-upholstery/.
Youtube, Bob & Brad. "Use Ball as Chair at Work?? Is It Good for Back Pain or Backache?" YouTube, 24 Mar. 2015, www.youtube.com/watch?v=W3NCOJde29c.
http://www.facebook.com/meganfriedman.0newsfeed.time.com/2011/02/08/youre-not-imagining-it-your-cubicle-is-getting-smaller/
http://www.humantech.com/ergo_accelerator_issue45_SD.htm as retrieved on Oct 9, 2006 15:54:08 GMT.

Claude
ChairPickr | "Writer"
Hello, My name is Claude and I enjoy sitting comfortable. Research into what separates the good from the bad in the matter of chairs started when I made a new year's resolution to have better posture.
You clicked here to find that first-rate chair. Why not stay and learn some self care?
Affiliate Disclaimer
ChairPickr is a participant in the Amazon Services LLC Associates Program, an affiliate advertising program designed to provide a means for sites to earn advertising fees by advertising and linking to Amazon.com. Some links on chairpickr are affiliate links, meaning at no additional cost to you. We will earn a commission if you click through and make a purchase.