Leather Vs Mesh Office Chairs, Which is best for your back?
Do you ever sit and wonder about leather and or mesh upholstery in terms of office chairs?
Which is best in terms of ergonomics?
Office Chairs Materials
Leather Vs Mesh Office Chairs, Beyond Aesthetics | Upholstery Comparison
Have you ever sat and wondered about all the upholstery types of office chairs. Every type has their best use cases, but which is best in terms of ergonomics?
Such questions are subjective because comfort is in the beholder's choice. That being said, I am the beholder of this blog and this an opinion.
Does The Material You Choose For Chairs Affect Your Posture?
No, it really depends on the design of the chair and how you will use it.
For office chairs,
most ergonomic designs
are a hybrid between fabric, mesh, and vinyl. Leather office chairs are less likely to be ergonomically designed and commonly used for the upholstery of 'executive' office chairs.
Mesh Upholstery In Office Chairs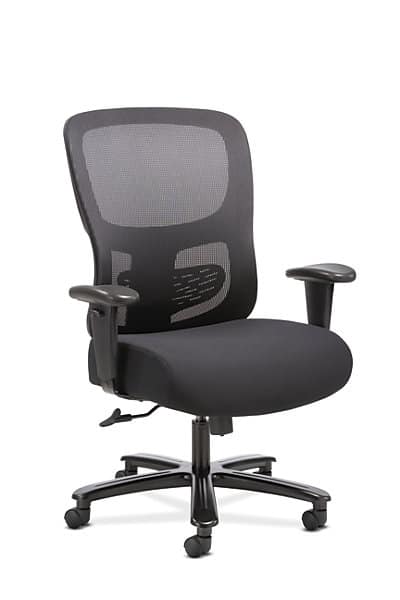 Mesh material has become the most common upholstery on office chairs within the last decade for its breath-ability and economic viability.
Mesh upholstery covered office chairs usually appear more minimalist compared to leather-covered chairs and are easier to keep clean.
Some downfalls to mesh chairs are how with continued use they flatten out. This leaves the sitter with little to no support. A small percentage of sitters report using certain mesh upholstery chairs result in itchy backs.
Breathable back seat pad

Easy to clean

More ergonomic features
Less padding than leather

Not as many colors available

Material may scuff up clothing
Leather Upholstery Office Chairs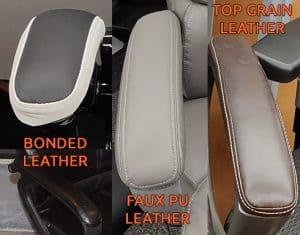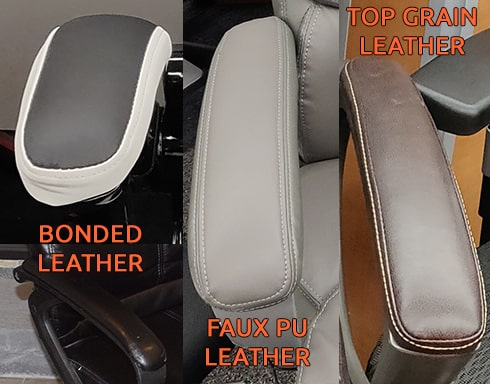 The professionals usually first choice upholstery, leather is more versatile than mesh in terms of customizable design. It has also become a material synonymous with executive chairs.
These types of office chairs are larger and more expensive. On average, leather upholstery ages better. That could vary depending on the manufacturer and whether it's properly cared treated,
You know the saying 'Black Don't Crack', sadly this is not the case for black faux leather chairs. Day after a day of sitting will lead to cracks and wrinkles that eventually peel away the upholstery of your chair.
The aging process of a leather office chair varies on the quality of material and type of sitter, but normally shows signs after 4 – 5 years of use.
More Professional Aesthetic

Thicker seat cushion

Easier to clean
Smells strange IMHO

Not Ergonomic

Less adjustable on average.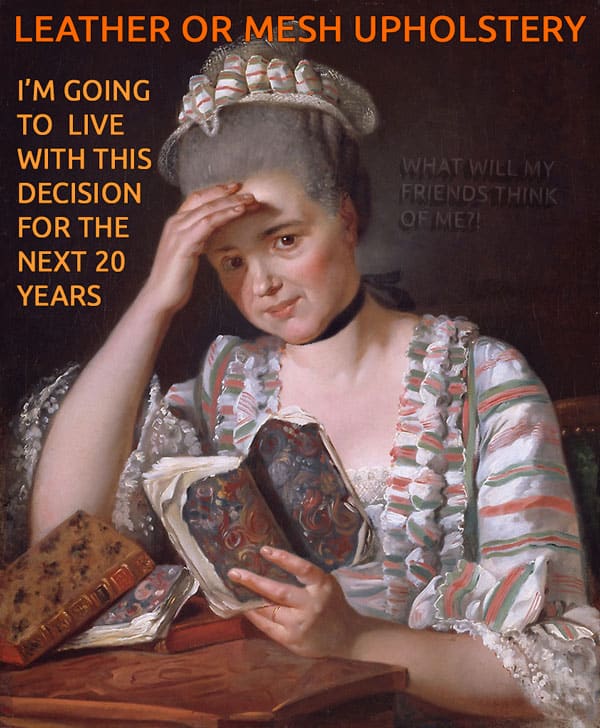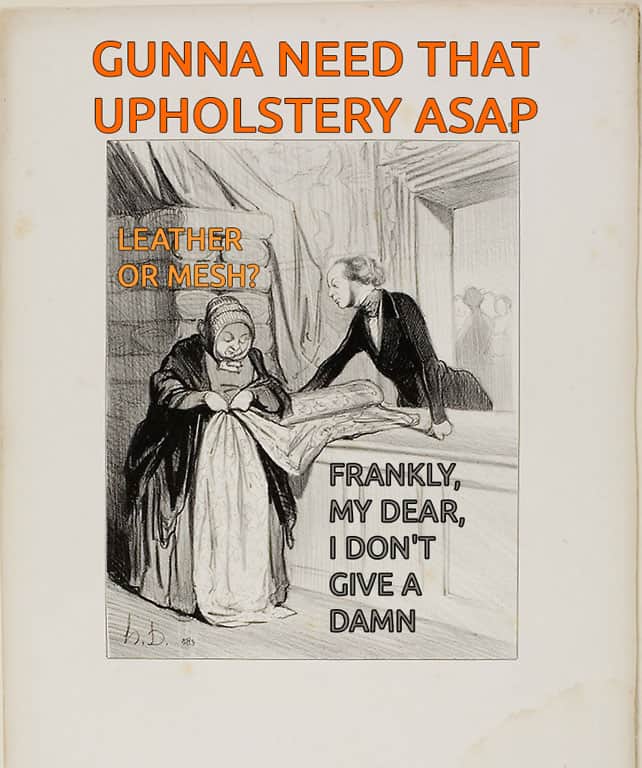 Leather VS Mesh Office Chairs

This verdict should be on a chair by chair basis. In my experience, both types can be comfortable, but mesh gets a bit of an edge because of most leather chairs my butt comes in contact with are over-sized.
Leather chairs offer better support as thick seat pads but lack a wide range of customization.
While we usually equip Mesh chairs with more ergonomic features and, on average, offer a wider range of mobility.
There is a fine balance between aesthetics, durability, and comfort. Depending on the upholstery. It will either compliment your workstation or leave your back sweaty in fashion disaster.
Leather Vs Mesh Office Chair Comparison Chart
| Upholstery | Pros | Cons |
| --- | --- | --- |
| Fabric | Cleanable & Breathable | Could irritate some sitters skin. |
| Mesh | Comfortable & Breathable | Could leave some sitters itchy and is hard to clean. |
| Leather | Cleanable & Long Lasting | More expensive and may make some sitters sweaty. |
| Vinyl | Cheap & Breathable | Could irritate some sitters skin. |
Can Office Chair Materials Really Hurt Your Back? (Leather or Mesh)

There is an age old saying 'You Get What You Pay For' and that is correct for office chair materials. Whether it be leather, mesh, or anything else, the quality of the material makes the difference.
So in short- Yes, the quality of materiel used in creating an office chair plays a role in the amount of comfort or discomfort you will feel while sitting.
Sandra Wooley from Mayo Clinic Laboratories discusses most of the important parts of having a comfortable workstation. Upholstery is just one of many factors in the formula of comfiness.
Ergonomics, ease of use, and a personal assessment of your workstation are a few other variables in this equation.
Related Questions
Helpful Info About Office Chair Upholstery & Some F.A.Q. Answered
✅ My mesh office chair scrapes against my clothing whenever I use it. Any solutions to saving my expensive work attire?
Yes, cover the back of the chair with something less damaging to your clothes.
We all dress in layers and can use our coats to cover the corrosive mesh back page, but our jeans are still at risk. Using a sitting pillow or even a towel will do the trick.
✅ What Are The Differences In Leather Office Chairs?
Top Grain, Bonded, and Faux PU Leather; How do they differ?
Not all leather chairs are created equal! Some are from first choice cuts and others are manufactured using recycled little pieces of leather. Each has their niche use.
✅ What Alternatives Are There To Leather Office Chairs?​
My mesh office chair scrapes against my clothing whenever I use it. Any solutions to saving my expensive work attire?

Quality chairs use a combination to balance comfort, durability, and affordability. If you're interested in learning about the "Likes & Yikes" of the materials above, we extensively covered the topic during my research on how office chairs are made.
| Types of Leather | Easy To Clean | Cost | Quality Feel | Longevity | Leather Hide Visible |
| --- | --- | --- | --- | --- | --- |
| Genuine Top Grain | No | 💲💲💲 | 🪑🪑🪑 | ⌛⌛⌛ | 🐄🐄🐄 |
| Bonded | Yes | 💲 | 🪑 | ⌛ | 🐄 |
| Faux (PU) | Yes | 💲 | 🪑🪑 | ⌛⌛⏳ | 🐄🐄 |
SOURCES
"Ergonomics in Action: What Is the Most Important Part of Having a Good Workstation? – Insights." Insights, 7 Feb. 2017, news.mayocliniclabs.com/2017/02/07/ergonomics-in-action-what-is-the-most-important-part-of-having-a-good-workstation/.
"Office Ergonomics: Your How-to Guide." Mayo Clinic, 2016, www.mayoclinic.org/healthy-lifestyle/adult-health/in-depth/office-ergonomics/art-20046169.
Dowse, Mark. "Mesh vs Upholstered Fabric Office Chair | MD Business Interiors Devon." MD Business Interiors Devon, 10 Aug. 2017, www.mdinteriorsdevon.com/mesh-vs-upholstered-fabric-padded-office-chair/.

Claude
ChairPickr | "Writer"
Hello, My name is Claude and I enjoy sitting comfortable. Research into what separates the good from the bad in the matter of chairs started when I made a new year's resolution to have better posture.
You clicked here to find that first-rate chair. Why not stay and learn some self care?
Affiliate Disclaimer
ChairPickr is a participant in the Amazon Services LLC Associates Program, an affiliate advertising program designed to provide a means for sites to earn advertising fees by advertising and linking to Amazon.com. Some links on chairpickr are affiliate links, meaning at no additional cost to you. We will earn a commission if you click through and make a purchase.