Whats The Difference Between These 3 Leather Office Chairs?
You might have sat in all three leather office chairs, but can you tell the difference between them? The best uses for Top Grain, Bonded, and Faux PU Leather.
What makes these 3 types of leather Upholstery unique?
Not all leather chairs are created equal!
Real genuine leather or top grain is the most sought after, while they mash up the leftovers to make bonded leather.
| Types of Leather | Easy To Clean | Cost | Quality Feel | Longevity | Leather Hide Visible |
| --- | --- | --- | --- | --- | --- |
| Genuine Top Grain | No | 💲💲💲 | 🪑🪑🪑 | ⌛⌛⌛ | 🐄🐄🐄 |
| Bonded | Yes | 💲 | 🪑 | ⌛ | 🐄 |
| Faux (PU) | Yes | 💲 | 🪑🪑 | ⌛⌛⏳ | 🐄🐄 |
Faux Leather has the best of both worlds and is in between the two in terms of quality.
Below is a translation of the information above into digestible thought.

If the chart clarified your question then maybe we can get to answering Leather Office Chairs V.S. Mesh Office Chairs, which is best for your back?
Bonded Leather (The Leftover Leather)
Its tiny grains can identify the surface of this leather.
This is because bonded leather is the combination of leftover pieces from other cuts that get mashed up and glued back together with synthetic spray glue.
Bonded Leather's artificial process makes it much more cost efficient compared to other types of leather upholstery.
Quality Bonded Leather has nearly the same feel as genuine leather, but less quality material cannot to hide the tiny scraps of leftover leather.
RANDOM TIDBITS
The chairs initial stinky odor.

The chemicals in the glue are not Eco-friendly.
Two criticisms surrounding this leather have to do with the synthetic spray glue used their production process.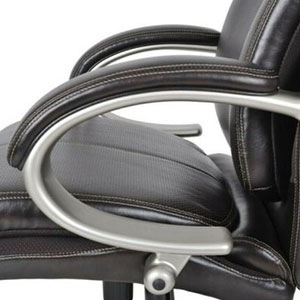 Faux Leather (The Best of both Worlds)
We also referred faux leather to as PolyVinyl or PU Leather (Polyurethane), and is a synthetic fabric that is often mistaken as genuine leather.
Having the water resistances features of bonded leather, with the looks and feel of top grain leather.
This upholstery is one of the most used materials for office chairs.
More economically priced than Top Grain Leather, but does not have as long of a life span.
Faux PU Leather requires little maintenance and is the easiest type to clean because of the smooth surface and polyurethane coating.
PU Leather being synthetic has won over animal rights activist because it requires no actual cow hide to manufacture.
For personal reasons, many people have disdain for real leather.
For ethically minded individuals, faux leather is the next best alternative.
RANDOM TIDBITS
This leather originated in the shoe industry and was first introduced in 1963 at the Chicago Shoe Show.

Identified under many names such as PU Leather, Split Leather, Bicast Leather, & even Vinyl.

You can identify PU Leather when its color fades after a couple years and its thin polyurethane coating peels away onto your backside.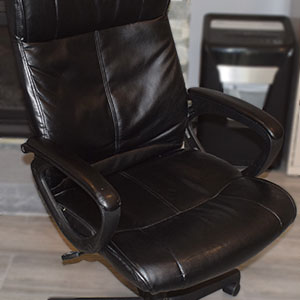 Top Grain Leather (Genuine Real Leather)
Authentic leather is actually from animal Hyde!
The most popular choice of leather and is famous for its high quality. Unlike synthetic leathers, if you look closely you can see the animal Hyde that made it. Compared to synthetic leather chairs, this leather is considerably more expensive.
What about Top Grain Leather VS Full Grain Leather?
Top Grain is the highest quality, only second to full grain leather. The difference between these types is within the material's thickness.

Top Grain is thinner, cheaper, and easier to shape into furniture.
Top Grain Leather also has a natural grain that gets sanded down to remove imperfections and then imprinted with a grooving template for more uniform appearance.
Unlike Full Grain Leather, Top Grain also gets sprayed with a finishing coat for protection against blemishes. This finish coat also makes the chair less breathable after long periods of sitting.
RANDOM TIDBITS
Uses a finish coat to for protection against spills.

Heats your butt faster compared than the other leathers.

The two animals used to make this leather of Buffalo & Cows. Buffalo hide is usually for cheaper chair upholstery, while Cowhide is more expensive.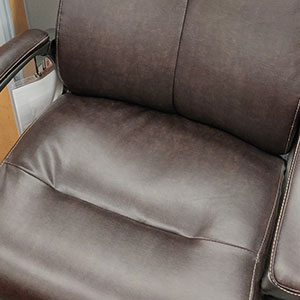 What is the Difference Between Fake and Genuine Leather Upholstery?

Synthetic leather vs real leather – How to tell the difference?
With the all different leathers on the market, it may be hard to tell the quality from the quacks. Here are a few ways to help tell the difference.
Look at the Leather: Natural leather has marking from animal hide with uneven rough edges.

Feel the Leather: Natural leather has more of a suede feel to the touch.

Smell the Leather: Natural leather has a more distinct smell that is less chemically than synthetic leather.

Check the Label: The label will usually tell you what type of leather it is. Also look at the price tag because genuine leather tends to be more expensive.
Which leather has most longevity?
Bonded, Faux, or Genuine Leather Upholstery; Which Wears Out First?
With the all different leathers on the market, it may be hard to tell the quality from the quacks.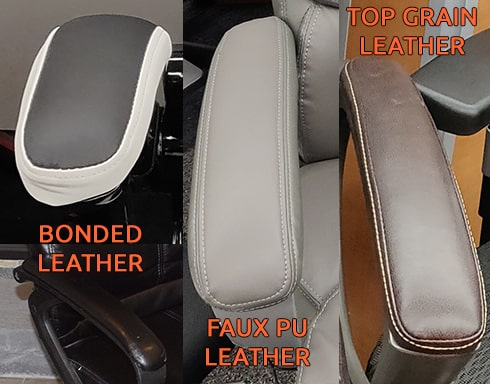 Genuine Top Grain Leather: If you take care of this type, it will stay looking great for longer than any upholstery.

PU Faux Leather: It's just as easy to clean, but does not have the longevity.
Bonded Leather: Hardest to clean and has lesser longevity than other leathers.
Bonded, Faux, or Genuine Leather Upholstery? Each is cleaned differently.
How to clean your
Leather office chair
Check the manufacturer's tag on your furniture to know which upholstery you're dealing with. They also might have definitive directions to follow.
Now here are few ways to preserve that leather freshness in your office chair.
When you vacuum the chair, make sure to only use the soft brush to avoid scratching. Also check the suction strength before using to avoid unnecessary damage.
Every once in a while, if your seat smells stinky. Mix warm water with a drop of dish soap and apply it to a clean rag. When cleaning leather, remember to wipe NOT scrub!
If your chair has seen better days and needs the equivalent of a deluxe car-wash special. I recommended applying leather conditioner or a protective spray.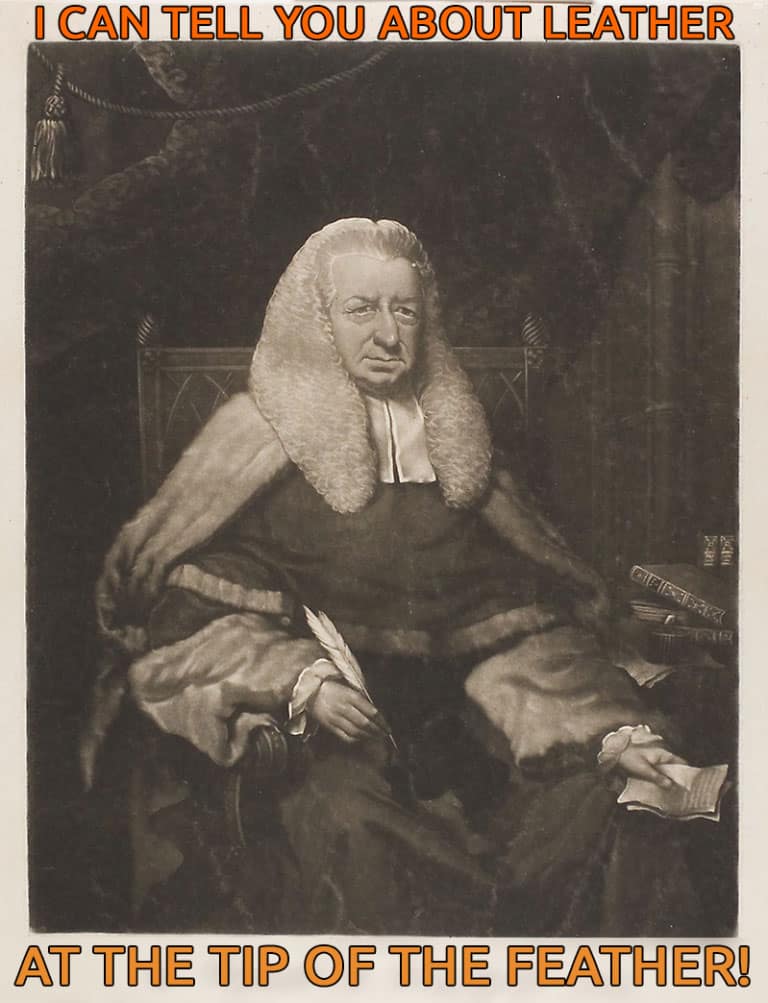 Related Questions
Helpful Info About Leather Office Chairs & Some F.A.Q. Answered
✅ Can The Material of an office chair really hurt your back?
There is an age old saying 'You Get What You Pay For' and that is correct for office chairs.
Whether it be leather, mesh, or anything else, the quality of the material makes the difference. Some less expensive upholstery is coated with chemicals that can leave some sitters itchy.
✅ What Alternatives Are There to Leather Office Chairs?
Six common upholstery materials used for designing office furniture.
Each has its usage case, but some have more drawbacks than others.

Quality chairs use a combination to balance comfort, durability, and affordability. If you're interested in learning about the "Likes & Yikes" of the materials above, I covered the topic during my research behind office chairs are made.
✅ Mesh Office Chairs V.S. Leather Office Chairs
This a highly debated topic that should be taken on a chair by chair basis.
Both types can be very comfortable, but leather chairs have thicker cushions while mesh chairs are often equipped with better ergonomic features.
Leather chairs offer better support in the form of thick seat pads but lack a wider range of customization.
Mesh chairs are better at ergonomics and on average offer a wider range of mobility.
For a more in debt comparison of these two upholstery, I covered all about Leather Vs Mesh Chairs in a previous post.
SOURCE
Asher CPT, Anne. "Understand Why Your Office Chair Is Causing You Back Pain." Verywell Health, 8 Dec. 2019, www.verywellhealth.com/office-chair-height-and-hip-joint-angle-296775.
Co, Buffalo Jackson Trading. "Full Grain Leather vs. Top Grain Leather: What's the Difference?" Buffalo Jackson Trading Co., buffalojackson.com/blogs/insight/full-grain-leather-vs-top-grain-leather.
Knighton, Greg. How-To Clean Most Types Of Office Chair Upholstery. www.btod.com/blog/clean-office-chair-upholstery/.

Claude
ChairPickr | "Writer"
Hello, My name is Claude and I enjoy sitting comfortable. Research into what separates the good from the bad in the matter of chairs started when I made a new year's resolution to have better posture.
You clicked here to find that first-rate chair. Why not stay and learn some self care?
Affiliate Disclaimer
ChairPickr is a participant in the Amazon Services LLC Associates Program, an affiliate advertising program designed to provide a means for sites to earn advertising fees by advertising and linking to Amazon.com. Some links on chairpickr are affiliate links, meaning at no additional cost to you. We will earn a commission if you click through and make a purchase.