How To Stay Warm Sitting At A Sporting Event
Whether you're cheering for your sports team or relaxing besides a hole ice fishing. In these situations, staying warm ain't easy. Here are tips on staying toasty while sitting through tough terrain.
Prepare For Cold Conditions, Dress In Warm Layers
First Things First, Check The Weather Forecast Before Going Out!
To stay warm sitting, Keep something on you for protection from the rain such as a poncho, umbrella, or water resistant jacket. Keep a scarf around your neck in case it gets windy.
10 Easy Ways To Stay Warm When It's Chilly
Keeping Your Head Protected by Wearing An Insulated Knit Hat Silly!
If you are not a hat guy, keep it on because nobody looks hot with a runny nose. If you are worried about ruining your hair, use a headband. Old-time aviator hats work best, those obnoxious hats with earflaps and puffy fur top.
Hand Warmers (Insert Into Gloves)

Under Thermals (Long Johns/ Legged Underwear)

Thick Socks, NO Ankle Socks!

Hoodie + Vest + Jacket = Cozy Times

Flannel Lined Jeans

Cuffed Knit Hat

Touch Sensitive Gloves or Fingerless Gloves (For Easy Phone Use )

Blankets & Or Stadium Seat Cushion

Drinking Something Warm & Hold It Between Your Hands

Dance, Cheer, or do Both
When attending a sporting event, another way for warm sitting is to get moving, like taking a trip to the concession stand. If you're feeling saucy, stay warm, like veteran football players, by applying Vaseline on your face. Cheering is more fun when your team is winning.
Bring Toastie Snacks Like Soup Or Cocoa
Don't get crazy, but you can fit a lot within a thermos. If liquid lunch won't keep the cold away, then pack a thermos with another form of liquid lunch, soup! For the non-soup people, I recommended coffee, Hot Cocoa or tea.
Insulate Your Feet With Waterproof Boots
Double cotton socks or a thick pair of wool socks are ideal for keeping your feet warm on winter walks. Make sure your boots have a good grip to avoid slipping on slick surfaces. A thermos is great for packing liquid lunches like soup to keep you warm on cold days.
Warm Up Those Sports Stadium Benches - The Best Stadium Seats
Use A Seat Heater Cushion On Bitterly Cold Metal Benches!
Instead of sitting on a bench in the bitter cold, save your butt from frostbite by bringing a heated seat pad. These portable warming stadium seat pads work up to 2 hours upon getting filled with hot water.
POP Design The Hot Seat Heater
If you're competing for the coziest seat at the game. This is the way. With a snack side pocket, cup holder, USB charged, heated cushion, it is going to be hard to stand up and cheer.
The Hot Seat Heater is a heated cushion, perfect for game day or any other event where you need to be comfortable.
• It has a snack side pocket, cup holder, USB charged, and heated cushion.
• The armrest and waterproof anti-slip bottom make it the perfect choice for VIP seating.
staying warm Sitting somewhere Windy?
Sometimes the stadium is a field behind a school, seats are on the sidelines.
Answer:
There are a few things you can do to help stay warm while sitting in the stands on a windy day.

First, try to find a spot that blocks the wind. If you're able to sit on the sidelines instead of in the middle of the stands, that will help keep you warmer.

You can also try wearing a scarf or neck gaiter to cover your neck and upper chest. And finally, make sure you're dressed in layers so you can add or remove clothing as needed.
No tent – No problem
Three other ways to stay warm is snaking, moving about, or bundling up with blankets. Doing all three combines will offer the protection of a tent.
The Boy-Scouts (R.I.P.) had a great way to remember what to wear in frigid temperatures; The Three W's–Wind, Warmth & Wicking.
The top layer is wind and water resistant.

The middle layer is thick and the main layer for warmth.

The most inner layer is the wick and protects against perspiration.
Related Questions
Helpful Info About Staying Warm While Sitting & Some F.A.Q. Answered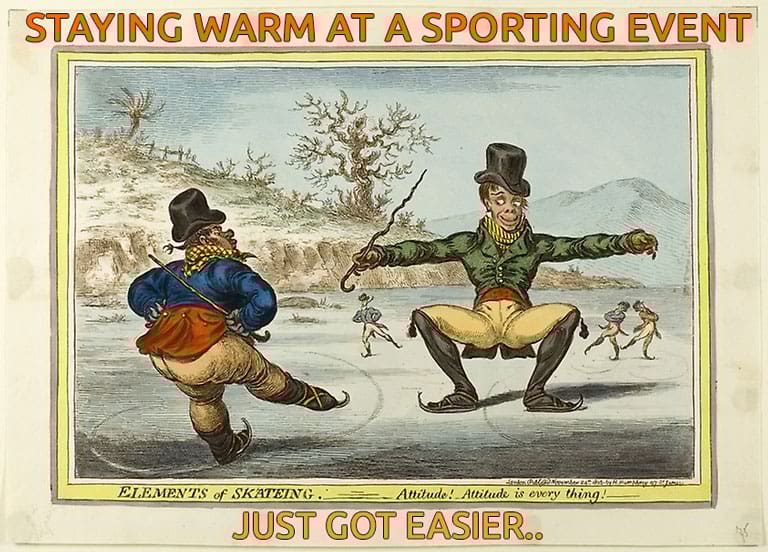 ✅ What Is The Best Type Of Jacket To Keep Me Warm?
Down jackets or coats offer the best combination of insulation and weight.
✅ How Do Professional Athletes Stay Warm?
Other than staying active, players on the sidelines keep their bums toasty with heated benches. They hollow these benches out of pieces of fiberglass that get powered with 170,000 Btus.
They also dress in layers, wear parkas in between plays, and have "hot hats" under their helmets. Along with these ways of keeping warm, it blast the entire side lines with hot fair from fans to keep the area around 50 degrees Fahrenheit.
✅ Any Office Chairs With Heated Seat Pads?
Yes, there are actually a few to select from in a variety of upholstery.
These chairs sometimes are equipped with massage features. They look like a changed budget executive chair.
If you are happy with your current office chair but are interested in a heated office chair, checkout a standalone heated seat cushion, I also recommend staying clear from leather materials because they are on the sweaty side, electric heat pad aside.
SOURCES
edicine, Sports. "6 Tips to Staying Warm At Cold Weather Sporting Events | UPMC." UPMC HealthBeat, 1 Feb. 2016, share.upmc.com/2016/02/tips-to-stay-warm-sporting-events/.
Krans, Brian. "NFL Superfans: Tips for Staying Warm During Cold-Weather Games." Healthline, www.healthline.com/health-news/outdoor-how-to-survive-a-winter-football-game-110313.
Products, Ahha. "Ergonomic Office Heated Vibrating Computer Desk Massage Chair PVC Leather Remote." YouTube, 25 June 2015, www.youtube.com/watch ?v=OZ4ADkcVQr4. Accessed 1 Mar. 2020.

Claude
ChairPickr | "Writer"
Hello, My name is Claude and I enjoy sitting comfortable. Research into what separates the good from the bad in the matter of chairs started when I made a new year's resolution to have better posture.
You clicked here to find that first-rate chair. Why not stay and learn some self care?
Affiliate Disclaimer
ChairPickr is a participant in the Amazon Services LLC Associates Program, an affiliate advertising program designed to provide a means for sites to earn advertising fees by advertising and linking to Amazon.com. Some links on chairpickr are affiliate links, meaning at no additional cost to you. We will earn a commission if you click through and make a purchase.