Are Wearable Chair Pants The Future In The Workspace?
(We Think Yes)
It may seem like a lazy persons dream pants, but the wearable chair is more of an exoskeleton that helps workers move around better.
Wearable Chairs Enhance Posture?

Chairs, or rather exoskeletons for sitting, are what they are known as. Although we refer to them as chairs, they are essentially exoskeletons designed for sitting.
I'm certain the idea had occurred to you before, but you never took action. (Shame) Unlike like you, the people at NOONE & Their quest for "Chairolution", based on wearable furniture, used to sit anywhere.
The idea was conceived by Keith Gunura, the CEO, during his teenage years while he worked in a packaging facility.
(Expressing admiration) These chair pants are truly ambitious! Their carbon fiber and aluminum structure gives them a mech-suit resemblance.
The use of lightweight metals allows for effortless deployment with as little as an additional five pounds to your attire.
How could wearable technology help in the workplace?
Certain workplace environments like factory floors can replace stools that impede the assembly process.
Using chairless chairs instead of traditional factory floor room chairs could increase workers' productivity because of its mobility to sit at any station in an assembly line.
Can wearable chairs support my weight?
There are chairs wearable that support up to 200 pounds in weight capacity. The chairless chair is a locking mechanism that provides support to lean on. These automated pants act as a brace for legs that any exhausted person standing can wear constantly.
When their legs become fatigued, they can fix themselves in place and take a break on level terrain. It's unwise to utilize these items near a craggy slope or when scaling a tree. Additionally, there exist straps that attach to the thighs, shoulders, and legs to disperse weight and adapt to varying wearer sizes and clothing.
What are wearable chairs used for?
Despite being considered a crutch by some, chair pants can prove to be helpful for individuals experiencing chronic lower back pain. As long as the surface is supportive, they are versatile for various locations, making it ideal for those with a sedentary lifestyle.
Think about it…
Factory Workplaces

Gardening

Conventions

Waiting in lines (Amusement parks)

Going somewhere with nowhere to sit!
Are wearable pants basically an updated one legged milking stool?
Yes, and no. Undoubtedly, upon comparing the two, you will discover more resemblances than disparities. The chairless chair relies on a pair of mechanized legs for stability, whereas milking stools usually have a single leg. 
The chairless chairs at the bottom imitate furniture legs, whereas milking stools with a single leg generally feature springs at the base. These springs provide greater sitting flexibility at the cost of locking mechanism. Chairless chairs utilize the sitter's center of gravity for stability even when locked in place
Chair Pants As Seen In Hollywood
Wearable pants let you lounge anywhere ? It's more than a status symbol… It's a lifestyle decision.
Before dismissing this upcoming trend as a heinous fashion statement, contemplate prioritizing comfort over style for a moment. Just look at the iconic shows these wearable chairs were unveiled in! (Silicon Valley & Community)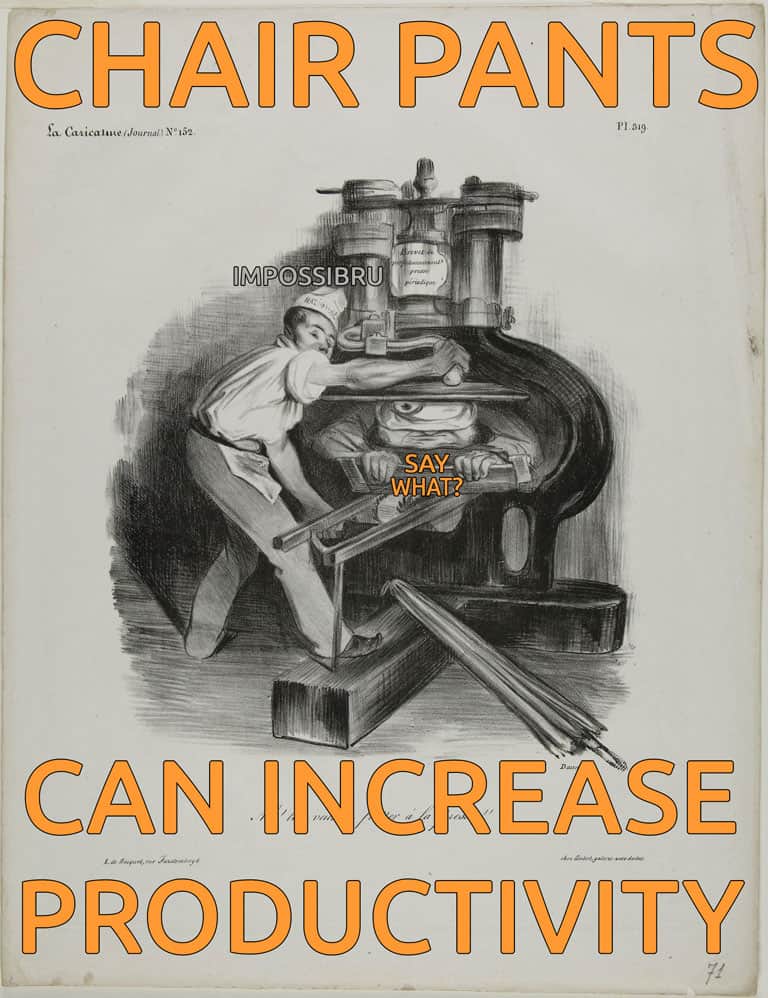 Looking For Pair of Wearable Chair Pants?
The Future Of Industrial Workplace Fashion Is Based On Utility & Productivity
The manufacturing of wearable technology is becoming more advanced. The availability of chairless chairs is limited due to their specialized purpose.
We found two wearable chairs at different prices points for different scenarios.
The more expensive pick is for being used in a professional setting.

The consumer friendly pick has a more attractive price point but comes with fewer features.
OUR TOP PICK WEARBLE CHAIR FOR PROFESSIONALS
Ofrees | Wearable Chair
The nearly full body exoskeleton design ensures the distribution of weight won't be concentrated on the upper legs or lower back.
Ofrees utility focused design on their wearable chair using only high-quality materials. The exoskeleton style is excellent for technical labor work settings.
They make this wearable portable chair in four different sizes (M, L, XL, 2XL). It uses buckles, belts and straps to wrap around the lower body for added sturdiness.
This chair won't move during important tasks. Ofrees Wearable Chair is for professionals and shows it in its price tag. If you're serious about your workplace ergonomics, get an exoskeleton disguised as a chair from a company serious about theirs.
PROS
Light Weight (4 lbs.)

Durable Materials

Available in various sizes
PROS
The high price tag makes this only viable for commercial purposes and not for leisure.
OUR TOP PICK WEARBLE CHAIR FOR MOBILE SITTNG
Sitpack | Portable Seat 2.0
Due to the anti-slip thick rubber foot, the interchangeable foot-grip is effortless to use on any surface.
The Portable Seat 2.0 represents an improvement to the SitPack's initial design.
The composition of the design includes metals of enduring quality. The seat in the style of a sitting stool can fold down compactly to the size of a soda can.
The amalgamation of a compact design for mobile seating along with a hassle-free height adjustment system renders this chair ideal for frequent travelers.
PROS
Promotes Healthy Posture

Lightweight (1.32 lbs.)

Easy Travel (Size of 50 cl Can)
CONS
The form factor of the portable seat can be mistaken as a weapon at large public events.
Related Questions
Helpful Info About Wearable Chairs & Some F.A.Q. Answered
Will wearable chairs be motorized in the future?
Their current focus on wearable technology is to make chair pants lightweight and cost-effective. With technological advancements and miniaturization, motorized pants may have the opportunity to gain popularity.
Are Wearable chairs easy to move around in?
Although not suitable for a triathlon, these pants exhibit a decent level of mobility despite their bulky look. This technology allows people to quickly switch between standing, sitting and walking.. It's nearly as speedy as unfolding a typical foldable chair.
SOURCES
Red R0ver. "Community S3:E11 – Trouser Bench." YouTube, 18 Mar. 2012, www.youtube.com /watch?v=OxzypwdDdo8.
Astride Bionix. "LEX : Bionic Chair That Enhance Posture, Comfort & Life!" YouTube, 6 Sept. 2018, www.youtube.com /watch?v=dK8HGTjyDXM.
noonee Ltd. "Noonee – The Chairolution." YouTube, 5 Dec. 2013, www.youtube.com /watch?v=8KSUJ9Xtw9E
HBO. "Silicon Valley: Wearable Chair (Season 6 Episode 1 Clip) | HBO." YouTube, 28 Oct. 2019, www.youtube.com /watch?v=Q1uCYK6wnjk.

Claude
ChairPickr | "Writer"
Hello, My name is Claude and I enjoy sitting comfortable. Research into what separates the good from the bad in the matter of chairs started when I made a new year's resolution to have better posture.
You clicked here to find that first-rate chair. Why not stay and learn some self care?
Affiliate Disclaimer
ChairPickr is a participant in the Amazon Services LLC Associates Program, an affiliate advertising program designed to provide a means for sites to earn advertising fees by advertising and linking to Amazon.com. Some links on chairpickr are affiliate links, meaning at no additional cost to you. We will earn a commission if you click through and make a purchase.