What Sewing Chairs Are Best For Lower Back Pain?
The "Knitty Gritty" Of Specialized Sowing Seats
Looking to sit more comfortable on your next sewing project? Sewing chairs make sitting more bearable for sedentary activities and even have niche features.
Why it's worth investing in a chair for sewing
It may be fine and dandy to use your kitchen chair for a session or two of sewing, but eventually it will become a pain in the butt.
Using a comfortable sewing chair will not only save you from sitters fatigue, it will also save time with its convenient storage space located under the thick seat cushion.
How Sewing Chairs Differ From Others?

Akin to PC Gaming, Sewing is one of those activities where you sit down and mostly use your hands. Another similarity is that they both have their own niche chairs.
Sewing chairs help make sedentary sitting more bearable and have additional special features tailor made for sewing such as retractable armrest and easy access pockets.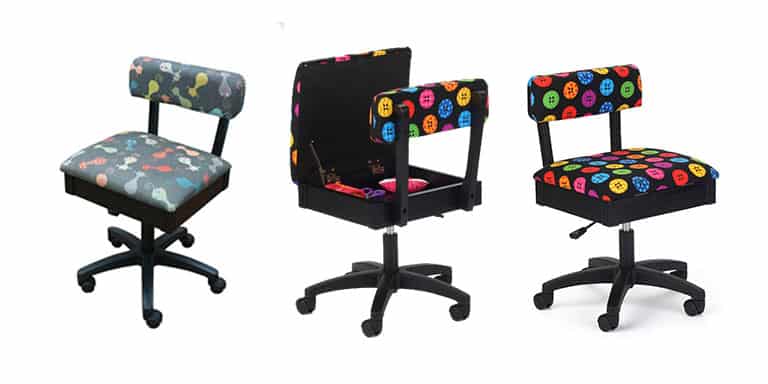 Having a reliable place to stow away sewing materials at an arm's length might be perhaps the most sought after feature behind their standout upholstery designs.
What Features Should I Look For In A Sewing Chair?
You Need the proper tools to get the most out of your sewing experience.
Here are the features to look out for while searching for your next chair to sew up on.
Chair Dimensions Should Comply With Your Workstation
Before you search for your dream chair, check the dimensions of the workstation the chair will reside at.
These types of chairs tend to be a bit bulk and finding out it's too big for your desk will be disappointing.
Height of Seat & Backrest That Compliment Your Body
This is ergonomics 101 and should be the basis of your decision-making process.
I suggest getting a chair with proper lumbar support if you are serious about getting your sew on.
Sewing In a Stationary Vs Caster (Wheeled) Chair
Stationary chairs are great for carpeted floors and for sitters that are sure they need not to be mobile while they work. Chairs with caster (wheels) are frequently used because of their mobility and are less likely to scratch the floor upon a seat scoot.
Armrest or Armless?
Believe it or not, this is actually controversial among the sewing community. The common trend is to go armless because it gives the sitter extra space.
If you suffer from shoulder pain, you still want to fit in among sewers. I recommend looking into retractable armrest because they offer the best of both worlds.
Upholstery Type
I saved this one for last because upholstery is a big deal for people that enjoy sewing.
Unlike gaming and office chairs, sewing chairs have a wide variety of exotic upholstery designs.
Features Unique Just to Sewing Chairs
Besides sewing chair's unique upholstery designs. The easiest way to tell these types of chairs from others is their square shaped seats.
There is more than meets the eye to these unusually thick high-density foam cushions. It's that they have a little secret, and it's right under your bum. Sewing chairs provide easy access storage space.
---
Picking the best sewing chair can be difficult, but that's where chairpickr comes in to do the research for you. 
OUR TOP PICK | SEWING CHAIR
SEW Wow SEW Now Sewing Chair
-Weight Capacity: 200 lbs
-Hydraulic Swivel Chair
Storage Case Underneath Cushion (15.5″ X 13.25″ X 2″)
-Seat Cushion is 18 inches Wide by 16 inches Deep
-Thick Seat Cushion Makes It Comfortable For Long Sewing Sessions
-Five-star 360° Swivel Base For Greater Mobility
One of the more unique swivel chairs sporting casters (wheels) and with a touch of pop art.  This is the pick if you're looking for maximum comfort along with 5 wheel mobility.
Designed by Riley Blake Designs, this unique sitter is available in 9 different colors to complement a any sewers corner.
The seats upholstery patterns are unique and has a convenient storage space for essential materials.
Seat Cushion Has A Dual Purpose
Some purchaser have complained of the unpleasant order upon initially unboxing and using the chair.
Stinky Upholstery 🦨
OUR 2ND PICK | SEWING CHAIR
Reliable | 200SE Ergonomic Chair
The modern ergonomic task chair for the modern day sewer. Durable and full of style the 200SE is equipped with three adjustable features so you can sit at the perfect position while you sew.
The seats upholstery patterns are unique and has a convenient storage space for essential materials.
Seat Cushion Has A Dual Purpose
If you are sitter on the shorter side of life, your legs tend to hang in a very awkward way while sitting in this chair.
No casters make the chair less mobile.
OUR 3RD PICK | SEWING CHAIR
Arrow 6109 Wood Sewing Chair
Designed by Riley Blake Designs, this chair is available in 6 different colors to complement a good deal of aesthetics.
Available in Black, Blue, Green, Oak, Red & White
Not just your average grandmas sewing chair. If you're looking for a traditional kitchen chair that equipped with casters (wheels) and a touch of pop art. Look no further, the Arrow Sewing Chair will be the center of your sewing station!
The attention to detail in the ascetic of this chair is incredible. 
Wood – 4 Legged Caster Chair
Lack of lumbar support and adjustable height levers.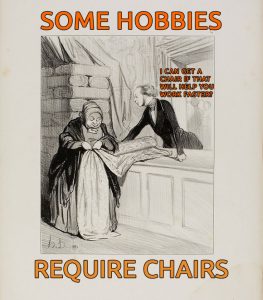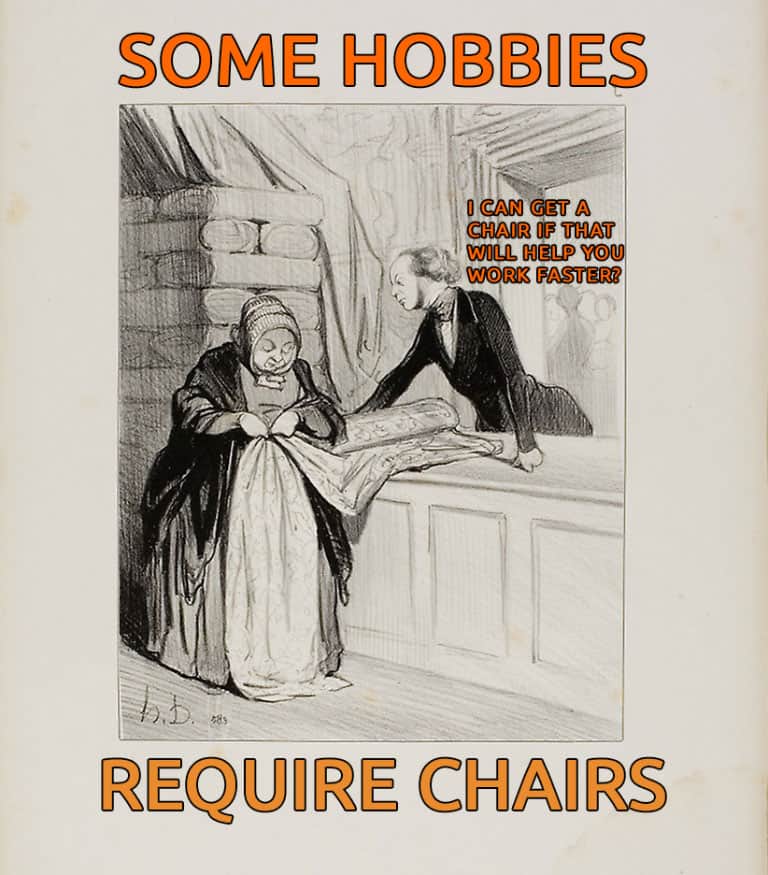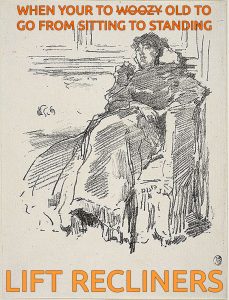 Sewing Chair Vs Office Chair
What is the difference between these two types of chairs?
| Proper Posture | Sedentary Sitting |
| --- | --- |
| Tuck Your Chin In | Jerk Your Chin Forward |
| Relax Your Shoulder & Chest Out | Avoid Hunching Over Shoulders |
| Let Your Spine Naturally Curve To "S" Shape | Do Not Let Your Spine Slump Over To "C" Shape |
| Sit at a height where your knees bend at a 90 degree angle. | Sit at a height where your knees are over your hips or legs crossed. |
| Your Head Should Be Leveled Out On Upright Shoulders (Chest Out) | Letting Your Shoulders Lean One Sided Or Head Slant Forward |
| Equally Distribute Your Weight While Sitting With Both Feet Firmly Planted On The Floor | Unequally Distribute Weight With Feet Dangling Off Seat. |
Related Questions
Helpful Info About Sewing Chairs & Some F.A.Q. Answered
✅ How are Sewing Chairs Like Gaming Chairs?
Cross Generational Similarities...In Terms of Chairs.
Similar to PC Gaming, Sewing is an activity where you mostly sit down and use your hands. Another similarity is that they both have their own niche chairs.
Both types of swivel chair have their own niche features that make the activity of the sitter more enjoyable. Sewing chairs have a storage compartment for easy access, while gaming chairs have a four-dimensional armrest to adjust perfectly to the gamers keyboard and mouse.
Interested in difference between other types of chairs, you can start with gaming chairs vs office chairs.
✅ I Am About To Sew And Want To Sit Comfortably, Any suggestions?
Sewing chairs are not an essential part of this hobby, staying comfortable is still essential.
Grab two firmer than soft pillows and position one on the seat pad and the other on the chair's backrest. The cushion on the backrest promotes a more erect posture by pushing into your lower back. While the extra seat cushion protects your tailbone.
To get a better representation of what I am stating above, we created a DIY Ergonomic Back Seat Project Guide.
SOURCES
"Arrow Sewing Chairs." Arrow Cabinets, www.arrowcabinets.com/product-category/brand/arrow-sewing-chairs/. Accessed 8 Mar. 2020.
McManus, Marguerita. "Quilting Ergonomics – How to Be Comfortable While You Quilt or Sew." YouTube, 30 Apr. 2009, www.youtube.com/watch? v=hbmQ2riM7Yo. Accessed 8 Mar. 2020.

Claude
ChairPickr | "Writer"
Hello, My name is Claude and I enjoy sitting comfortable. Research into what separates the good from the bad in the matter of chairs started when I made a new year's resolution to have better posture.
You clicked here to find that first-rate chair. Why not stay and learn some self care?
Affiliate Disclaimer
ChairPickr is a participant in the Amazon Services LLC Associates Program, an affiliate advertising program designed to provide a means for sites to earn advertising fees by advertising and linking to Amazon.com. Some links on chairpickr are affiliate links, meaning at no additional cost to you. We will earn a commission if you click through and make a purchase.