Chair Mats Save Your Floor From Office Chair Wear & Tear?
Chair mats make rolling around within your workspace much more accessible —
Think about your last attempt at rolling an office chair over the carpet? It's almost a workout, but usually causes back pain or leg strain instead.
Why Use A Chair Mat For My Home Office?

Some furniture manufacturers void their warranties unless you use a chair mat!
This is because chair mats offer better protection against scuffs, scratches, and indents caused by the wheels of an office chair.
Compared to carpets, they are more accessible and are easier to clean the occasional a spill of your morning coffee.
Chair mats make rolling around within your workspace much more accessible —
Think about your last attempt at rolling an office chair over a carpet. It's almost a workout, but usually causes back pain or leg strain instead.
A lesser-known advantage chair mats have over rugs is that they're anti static.
That means these mats will save you from potentially frying your computer or other electronics from a static electric shock.
An anti-static chair mat circumvents static electricity from reaching your computer or electronic devices; Using one may save you from the loss of data and sometimes the actual device.
✅ What Colors And Materials Do Chair Mats Come In?
The most popular option available is clear vinyl, so that the flooring underneath is visible.
There are colors and patterned vinyl mats for more customization. Some other materials used to make chair mats are as follows:
Plexiglas
Wood finish, jute
Sisal
Glass

What To Know Before Buying Home Office Chair Mat, By Type?
Choosing the wrong chair mat can cause damage to your floors:
Depending on their material, size, and the amount you roll them around. Your chair's casters may cause cracking to soft-floor chair mat, resulting in additional cost. First things first, check what kind of floor surfaces the mat covers.
Hard surfaces
Such as a laminate, vinyl tile, or hardwood, need smooth backing. This backing will best protect the floor and keep the mat in place. These are thinner types of mats that have more straight than beveled edges.
Soft surfaces
Such as a rug, carpet, or rubber tile flooring may require a spiked bottom mat for traditional office chair wheels to work properly. The heavier the carpet, the thicker the chair mat.
Thinner mats may crack or permanently bend on heavier carpets. For carpeted floors, choose a mat with small spiked cleats. These hold the mat in place without harming the carpet.
Chair Mats Can reduce noise
Besides protecting the rug and make it easier to maneuver around. With the additional anchor mat, you can reduce noise by placing them under your chair mat.
Many music studios and apartment dwellers use them to reduce the noise of their steps. They also keep rugs and thinner chair mats in place.
Anti-Static Mats help reduce the murder of your favorite device.
Using these specialized mats is just one way to reduce the chances of static shocking your computer into a blue screen. If your workstation includes expensive electronic equipment, it might be worth researching into an anti-static mat. 
✅Should I Use A Car Floor Mat As An Alternative To A Chair Mat?
If an average-sized chair is too big for your tiny home office. A transparent auto floor mat can be used as a cheap alternative. You can find these at your local value.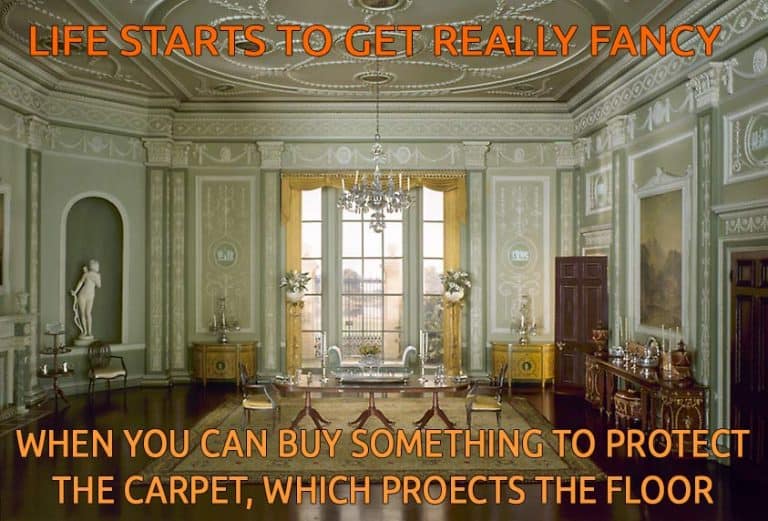 How To Size Chair Mat With The Rest Of My Home Office Setup?

The Chair Mat Size Guide For All Types Work Station
Make sure the chair mat has enough space to cover your workstation.
Too much space is not a big deal
Too little of space will bend the sides of the mat.
Assess your workstations area by looking at the total floor space, the size of your chair's bases, and the width of your desk.
Match these chairmat dimensions below with your workstation for best resultes!
The Following data was gathered from Amazon, Walmart, & eBay Market Places.*
| Chair Mats Industry Standards | Economy | Small | Medium | Large |
| --- | --- | --- | --- | --- |
| Length and Width of Mat | 36" x 48 | 45" x 53" | 54" x 60" | 72" x 96" |
| Thickness of Cushion | 100 mil ~ 1/10" | 125 mil ~ 1/8" | 145 mil ~ 1/7" | 200 mil 1/5" |
Types Of Office Chair Mats| Info
What's Your Budget? The Average Cost A Standard Swivel Office Chair mats
Their prices depend on their material; eg vinyl ones are less expensive than wood-finish ones. Therefore, a Vinyl is the best choice for the budget-minded buyer.
| Chair Mats | Vinyl | Glass | Plastic | Laminate |
| --- | --- | --- | --- | --- |
| Beteween | 20$ - 60$ | 70$ - 300$ | 15$ - 280$ | 15$ - 350$ |
| Best For | Hard Flood | Carpet Floor | Hyrbird | Hybird |
2 Step Guide | DIY Chair Mat

We found a cheaper alternative to those overpriced chair mats!
THIS PROJECT IS BEST FOR:
DIY people who do NOT want an ugly plastic chair mat to ruin the aesthetic they work so hard to create.

You forgot to budget it in after spending your hard earned cash on the perfect workstation and ergonomic chair?

You are looking to spend $200 on a medium to large chair mat.

If you are not looking to spend hundreds on a glorified floor covering for your office chair?
STEP 1 | Gather Materials
First, measure out the dimensions of your workspace and decide on how large a mat you want to create. I'm creating a 4×4 ft square.
Go to your local home improvement store and purchase a piece of plywood. Depending on the wood, the 4×4 cut will range in price between $25 – $50 from Home Depot.
Luxury vinyl flooring will go on top of this 4×4 piece of plywood. A 4×4 vinyl take home sample is only $3 from Home Depot. There are over 200+ distinct patterns. Some noteworthy designs I liked are Scratch Stone, Twilight Oak, and Islander Bamboo.
STEP 2 | Create Your Chair Mat
You back from getting your materials and your read to slap the vinyl onto the plywood, not so fast!
Lay out the vinyl squares, make sure they're squared up, and that you can live with the pattern.
Sand the plywood, so it will better stick with the vinyl and clean of the sides to customize the lip with the wheels of your chair.
Attaching the vinyl to your plywood should take around 10 minutes, it's a straightforward process.
STEP 3 | Pat Yourself On the Back, You Created Something Cool, & Saved Money.

Compared to premium wood chair mats like the Aniji Mountain (47 x 72, 8mm thick) chair mat, which cost over $200.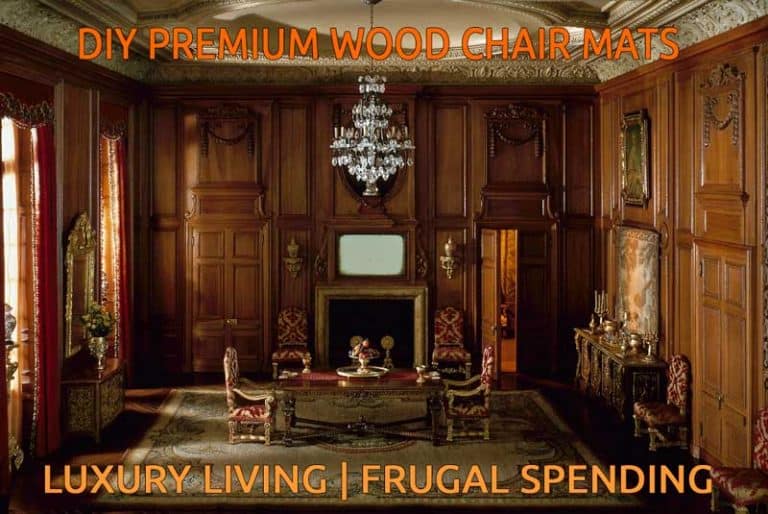 BEST CHAIR MAT FOR HOME OFFICES WITH RUGS & CARPET FLOORS
STARCOUNTERS | Chair Mat
Shape: Teewee (Tetris Shape)
Dimensions: (48″ – 36″ INCHES)
Material: Plastic, Polycarbonate
It's thicker than the average chair mat and can withstand the wear and tear of being frequently rolled. (No Matter Your Size)
Those conscious for plastics affects on our planet should know that this material is  100% recyclable.
Will Not Bend Like Vinyl Mats

Little to no chemical smell

Environmentally Friendly Plastic

Contains Fewer Toxins

(Phthalate Free)
It Cracks When It's Cleaned With Anything Other Than Water.

Great for chairs with wheels on carpet, but less so on harder surfaces like wood flooring.
BEST CHAIR MAT FOR HOME OFFICES WITH WOOD FLOORS
SALLOUS | Chair Mat
Shape: Rectangle
Dimensions: (63″ – 51″ INCHES)
Material: Plastic, Polycarbonate
It's around 5ft x 4ft in size and larger than the average chair mat. The protection this carpet offers is for both your hardwood floor and office chair wheels.
It's basically a rug that casters can glide over like skates on ice!
Will Not Bend Like Vinyl Mats

Material Is Easy To Vacuum
Not as smooth to roll over as vinyl or plastic chair mats.
Related Questions
Helpful Info About Office Chair Mats & Some F.A.Q. Answered
✅Should I Avoid Soft Chair Mat That Is Shipped Rolled Up?
When dealing with carpets, a soft & thin mat may become difficult to slide the chair around on.
Because of its thickness, it will also develop cracks, and will need replacing earlier than it's time. Harder chair mats are properly shipped out (Not Rolled) and last longer on average, but are more expensive.
✅Why Is A Chair Mat Necessary?
✅Why Do Office Chairs Have Wheels?
CHAIR FACT #922 | Wheels are a requirement for a variety of reasons, but the most important one is being ease of mobility around your work space without having to stand up & sit back down constantly.
FUN FACT ~ This design dates back to Charles Darwin, who implemented it in his laboratory to more easily move around.
SOURCES
PROGRESSIVE COMPANY INC. "Types Of Office Chair Mats." Floormatcom Types Of Office Chair Mats Comments, www.floormat.com/types-of-office-chair-mats/.
Forum Boards, thriftyfun. "Inexpensive Chair Mat Ideas." ThriftyFun, www.thriftyfun.com/tf36748807.tip.html.
Bea, Heather. "Http://Www.city-Data.com/Forum/House/1274611-Any-Good-Alternative-Ugly-Chair-Mat.html." DIY "Wooden" Office Chair Mat , 11 Nov. 2012, wwhttps://fakeitfrugal.blogspot.com/2012/11/diy-wooden-office-chair-mat.htmlw.city-data.com/forum/house/1274611-any-good-alternative-ugly-chair-mat.html.
"The Home Depot." The Home Depot, www.homedepot.com/.
Tips, Linus Tech. "A Quick Warning About the Dangers of Static Electricity & Computer Hardware Linus Tech Tips." YouTube, YouTube, 22 Dec. 2009, www.youtube.com/watch?v=LgTM6VrEhKQ.
JayzTwoCents. "Will ESD Kill a Computer?" YouTube, YouTube, 2 Mar. 2018, www.youtube.com/watch?v=xdzo-uAvz5Y.
Experts, RamCity – The Upgrade. "Anti-Static Work Mats (ESD Safe) Overview." YouTube, YouTube, 21 May 2014, www.youtube.com/watch?v=MIYDwbr3C7g.

Claude
ChairPickr | "Writer"
Hello, My name is Claude and I enjoy sitting comfortable. Research into what separates the good from the bad in the matter of chairs started when I made a new year's resolution to have better posture.
You clicked here to find that first-rate chair. Why not stay and learn some self care?
Affiliate Disclaimer
ChairPickr is a participant in the Amazon Services LLC Associates Program, an affiliate advertising program designed to provide a means for sites to earn advertising fees by advertising and linking to Amazon.com. Some links on chairpickr are affiliate links, meaning at no additional cost to you. We will earn a commission if you click through and make a purchase.