The 2022 Japanese Office Chair Racing Grand Prix
Japan's Office Chair Grand Prix
For over a decade Chairs Swivel Around The Streets For A Tasty Prize. On your marks, get set, SWIVEL! We know Japanese culture is always keen on quirky competitive games.
Too much time in the office aside, Formula Racing inspired this event:
The race comprising three-person teams.
Each participant competes for the most laps around a 200-metre course.
This swivel chair race is also known as the 'Isu' Grand Prix first started in 2009 by Tsuyoshi Tahara.
They held this year's annual office chair race in the city of Hanyu and to put it simply, this hell-scape of caster-disasters tests one's grit.
Japanese Office Chair Racing Grand Prix
The Evening Standard interviewed participants of this race and found just how grueling it can be on one's body.
Satoru Taguchi assembled his squad with fellow fathers of his kid's school, stated: "I was tricked into doing it. My body is badly sore."
First place of the 2019 Office Chair Grand Prix went to Team Kitsugawa Unyu from Kyoto, Japan.
The first place prize was 90 kilograms (198 pounds) of white rice, which the winners were too tired to pick up and respect from their coworkers.
Other Chair Games
Maybe they are just kids games, but their pretty nostalgic.
Musical Chairs
One classic game of elimination that comprises players, music, and chairs, the defining factor of this game is having one fewer chair than players.
When the song stops, whichever player is still standing gets eliminated.
With each round, a chair gets removed, and the game goes on until only one player remains.
Chair Rally
Two chairs per player. The aim of this game is passing the finishing line without touching the ground. 
To win, one chair must be placed in front of the other.
Seven Up! (Arguably A Chair Game)
Also known as "The Heads Up Game" where most group sits with their head down, thumbs up, and eyes closed.
While seven players go around the room, secretly pressing their thumbs down.
At the end of each round, the seated participants guess which of the seven pressed their thumb down.
If guessed correctly, the seated person switches roles with one of the seven pickers.
What is the choice chair to use in the 'Isu' Office Chair Grand Prix
There are just so many factors, but it depends on the driver.
Some prefer lightweight with no back rest and just a seat pad. Other drivers enjoy the arm-rest for added control and the back seat for comfort.
IMHO, I'd go for a swivel stool to get the best of both worlds.
What's the deal with Office Chair Roller Skates?
Are they safe? - No, but they look fabulous!
Twitter user @P00DI3PI3 posted an image with the caption "cruising past the haters like." The tweet went viral within five days and received over 62,000 likes and
Image Provided by Knowyourmeme 19,000 retweets.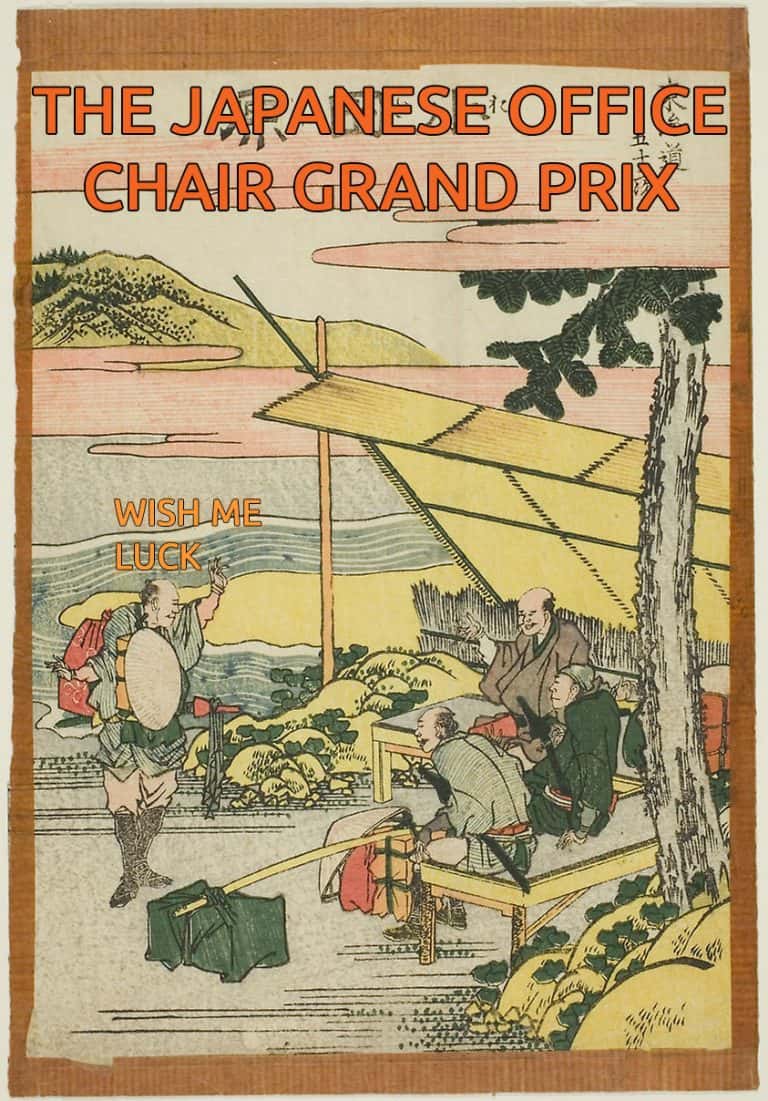 Related Questions
Helpful Info About Office Chair Racing & Some F.A.Q. Answered
How Many "Drivers" Compete In The Japan Office Chair Grand Prix?
Clearly you never watched a minute of this gnarly event!
The Original Japanese Office Chair Grand Prix (Isu-1) hosts around 165 participants making up 55 teams that have 3 drivers.
The trending event now has ten distinct races conducted annually throughout Japan.
Why do the Grand Prix Office Chair Racers Wear Helmets?
Clearly you never seen a moment of this gnarly event!
Racers trek, a 200-metre course gets swiveled apart by people racing backwards on office chairs.
They did not design these pieces of furniture to be raced with and maintaining balance can be difficult.
This is true when maneuvering turns, helmets are mandatory to avoid head injury.
What is the best musical chairs song?
It should be upbeat, timeless, one for all ages, and from all walks of life.
The Ventures, "Walk Don't Run" comes to mind. It has a classic 1960s surfer vibe, and the title of the song speaks for itself.
SOURCES
Joshi, Shamani. "People in Japan Are Racing Office Chairs on the Streets to Win Free Rice." Vice, www.vice.com /en_in/article/3k3je8/people-in-japan-are-racing-office-chairs-on-the-streets-grand-prix-to-win-free-rice.
Shimbun, The Kyoto. "Japan's Office Chair Endurance Race Aims to Win Popularity Overseas." Kyodo News+, english.kyodonews.net/news/2020/01 /f8d1c6757cd7-japans-office-chair-endurance-race-aims-to-win-popularity-overseas.html.
White, Megan. "Hundreds Race around Streets of Japan on Office Chairs." Evening Standard, www.standard.co.uk/news/ world/hundreds-wheel-around-streets-of-japan-in-office-chairs-for-unique-endurance-race-a4163166.html. 
"Office Chair Roller Skates." Know Your Meme, knowyourmeme.com/memes/office-chair-roller-skates.

Claude
ChairPickr | "Writer"
Hello, My name is Claude and I enjoy sitting comfortable. Research into what separates the good from the bad in the matter of chairs started when I made a new year's resolution to have better posture.
You clicked here to find that first-rate chair. Why not stay and learn some self care?
Affiliate Disclaimer
ChairPickr is a participant in the Amazon Services LLC Associates Program, an affiliate advertising program designed to provide a means for sites to earn advertising fees by advertising and linking to Amazon.com. Some links on chairpickr are affiliate links, meaning at no additional cost to you. We will earn a commission if you click through and make a purchase.