My Experience After 2+ Years of Sedentary Sitting & 2 Months Using A Standing Desk
Self reporting on changing workstations - From sedentary sitting to standing desk. Here are my finding after 2 months of daily use behind a standing desk.
What Made Me Change Workstations?
From sitting to standing to sitting and back to standing at my desk. Sedentary lifestyle took a toll after 2+ years of sitting every day for 4 – 8 hours at my workstation or behind the wheel.
The turning point was how frequently dull numbing body aches impeded on my ability to focus during a workday.
The turning point was how frequently dull numbing body aches impeded on my ability to focus during a workday.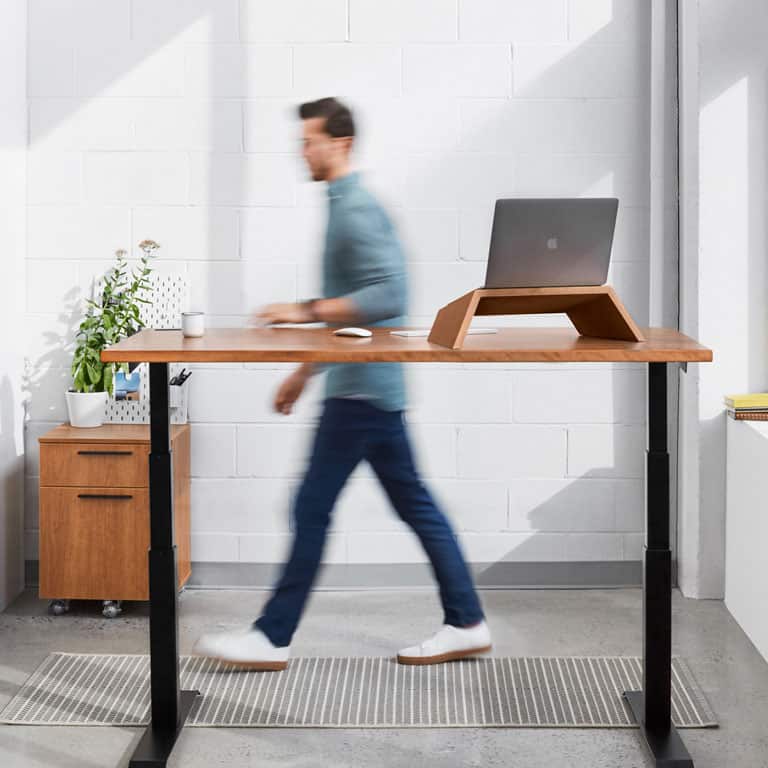 A study from the IIE Transactions on Occupational Ergonomics and Human Factors follows productivity levels of a call center that converted to sit-stand conversion desk for six months.
Researchers found improvements in physical health among employees, which also positively affected their work productivity.
Using a traditional desk with an ergonomic office chair has always been my first choice because of PC Gaming. As I age with my PC, gaming has become less.
This lusterless hobby and a bad amount of back-knots were the deciding factors in making the switch to a standing desk.
Body Pain From Sedentary Lifestyle

Less Time PC Gaming

Have A Spare Desk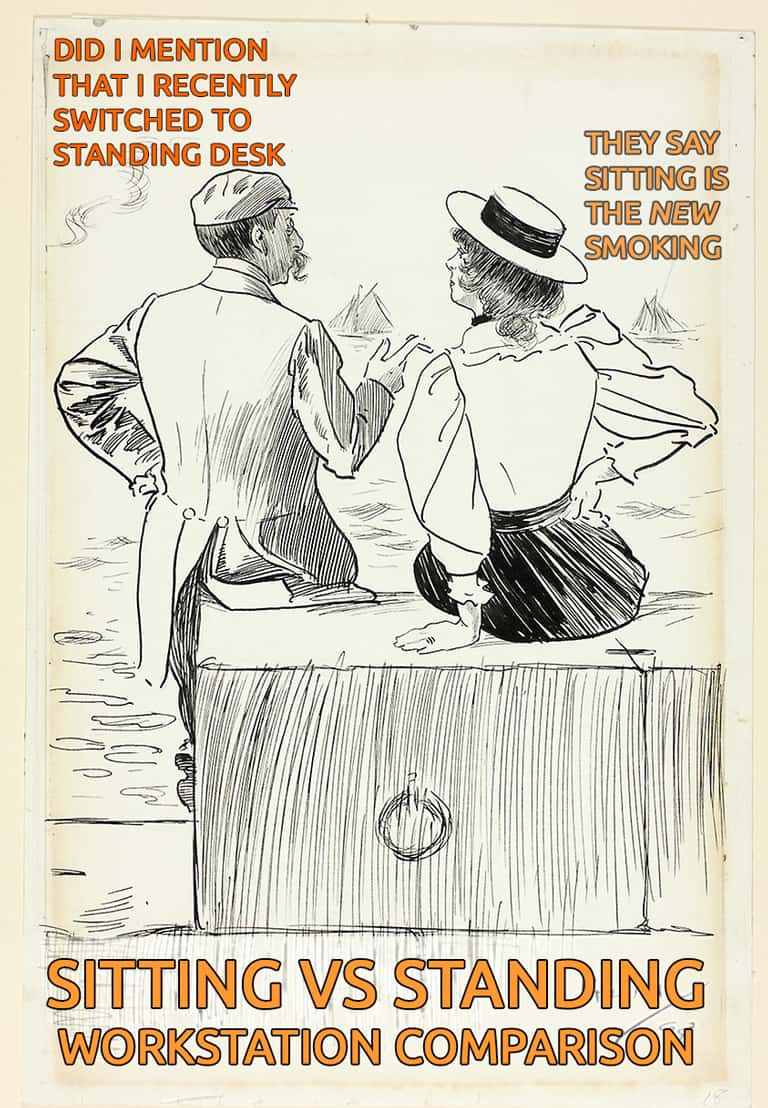 From sitting to a standing workstation
Using ether workstations has advantages and disadvantages. For creating art and PC gaming, sitting desks are more preferable. I give standing desk the edge for everything else because it helped ease all of my sitting aches.
The transformation from sitting desk to standing workstation took all of about around an hour to complete.

They make the legs of my desk comprises plumping pipe.
The pipes are threaded by manufacturers, making the desk easily adjustable. Here are two ways to turn my sitting desk into a standing one.
Add more length to the legs to match standing height.

Plop something else on top to match standing height.
I removed 4-inch pipes from the desk legs and added 16-inch by 16-inch wood crates on top.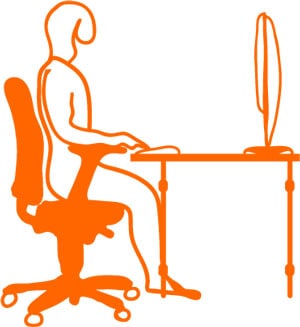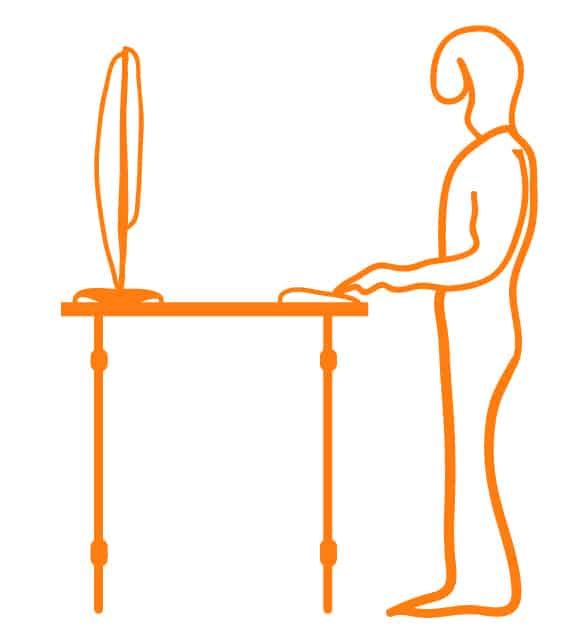 Week 1 | First Weeks The Worst Week
It took a few days to get used to standing and typing. Maintaining a healthy posture was difficult for me and I caught myself slouching after 30 minutes of standing idle. Rather than moving my mouse and keyboard closer, I found myself leaning forward.
I had more than one unpleasant habit. Additionally, I started exerting more force on my stronger foot following extended periods of standing.
By folding up a yoga mat, I was able to use it as a standing mat to relieve pressure on my feet. I rearranged my computer peripherals to a more ergonomic position.
Week 2 | Sedentary Standing & The Weight of Gravity Creates Chaffing Wrist
I have to admit, I've increased my stretching routine. These exercises would have been helpful, whether you were sitting or standing. Despite that, I felt more energized while working at my desk. Overall, this change has been positive, with only a few minor setbacks, such as standing fatigue resulting in sore feet and lower body muscle tightness for me. (My Body Adjusting) One other annoyance that is seemingly dorky, just might be a me – chafing wrist. Maybe it's my posture, but the standing desk's added weight on my wrist caused skin irritation.
A computer wrist pad and frequent breaks stopped this from happening again.
Week 3 | Adapting To The Standing Desks
Upgrading from a folded up yoga pad to a standing mat really makes a difference. My body is adjusting with the new working conditions.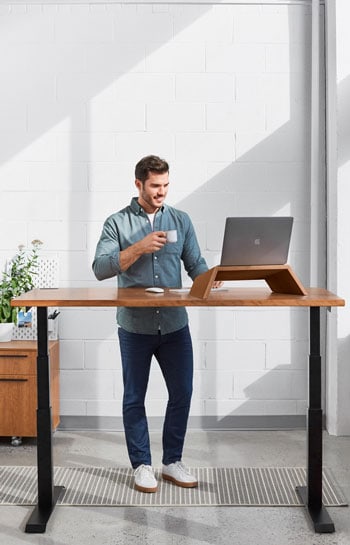 It should be disclosed that I stepped up my stretching regimen and because of that – there was a bit of my pep in my step visiting the workstation.
Overall, my experience is very open and mobile.
I also dance more at my workstation. One thing to take note on is that your lower Glutenous muscles might feel tight from primarily standing/dancing all day.
Week 4 | Craving Some PC Gaming
Some may call it competitive edge, but who stands & plays Counter Strike?
Switching to a standing mat from a folded up yoga pad can really improve things. The new working conditions are becoming more familiar to my body. I wanted to share that I've been stretching more and it's helped me feel more peppy at work.
My experience is highly mobile and open. Additionally, I dance more at my desk. Standing or dancing all day could cause your lower gluteal muscles to feel tight.
Week 5 & 6 | The office Chair Collects Dust, No Looking Back Now
The standing desk became my new normal
The standing desk became my new normal. I now do me switch most of my creative art is now via a 2-1 tablet.
Week 5 & 6 | The office Chair Collects Dust, No Looking Back Now
Using a standing desk became my new routine.
I am now switching.

I use a 2-1 tablet for most of my creative artwork now.

I just realized my PC is outdated. It's not your typical gaming computer anymore. Continuous standing has resulted in various bodily discomforts.
In comparison to sedentary sitting, standing for long periods of time is less problematic. Standing workstations are better than traditional ones as stretching and timely breaks are more effective.
Week 7 & 8 | A Mostly Smooth Desk Transition
Standing Desk + Standing Mat < Sitting Desk + Office Chair
Sitting for over two years made me recognize that I prefer working behind a standing desk because standing keeps me alert and focused. Depending on the activity, I alternate between standing and sitting workstations.
The past 8 weeks of self-reporting made me realize how vital stretching is and how tightness accumulates in different parts of my body.
Balancing on my upper back, shoulders, and neck.

While sitting on my lower back, tailbone.
While using a standing desk as my primary workstation, I've encountered the following issues:
My lower back and tailbone pain while sitting at my desk has disappeared. I used to sit on one of those tubes before switching to a standing desk and still had to take frequent breaks to avoid discomfort.

Standing caused added pressure on my wrist, resulting in irritation that was absent when sitting. This is likely due to frequent contact with the desk and/or mouse pad.

Using a standing desk for a week makes it clear that a standing mat or shoes are necessary for indoor use. Your feet will start hurting if you stand in one place for too long. 
It took around a week to get used to standing from sitting. For those who experience aches and pains from sitting for long periods they offer an excellent alternative workstation.
Yes, the switch was worth it! Don't just take my word, Research conducted by Mayo Clinic found that standing several hours a day could help you lose weight.
Tips On Switching Workstation
Sitting To Standing At Your Desk
To prevent foot pain, I suggest using a standing mat or indoor shoes at the minimum. To relieve pain from standing all day, check out Dr. Sholl's kiosk for their personalized orthopedic footwear.
Make sure both feet are firmly on the floor and distribute your weight evenly.

To prevent fatigue, use protection while standing idle on a hard surface.
Rest your body from standing or sitting. Avoid remaining in the same position for over 30 minutes. If your body aches, walk away from your desk every 20 minutes.
Watch the time you spend standing.

Do NOT lock your knee or force yourself to stand for to long.
Keep your workspace organized (Into 3 Zones) and All Of Your essentials should be at an arm's reach.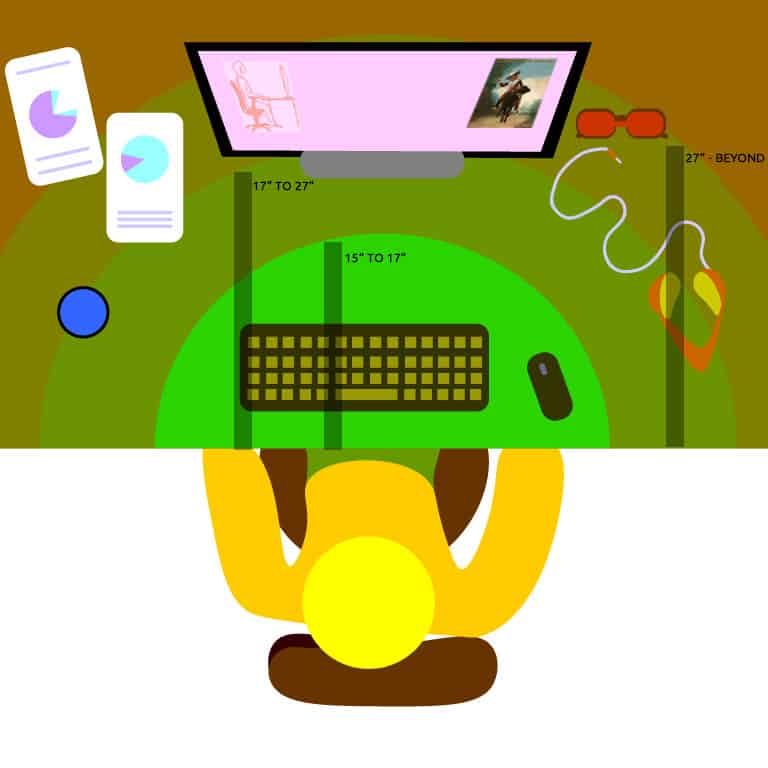 It's difficult to concentrate when a dull pain arises while you're completing an email. To avoid stiffness, shift a bit in your seat or stand and move slightly throughout the day.
When at your workstation, it's important to remember:
Ensure that both feet are planted firmly on the ground.

Maintain alignment between your head, neck, and torso.

Place a rug or mat under your feet to prevent fatigue.
If you're still interested in the differences between desk? Here is an in-depth comparison between sitting desk vs standing desk.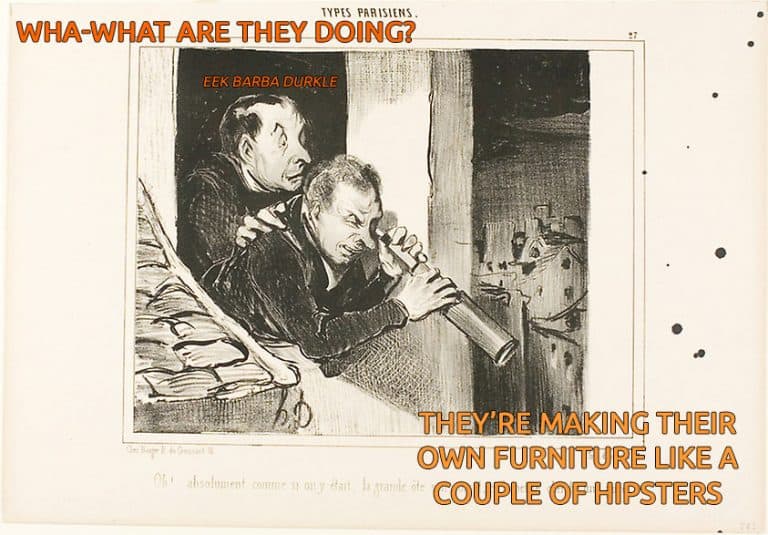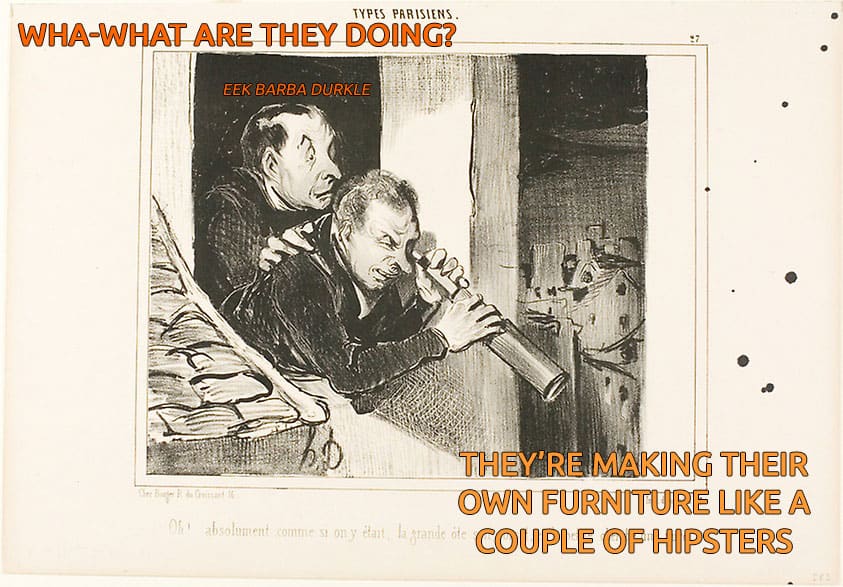 Any Standing Desk Alternatives?
What are some alternatives to standing desks? I'm not interested in a new workstation, but I'd like to experiment with a standing desk.
Folding X-Axis Converter Desk: One of the most popular types of converters is the Folding X-Axis Converter Desk, which sometimes comes with a laptop riser.

Folding Z-Axis Converter Desk: One of the most popular and budget-friendly types of converters is the Folding Z-Axis Converter Desk.
A Table On top of a Table: Not the most elegant, but a table on top of another table is simple and the most DIY option.
Post With Keyboard Tray:If you have limited space, this minimalist design with a keyboard tray is perfect for workstations.
Elbow Armed Add-on Stand/Desk: The Elbow Armed Add-on Stand/Desk is comparable to TV elbow arm wall mounts.
Height Adjustable Converter Desk:


An adjustable desk is perfect if you like to alternate between sitting and standing. Investing in an electric converter desk can be useful if you frequently switch back and forth.

Laptop Stand:
This is not a desk alternative but great if you're looking to downsize your workstation or to make a laptop an additional monitor.
What Is Something Should I Know while Using a Standing or Sitting desk?
To ease tension, make sure to take breaks and stretch frequently. Sedentary aches are inevitable whether you stand or sit.
Here is before I started my daily stretching routine.
Standing workstations created more tension towards the lower half of my body, lower back, and leg muscles. Especially the glutes muscles under my butt.

Sitting at my workstation leads to tension on my upper back, shoulders, and neck.
To curve this sedentary stillness aches, remember to…
Disperse your weight evenly while sitting or standing while sitting or standing

We should firmly plant both feet on the ground.

Be sure that we configure the armrest to your comfort.  
Related Questions
Helpful Info About Sedentary Sitting & Some F.A.Q. Answered
Seat Cushion Vs Seat Donuts for Lower Back Pain Relief ?
Sitting down slowly and using an extra pillow becomes a requirement after experiencing tailbone injury. Is there a difference between these two?
Seat Cushions: Usually softer than firm a more universal in its usability.

Seat Donut: Primarily for tail-bone injuries and promotes proper posture.
Sitting Vs Standing For Your Ergonomic Workstation
How Do I Find My Best Sitting Height?
Changing the height is simple, though adjusting the width may be necessary. Underneath, there is usually a cap or a couple of bolts.
Short People! If the chair has your feet dangling, I recommend getting a footstool.
Tall People! If you 're unable to fit your legs under the desktop, then the desk is too small. You should have enough space to comfortably cross your legs over your knees.
By investing in a desk that's the right height, productivity can increase and posture can improve. If you're low on funds, two economical alternatives are placing bricks or hardcover books under each leg. Need more information on your pursuit for perfect posture? We wrote tips that promote a healthy posture at the workstation.
| Type | Sitting Desk | Drafting Desk | Standing Desk |
| --- | --- | --- | --- |
| Average Height | 29" - 32" inches. | 30" - 36" inches. | 36" - 44" inches. |
| Recommended Break | Every 30 Minutes | Every 20 Minutes | Every 20 Minutes |
| Recommended Chair | Office Chair | Drafting Chair | Drafting Chair |
SOURCES
Chew, Jonathan. "Standing Desks May Not Be Healthier Than Sitting All Day." Fortune, Fortune, 18 Mar. 2016, fortune.com/2016/03/18/standing-desks-study/.
Garrett, Gregory, et al. "Call Center Productivity Over 6 Months Following a Standing Desk Intervention." IIE Transactions on Occupational Ergonomics and Human Factors, vol. 4, no. 2–3, 24 May 2016, pp. 188–195, 10.1080/21577323.2016.1183534.
Clinic, Mayo. "Mayo Clinic Minute: Tips for Transitioning to a Standing Desk." YouTube, 24 Feb. 2016, www.youtube.com/ watch?v=BjyhmguQ1ak.
Hadi Daneshmandi, Alireza Choobineh, Haleh Ghaem, Najmeh Hejazi. (2019) Proper sit–stand work schedule to reduce the negative outcomes of sedentary behavior: a randomized clinical trial. International Journal of Occupational Safety and Ergonomics 0:0, pages 1-17.

Claude
ChairPickr | "Writer"
Hello, My name is Claude and I enjoy sitting comfortable. Research into what separates the good from the bad in the matter of chairs started when I made a new year's resolution to have better posture.
You clicked here to find that first-rate chair. Why not stay and learn some self care?
Affiliate Disclaimer
ChairPickr is a participant in the Amazon Services LLC Associates Program, an affiliate advertising program designed to provide a means for sites to earn advertising fees by advertising and linking to Amazon.com. Some links on chairpickr are affiliate links, meaning at no additional cost to you. We will earn a commission if you click through and make a purchase.