The Best Chairs For A Poker Table & Online Competitive Players
What type of chair can enhance your poker play? The optimal sitter should be ergonomic, but not take away from the poker tables elegance... That's a lot to ask for!
Why ergonomic chairs are the best choice for poker players
Why Having an ergonomic chair is worth the money for poker players.
The average full time online poker player sits at their computer around 6 hours a day. That's 25% of the day!
Playing poker is a grind, and that is twice as true for your back.
Online poker tournaments, depending on the size, can leave players in front of their computers for upwards of 10 hours. Albeit there are breaks, proper ergonomics is essential.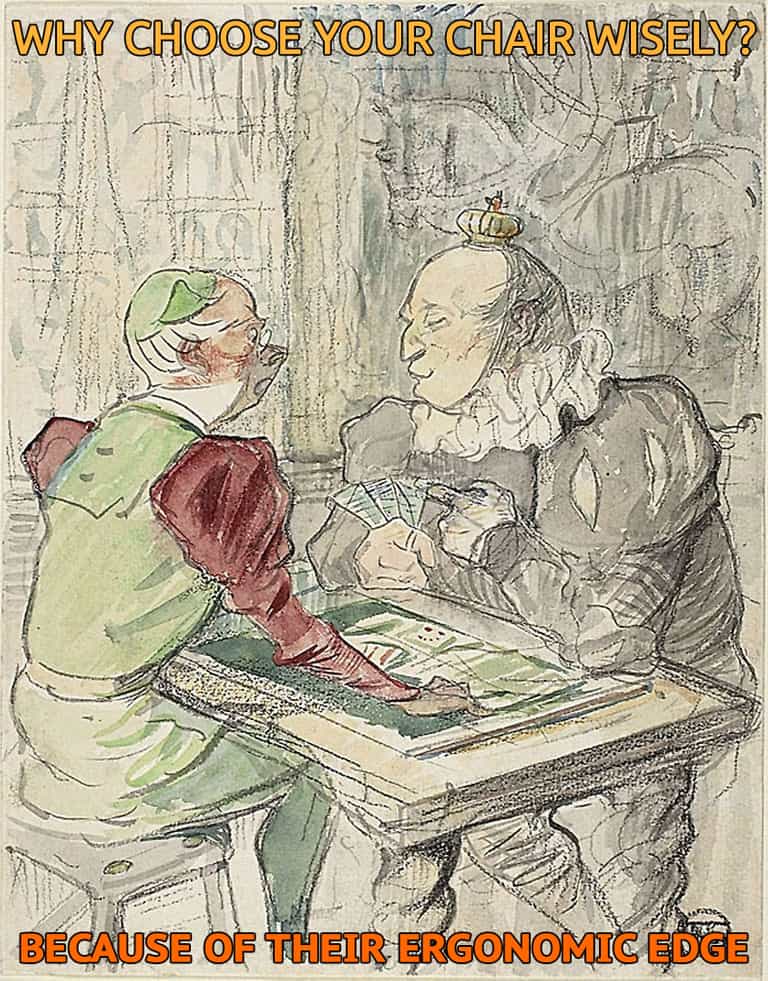 It's arguably the most important thing to invest into if you're an online poker player.
Maintaining an alert posture that provides spinal support will make or break our long-term success at the tables (Virtual or Not).
There Are A Variety Of Chairs for poker, Which Is Best For Your Situation?

Before buying an ergonomic chair or multiple fold-out chairs for your next poker session, ask yourself these following questions.
Are ergonomic chairs worth For Competitive poker players?
Anyone who spends a quarter of their day sitting and competing should consider their chairs not as a luxury but an investment.
Why Makes A Chair Sit Good For Playing Poker?
The ideal chair for long card games is one that is breathable and comfortable to sit in for lengthy sessions. Depending on the table situation and room size, armrests are better off omitted.
Looking to stay active while playing online poker?
I need some extra fold-out chairs for my card game?
Avoid chairs with armrests because they can take up valuable real estate on the card table, along with storage space. If you feel this feature is essential, look into stacking chairs for convenient storage.
Five Features to look for in chairs for a poker table
Don't let discomfort impede on your intense poker sessions.
The optimal chair should not take away from the poker table's elegance. Choosing the rite chair all depends on the size of the table and space available per seat. There are universal features to look for while searching for the best poker chair. Here are a few:
Lumbar Support (At-least A Backrest)

Thick Seat Cushion

Breathable Upholstery

Removable Armrest

Durable Enough To Handle A Freakout
Tables with more seats should favor chairs without armrests to save space, and most players rest their arms on the table. Another consideration is if casters (Chairs Wheels) are necessary for an activity like poker, I could even see it as a distraction for more serious players.
What to avoid in a chair being used in for playing long card games or poker?
Before you search up a chair, don't forget to measure the table and room you play poker. We should avoid plastic monobloc chairs at all costs… Prolong sitting on a chair with no lumbar support will get you into as much trouble as these fellas below.
OUR TOP CHAIR PICKS FOR ONLINE POKER
Herman Miller| Aeron Chair
The mesh finish of the Aeron Chair provides the sitter with a breathable backrest, so their back won't sweat even at the flop of the river card on an all-in hand.
It's available in three sizes with class A (15¾") being for petite people and class C (18½") being for the large and tall, and Class B (17″) in the middle of the two.
Although this product has been on the market for over 20 years, Herman Miller's The Aeron is not the first name that comes to mind when discussing gaming chairs.
The Aeron is equipped with a breathable mesh back and a forward tilt functionality to find your perfect posture.
Some sitters find that the seat pad is a bit on the stiffer side and may be dis-comfortable after marathon gaming.
Not For Long Sitting Sessions
OUR TOP CHAIR PICKS FOR ONLINE POKER
Eurotech | Ergohuman
The Ergohuman chair checks off in all the features competitive poker players need to keep from catching tilt.
Its breathable backrest and seat are clutch for intense situations. The ergonomics, especially the lumbar support system, keep the sitter's attention clear for the task at hand.
Some might consider omitting the headrest was a bad idea in terms of ergonomics. The lack of headrest will keep a player from comfortably leaning back, which can help in their focus.
The tilt tension control and lock in place components makes it easy to find the perfect sitting angle.
Smaller sitters have found this chair uncomfortable to sit in for extended periods of time.
Armrest Are Hard To Adjust
OUR TOP FOLD OUT CHAIR FOR POKER TABLES
Flash Furniture | HERCULES
Wh
at are the best fold out chairs for poker tables?
If your looking for chairs to fill out the poker table, the features provided from FLASH Furniture's folding chair meet all the check marks.
Wrapping around gauge steel frame, the double-hinges that make the chair fold out are sturdy enough to support a 300 pound person. Even the exiting of an angry player suffering from tilt won't scratch the floor thanks to the caps (Glides) of this chair.
The thick back rest and seat pad cushions shows guest sitting in it, that you care.
People who prefer leaning while they sit report the chair topples over its own weight.
What Is The Best Standing Desk For Online Poker Players?
Switch desk instead of changing chairs with a height adjustable workstation.
Start standing when sitting becomes uncomfortable because of an excessively sedentary lifestyle. This little change can make an instant difference in both energy and productivity.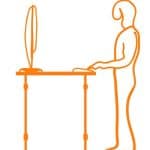 The variety of positions one can go throughout the day using an adjustable standing desk is an excellent choice for a poker player's focus, no matter their size.
Unlike chairs, it's comfort depends on the individual. Stand-or-Sit desks are a one-size-fits-all and help less active players stay in shape.
FUN FACT: Studies confirm that standing up burns an extra 54 calories more per hour than sitting down.
OUR TOP PICK ROCKER CHAIR WITH SPEAKERS
Flexispot | Standing Desk
The spacious work area provided by the Flexispot Standing desk can hold up to 154 lbs. It's large range of 28″ to 47.6″ will make drafting, office, or gaming chairs height.
They cover control Mechanism backed by 2 years warranty and the frame with a 5-year warranty.
Quality Assurance & Certified by FCC & UL.
This desk is bare bones, but has all the essentials features necessary.
The edging of the desk can rip off with constant wear and tear.
Wood Top Is Not Top Quality
OUR TOP PICK ADJUSTABLE STANDING DESK
FEZIBO | Standing Desk
This desk is easy to assemble and has indent to hold papers in place.
Plenty Of Room For Keyboard
The lever that adjusts the height is difficult to maneuver.
Keyboard Tray Won't Move Out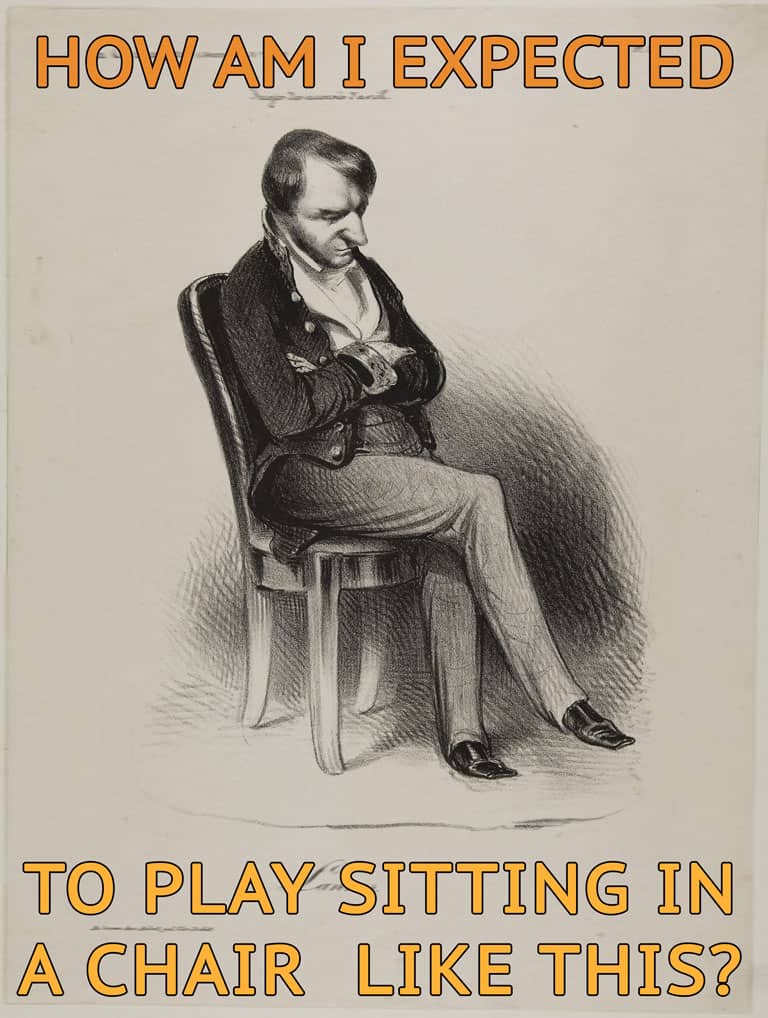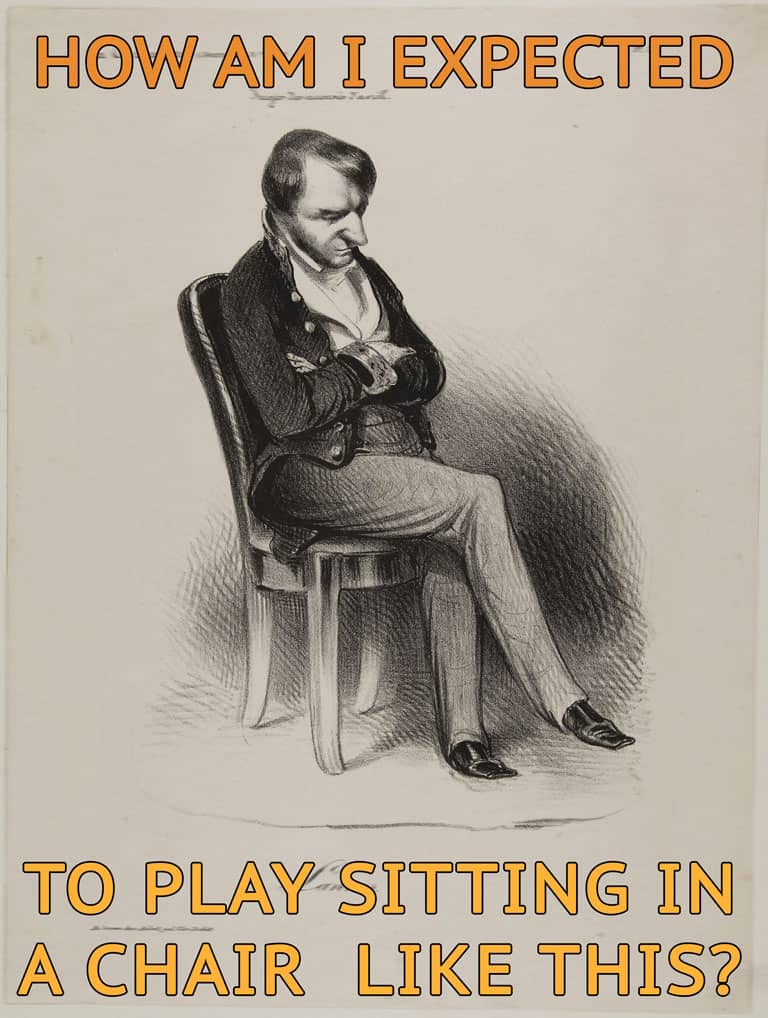 Related Questions
Helpful Info About Ergonomic Chairs For Poker & Some F.A.Q. Answered
What is the cost RSVP a seat at the World Series Of Poker Tournament?
The buy-in for no limit Texas Holdem has been a slick $10,000 since 1972.
There are less expensive ways to enter, like winning smaller satellite tournaments and receiving an invitation.
The cheapest buy-in to the World Series Of Poker is around the price of an ergonomic chair, just $400!
Are Poker Chairs Worth It?
When was the last time you played poker standing up?
Chairs are an essential part in face to face-to-face games and at the virtual tables. Sitting in an uncomfortable chair while playing cards puts you in a fewer strategics mindset and ultimately a disadvantage.


If you enjoy winning, then you're better off in a top quality poker chair. The odds are more in your favor when playing without sitters pain in the back of your mind.
What Is The Best Chair For Black Jack Tables?
Third base is arguably the best seat in the game, but what is the best chair to play the game?
Compared to playing at a Poker table, Black Jack is a game played on tables usually higher off the ground so that the dealer can do their job standing up. This height difference between sitter and dealer makes traditional chairs an awful choice. 
Drafting chairs offer enough height for most black players to play comfortably at the tall table. These types of chairs also usually sport proper footrests to make them more comfortable for shorter sitters.
SOURCES
November 2017, Rachael Rettner-Senior Writer 14. "Trying to Stand More at Work? Here's How Many More Calories You'll Burn." Livescience.Com, 14 Nov. 2017, www.livescience.com/60940-sitting-standing-calories.html
Bull Attacks Cowboy Poker Game. "Bull Attacks Cowboy Poker Game!!!" YouTube, 5 Sept. 2008, youtu.be/ImtoWZxNFtw.
"Aeron Chairs – Herman Miller." Www.Hermanmiller.Com, www.hermanmiller.com/products/seating/office-chairs/aeron-chairs/.
James, Jim. "How Many Seats at a Poker Table? | Figuring out the Maximum Players." Automatic Poker, automaticpoker.com/poker-basics/how-many-seats-at-a-poker-table/.

Claude
ChairPickr | "Writer"
Hello, My name is Claude and I enjoy sitting comfortable. Research into what separates the good from the bad in the matter of chairs started when I made a new year's resolution to have better posture.
You clicked here to find that first-rate chair. Why not stay and learn some self care?
Affiliate Disclaimer
ChairPickr is a participant in the Amazon Services LLC Associates Program, an affiliate advertising program designed to provide a means for sites to earn advertising fees by advertising and linking to Amazon.com. Some links on chairpickr are affiliate links, meaning at no additional cost to you. We will earn a commission if you click through and make a purchase.