The Best Chairs For A Poker Table & Online Competitive Players
What type of chair can enhance your poker play? The optimal sitter should be ergonomic, but not take away from the poker tables elegance... That's a lot to ask for!
Why ergonomic chairs are best for poker players
Ah, the quest to find the best chairs for poker! You see, in the high-stakes world of online poker, where you park your derrière matters. Imagine, the average digital card shark is parked in front of a screen for a good six hours a day—that's a quarter of the day, folks! Let's not even get started on those marathon online poker tournaments; they can have you hunched over your computer for an unfathomable 10 hours.
Sure, you get breaks, but those aren't enough to save your back from the dreaded poker player's slump. Here's where the unsung hero of our tale comes in – the ergonomic chair. Yes, it may come with a slightly heftier price tag, but trust us, your back will thank you. Proper ergonomics isn't just essential; it's the difference between a royal flush and a royal pain!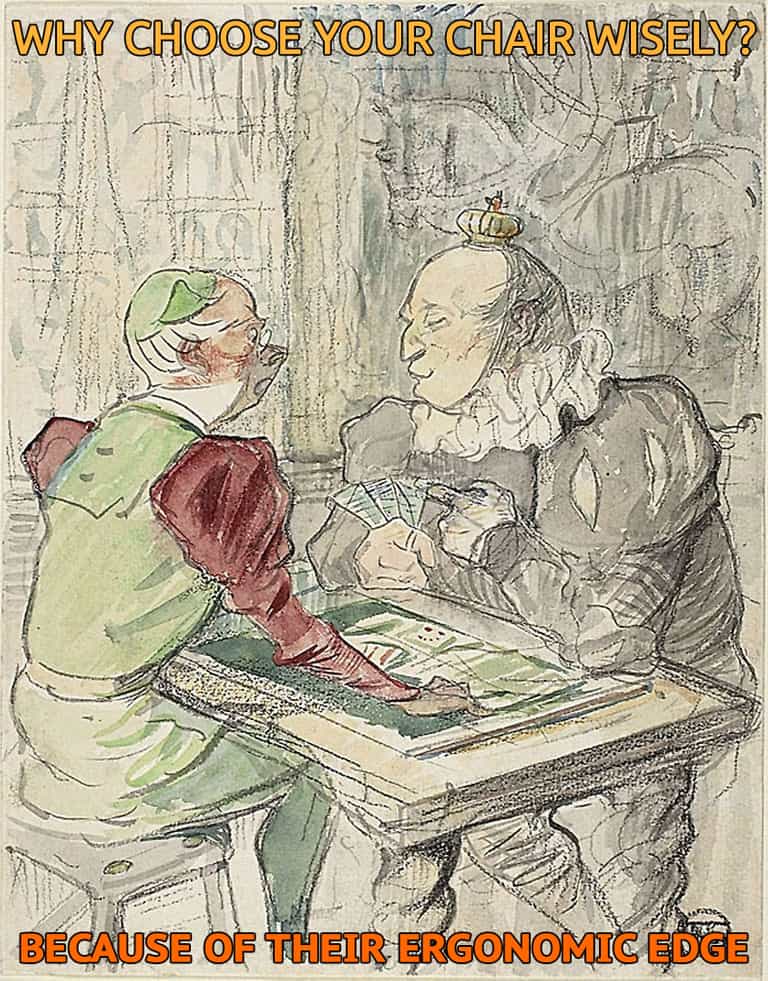 It's arguably the most important thing to invest into if you're an online poker player.
Maintaining an alert posture that provides spinal support will make or break our long-term success at the tables (Virtual or Not).
Which Poker Chair Is Best For Your Situation?

When it comes to the world of poker, finding the perfect chair is no less of a strategic play than the game itself. So, how do you pick the best seat for your buck? Here are some questions you should be asking yourself:
Is an ergonomic chair worth it for competitive poker players? If "all in" describes not just your poker strategy but also your time commitment, then yes. Consider these chairs not as extravagant purchases, but essential investments.
What makes a chair good for poker? The best seat for those lengthy card duels is one that's breathable and comfortable. Depending on the space and table set up, it's usually best to forego armrests.
Want to stay active during online poker? A 2-in-1 converter or standing desk could be your ace in the hole!
Need extra chairs for your next card game? If fold-out chairs are your go-to, opt for those without armrests. They tend to hog space at the card table and during storage. If armrests are non-negotiable for you, stacking chairs are a smart storage solution.
Five Features to look for in chairs for a poker table
Don't be the player who lets discomfort draw the biggest hand in your high-stakes poker game. Your chair should be like the perfect poker face—unobtrusive yet effective. The size of the table and seating space per player are the aces in your deck when selecting the perfect chair. So, while you're on the hunt for the best poker chair, make sure you've got these universal features on your checklist:
Lumbar Support: Or at least a decent backrest. It's your defensive wall against the dreaded poker player's slump.
Thick Seat Cushion: For those lengthy poker nights, you'll want some extra padding on your, well… padding.
Breathable Upholstery: Because comfort is key; nobody wants a case of the sweaty seat blues.
Removable Armrest: Space-saving and flexible, it's an especially good choice if your table is seating a crowd. After all, most players prefer the armrest-free experience—they'd rather be elbow-deep in chips on the table.
Durability: Because poker can get intense, and your chair needs to handle those occasional high-stakes freakouts.
One more thing to keep in mind: Are casters (chair wheels) really necessary for a poker chair, or could they be a distraction for more serious players? It's something to ponder as you search for the unbeatable hand in poker chairs.
What to avoid in a chair being used in for playing long card games or poker?
Before you even think about browsing chairs, make sure to take accurate measurements of your poker table and the room it's housed in. Now, on to what to steer clear of—oh, those plastic monobloc chairs, they're quite the wildcard!
They're not the ace up your sleeve you might think they are, but an opponent more formidable than a newbie wielding a royal flush. Extended sitting on such a chair sans lumbar support is a gamble you don't want to take. Trust me, it's a risk as high as the ones taken by our notorious friends mentioned below…
OUR TOP CHAIR PICKS FOR ONLINE POKER
Herman Miller| Aeron Chair
Crafted with a breathable mesh finish, the Aeron Chair from Herman Miller promises a sweat-free experience, even as the river card reveals itself in a high-stakes all-in game.
The chair comes in three distinct sizes: the petite-friendly Class A at 15¾", the more spacious Class C at 18½" for those of larger stature, and Class B at 17″, fitting comfortably between the two.
Despite its two-decade presence on the market, the Aeron does not typically top the list when it comes to gaming chairs – a hidden gem in the world of poker comfort.
Pros
The Aeron is equipped with a breathable mesh back and a forward tilt functionality to find your perfect posture.
Cons
Some sitters find that the seat pad is a bit on the stiffer side and may be dis-comfortable after marathon gaming.
Not For Long Sitting Sessions
OUR TOP CHAIR PICKS FOR ONLINE POKER
Eurotech | Ergohuman
The Ergohuman chair is a veritable game-changer for competitive poker players, ticking all the boxes necessary to prevent the dreaded tilt. Its breathable backrest and seat prove invaluable during those high-stakes, stress-inducing scenarios.
The chair's superior ergonomics, particularly its lumbar support system, ensures the player's focus remains undivided and sharp. While some might argue the absence of a headrest detracts from its ergonomic design, others counter that this encourages a player to refrain from leaning back comfortably, thereby enhancing their concentration.
Pros
The tilt tension control and lock in place components makes it easy to find the perfect sitting angle.
Cons
Smaller sitters have found this chair uncomfortable to sit in for extended periods of time.
Armrest Are Hard To Adjust
OUR TOP FOLD OUT CHAIR FOR POKER TABLES
Flash Furniture | HERCULES
Wh
at are the best fold out chairs for poker tables?
When it comes to the best folding chairs for poker tables, FLASH Furniture's offering is one to beat. If you're in the market for chairs to accommodate your poker table, this chair ticks all the right boxes. Harnessing a wraparound gauge steel frame, the chair's reliable double-hinges facilitate folding and can comfortably support up to 300 pounds. So even if a player, plagued by tilt, makes a huffy exit, fear not. The floor remains unscathed courtesy of this chair's protective glides.
Wrapping around gauge steel frame, the double-hinges that make the chair fold out are sturdy enough to support a 300 pound person. Even the exiting of an angry player suffering from tilt won't scratch the floor thanks to the caps (Glides) of this chair.
Pros
The thick back rest and seat pad cushions shows guest sitting in it, that you care.
Cons
People who prefer leaning while they sit report the chair topples over its own weight.
What Is The Best Standing Desk For Online Poker Players?
Switch desk instead of changing chairs with a height adjustable workstation.
Start standing when sitting becomes uncomfortable because of an excessively sedentary lifestyle. This little change can make an instant difference in both energy and productivity.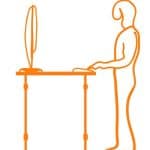 The variety of positions one can go throughout the day using an adjustable standing desk is an excellent choice for a poker player's focus, no matter their size.
Unlike chairs, it's comfort depends on the individual. Stand-or-Sit desks are a one-size-fits-all and help less active players stay in shape.
FUN FACT: Studies confirm that standing up burns an extra 54 calories more per hour than sitting down.
OUR TOP PICK ROCKER CHAIR WITH SPEAKERS
Flexispot | Standing Desk
The Flexispot Standing Desk offers a generous work surface, capable of supporting up to 154 lbs — perfect for accommodating your drafting, office, or gaming chairs.
It boasts a substantial height range, from 28″ to 47.6″ — providing flexibility for a variety of chair heights.
It comes with a robust control mechanism, covered by a 2-year warranty, ensuring optimum performance.
The sturdy frame of the desk is backed by a 5-year warranty — a testament to its durability.
Quality is assured, with the desk bearing certifications from both the FCC & UL.
PROS
This desk is bare bones, but has all the essentials features necessary.
CONS
The edging of the desk can rip off with constant wear and tear.
Wood Top Is Not Top Quality
OUR TOP PICK ADJUSTABLE STANDING DESK
FEZIBO | Standing Desk
PROS
This desk is easy to assemble and has indent to hold papers in place.
Plenty Of Room For Keyboard
CONS
The lever that adjusts the height is difficult to maneuver.
Keyboard Tray Won't Move Out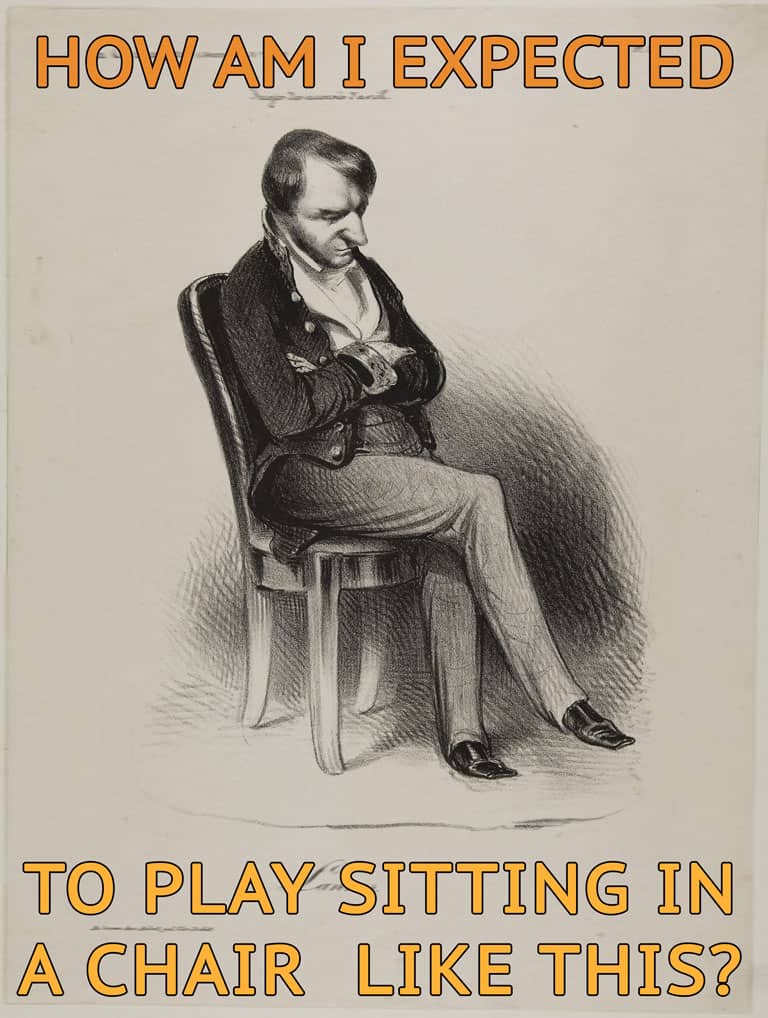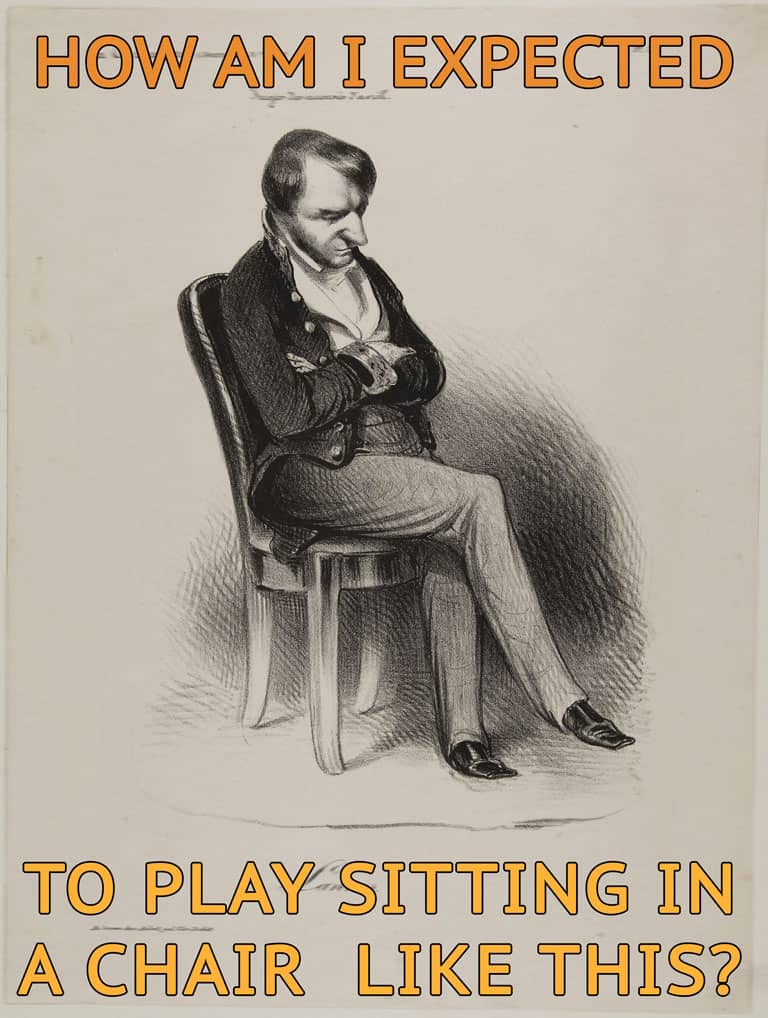 Related Questions
Helpful Info About Ergonomic Chairs For Poker & Some F.A.Q. Answered
What is the cost RSVP a seat at the World Series Of Poker Tournament?
The buy-in for no limit Texas Holdem has been a slick $10,000 since 1972.
There are less expensive ways to enter, like winning smaller satellite tournaments and receiving an invitation.
The cheapest buy-in to the World Series Of Poker is around the price of an ergonomic chair, just $400!
Are Poker Chairs Worth It?
When was the last time you played poker standing up?
Chairs are an essential part in face to face-to-face games and at the virtual tables. Sitting in an uncomfortable chair while playing cards puts you in a fewer strategics mindset and ultimately a disadvantage.


If you enjoy winning, then you're better off in a top quality poker chair. The odds are more in your favor when playing without sitters pain in the back of your mind.
What Is The Best Chair For Black Jack Tables?
Third base is arguably the best seat in the game, but what is the best chair to play the game?
Compared to playing at a Poker table, Black Jack is a game played on tables usually higher off the ground so that the dealer can do their job standing up. This height difference between sitter and dealer makes traditional chairs an awful choice. 
Drafting chairs offer enough height for most black players to play comfortably at the tall table. These types of chairs also usually sport proper footrests to make them more comfortable for shorter sitters.
SOURCES
November 2017, Rachael Rettner-Senior Writer 14. "Trying to Stand More at Work? Here's How Many More Calories You'll Burn." Livescience.Com, 14 Nov. 2017, www.livescience.com/60940-sitting-standing-calories.html
Bull Attacks Cowboy Poker Game. "Bull Attacks Cowboy Poker Game!!!" YouTube, 5 Sept. 2008, youtu.be/ImtoWZxNFtw.
"Aeron Chairs – Herman Miller." Www.Hermanmiller.Com, www.hermanmiller.com/products/seating/office-chairs/aeron-chairs/.
James, Jim. "How Many Seats at a Poker Table? | Figuring out the Maximum Players." Automatic Poker, automaticpoker.com/poker-basics/how-many-seats-at-a-poker-table/.

Claude
ChairPickr | "Writer"
Hello, My name is Claude and I enjoy sitting comfortable. Research into what separates the good from the bad in the matter of chairs started when I made a new year's resolution to have better posture.
You clicked here to find that first-rate chair. Why not stay and learn some self care?
Affiliate Disclaimer
ChairPickr is a participant in the Amazon Services LLC Associates Program, an affiliate advertising program designed to provide a means for sites to earn advertising fees by advertising and linking to Amazon.com. Some links on chairpickr are affiliate links, meaning at no additional cost to you. We will earn a commission if you click through and make a purchase.