Alternatives To Office Chairs Your Back Will Love
There are plenty of office chairs out there, but if none of them sit rite with you. These alternatives might help mix things up to improve your posture.
8 Alternative To Office Chairs
When you refuse to use a chair and standing isn't enough.
There are many things you can choose to sit on. Some are uncomfortable but we curated eight ergonomically friendly alternatives to using an office chair at your workstation.
When you refuse to use a chair and standing isn't enough.
There are many things you can choose to sit on. Some are uncomfortable but we curated eight ergonomically friendly alternatives to using an office chair at your workstation.
If you're not into office chairs, you might have clicked on the wrong site. That being said, sometimes exotic seating matches your lifestyle.
Weather you an exercise enthusiast that can't step away from the treadmill or just looking for a gigantic dinosaur to release the inner child in you.
These mysterious questions get answered below the fold!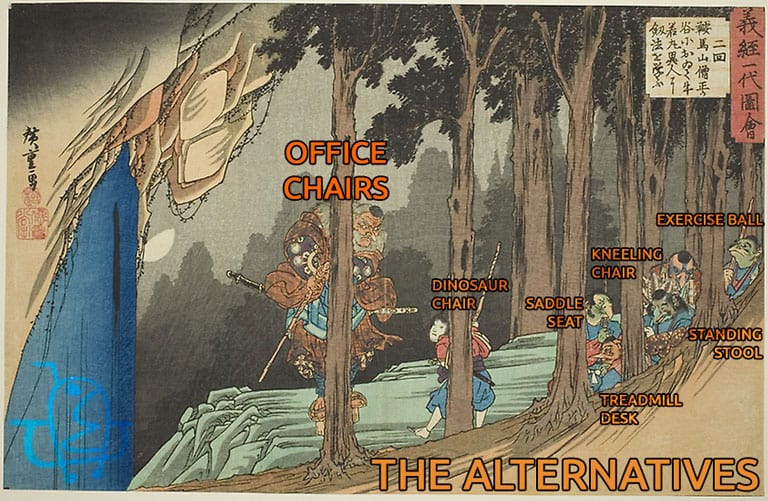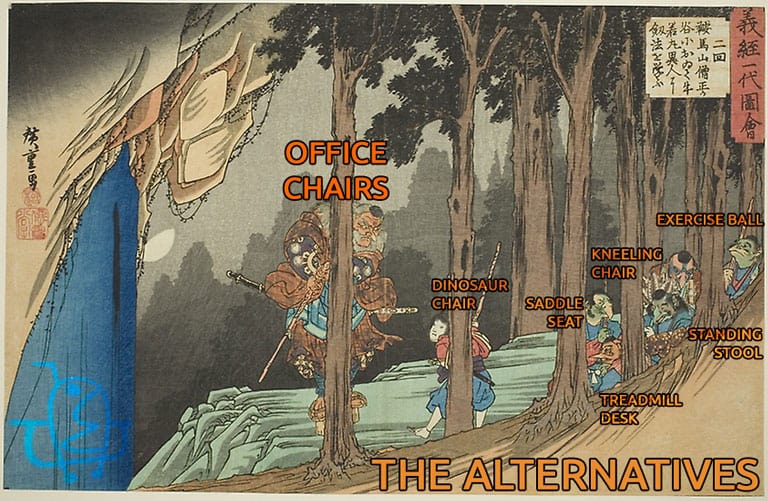 OUR TOP PICK BALANCE BALL
The Trideer Balance Ball Chair
These alternative to chairs increase strength and endurance while improving overall coordination. Results are especially for elderly people.
-Slip Resistant
–65cm Best For Users Between 5'3 ft. to 5'10 ft.
–75cm Best For Users Between 5'11 ft. to 6'4 ft.
-Weight Capacity: 2000 lbs.
Accessible for all ages, exercise balls have a long time been an underrated seat. The Trideer Balance Ball offers a unique sitting experience.
One caveat is that larger users found the ring used to help keep the ball in place while sitting was more like a speed bump than a cage.
Most exercise balls take around 24 to 48 hours to inflate. This exercise ball does a superb job at keeping air pressure, even after an interminable day's worth of sitting.
Easier to breathe

Naturally reduces inflammation like acid reflex.

Eases pressure on tired legs.

Compared to laying down, it's better for digestion
Stiff Neck.

Bad for your arms and legs to stay bent and motionless.

Your legs may fall asleep.

It increases chances of sedentary illness.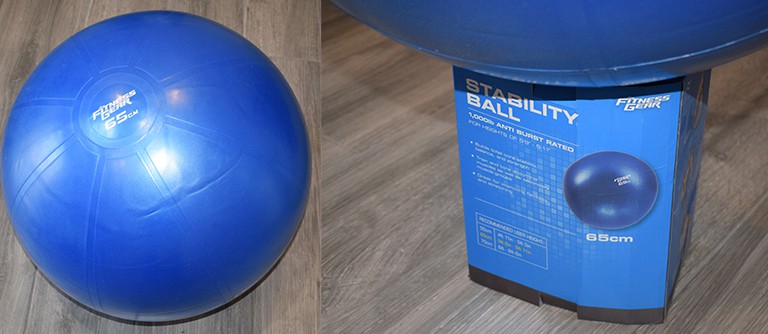 OUR TOP PICK ZENERGY BALL
Safco| Zenergy Ball Chair
Too lazy to exercise but still want to stay active throughout your workday?
The Zenergy Ball Chair is the go to thing for sitting when you also want to bounce around!
This chairs not all fun and games, it all supports better sitting habits and improves posture.
Easier to breathe

Naturally reduces inflammation like acid reflex.

Eases pressure on tired legs.

Great for Classrooms, Students and Teachers alike!
Leaves sitters with hunched over necks.

Bad for your arms and legs to stay bent and motionless.

It increases chances of your legs falling asleep.
OUR TOP PICK SWOPPER STOOL
ErgoErgo Ergonomic Stool
This according looking seat is a neat furniture concept that combines the emphasizes active sitting in a lively ergonomic design.
This healthy way of sitting that lets your body gently swing and move about. It also engages the core muscles to build strength and flexibility within the back.
Strengthens Your Back and Core Muscles As You Sit.

Unique Accordion Design lets you tilt unlike zenergy ball chairs.

Won't Roll Away Like A Stability Ball.
Less Mobile (No Casters)

When the air valve leaks there is no easy fix to make it stay inflated.

Not for all people such as large and tall people over 225lbs (102kg).
OUR TOP PICK EXERCISE BALL
Dinosaur Bench Chair
-The Dino Seat measures at 39 inches long by 17 inches wide and is 39 inches tall.
-Created from durable Resin.
-The makers of this chair, MCSDINO also create animatronic dinosaurs.
-Weight Capacity: 300 lbs.
Turn your office environment into Jurassic Park with this Dinosaur Office Computer Chair. There are several ways to sit on this long neck.
You can sit with the tail between your legs, horizontal on either of its sides, use the neck as back support, and ride it.
Unique Design.

Weather resistant paint that will last.

Multiple Ways To Sit.

May raise fellow workers' morale.
Not ergonomically adjustable.

The seat lacks any cushion.

The chair might not match your desk height and in effect promote poor posture.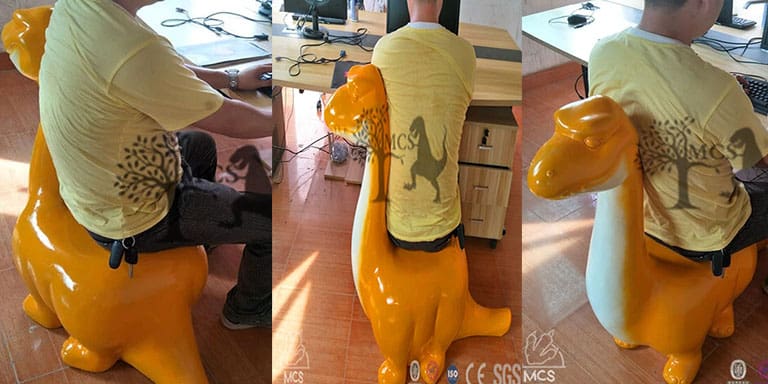 OUR TOP PICK BALANCE STOOL
SONGMICS Standing Chair
The future is armless, or at least that's what the designers behind this standing stool want you to think.
The SONGMICS Standing Stool height range is between 2.8 ft and 2.16 ft and has tilts up to 8° that will compliment any standing desk workstation.
Adjustable Height.

High-Density Reflex Foam Seat Helps With Lower Back Pain.

Double Handles Make It Easy To Carry.

Auto-Return Tilt Design.
Does Not angle forward well enough to allow you to lean on it while standing.

Piston that holds the stool up SINKS with time.
OUR TOP PICK SADDLE STOOL
Kaleurrier Saddle Stool
The design of this seat eases the pains of sedentary sitting, specifically the back and neck.
–Seat adjust height from 22″ to 30″ inches.
-Full 360° swivel.
-Abrasive resistant high grade oil and water proof coated finish.
-Twin nylon casters for universal floors.
-Weight Capacity: 350 lbs.
Unlike other alternatives to office chairs on our list, the Kaleurrier Saddle Stool is both mobile and easy to clean.
This is a great workshop stool and great for someone who goes from standing to sitting a lot. The cushion is not only comfortable but made from durable vinyl upholstery.
Easy to assemble, No tools needed.

Durable for many types of work settings such as a workshop, class room, or lab.

1 Year limited warranty.
Prolonged sitting makes you prone to hunching over.

Wide seat design is better for larger sitters.
OUR TOP PICK KNEELING CHAIR
Sleekform Kneeling Chair
There are unorthodox ways to sit kneeling chairs such as both knees out, one legged, or even sitting backwards.
If you are cautious about your knees, then the Sleekform Kneeling Chair is a great office chair and standing desk alternative.
Although it sounds like all the weight is going to your knees, but in actuality, the weight is getting evened out through the buttocks and shins.
Unlike office chairs, it places your weight onto your sit bones so your pelvis tilts forward, making an "S" shaped curve in your spine, which is the ideal ergonomic posture.
Adjustable Seating (97°-127°)

Designed to work with a standard 29″ inch high desk.
Less ergonomic for short people.

Should NOT be sat in as long as traditional office chairs.
OUR TOP PICK TREADMILL DESK
Bike or Treadmill Desks
DeskCycle 2 Under Desk Cycler + RAD Cycle Bike Fitness Desk
While they make actual treadmills with standing desk, they are expensive. Depending on what your workstation, these two products solve distinct problems.
The DeskCycle 2 will help you exercise while working at your desk.
-Uses a magnetic resistance mechanism to offer a smooth pedal motion.
-6 Function LCD Display with 8 resistance settings for every type of workout.
– Designed for people 5'8″ feet or shorter.
It's safe to say that this mini exercise bike is strictly for the ambitious.
If that recently bought exercise machine collects dust, an exercise desk can restart a good habit.
Exercise as you perform a task at your workstation.

Adjustable Desk has an anti-slip top to avoid disastrous spills.

Desk Cycle 2 Has optional free online web app to track workouts.
Hard to find replacement parts for RAD Cycle Adjustable Desk.

RAD Cycle Adjustable Desk can NOT tilt upwards.

Desk Cycle 2 Might Become Loud At Higher Settings.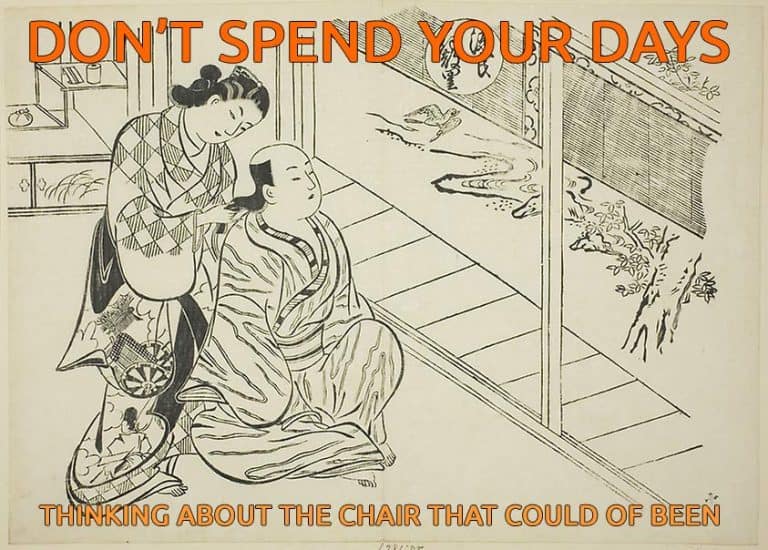 Related Questions
Helpful Info About Office Chair Alternatives & Some F.A.Q. Answered
Is It Okay To Sleep In My Chair Every Night?
It's okay if you enjoy sedentary sitters pain in the neck, legs, and back!
This answer changes depending on the chair. One feature your chair must have is the ability to recline of at least 40° degrees.
The biggest health concern around sleeping while sitting is blood clotting in the larger veins of your lower body, deep vein thrombosis. We went over 10 side effects to know about sitting while sleeping if you're still curious about snoozing in your swivel chair.
I'm The Crafty Type And Would Enjoy A DIY Alternative Method?
Work, Game, or Sew without sitting pains or expensive equipment!
A DIY ergonomic office chair is not as challenging as it sounds. It involves adding a third party lumbar support and seat cushions.
The supplies needed can be found around the average household and should take around 15 minutes from beginning to completion. We created a step-by-step guide with pictures to a help along the modification process.
When Should I Replace My Office Chair?
It may be time to replace your chair when...
You have notice whenever seated your constantly repositioning and maybe after long sitting sessions you feel upper back and or neck pain?
An office chair can last between 7-9 years and even upwards of a decade. We covered the major telltale signs your chair is near the end of its life-cycle and when to upgrade.
SOURCES
"Dinosaur Office Chairs Are A Thing Now And They Are Perfect For Every Workplace." Apsari.Com, apsari.com/these-quirky-dinosaur-office-chairs-is-what-you-need-to-brighten-up-your-workspace.
Grommet, The. "ErgoErgo | Active Sitting Stool." YouTube, 20 Feb. 2018, www.youtube.com /watch?v=TiGSuY4QR0Y.
Tech, Bernardo. "Sleekform Ergonomic Kneeling Chair Review." YouTube, 19 May 2017, www.youtube.com /watch?v=sqWIw9C5DI4.
Products, Safco. "Safco ZenergyTM Ball Chairs." YouTube, 15 Oct. 2012, www.youtube.com /watch?v=GGwAmBHk46w.
Hardware channel, doug computer. "DeskCycle Desk Exercise Bike Review 2018." YouTube, 26 Dec. 2017, www.youtube.com /watch?v=2LwTxdI8O08.

Claude
ChairPickr | "Writer"
Hello, My name is Claude and I enjoy sitting comfortable. Research into what separates the good from the bad in the matter of chairs started when I made a new year's resolution to have better posture.
You clicked here to find that first-rate chair. Why not stay and learn some self care?
Affiliate Disclaimer
ChairPickr is a participant in the Amazon Services LLC Associates Program, an affiliate advertising program designed to provide a means for sites to earn advertising fees by advertising and linking to Amazon.com. Some links on chairpickr are affiliate links, meaning at no additional cost to you. We will earn a commission if you click through and make a purchase.